Aretha Franklin's Platinum Year
At 70, she's still the finest female vocalist in the history of American popular music.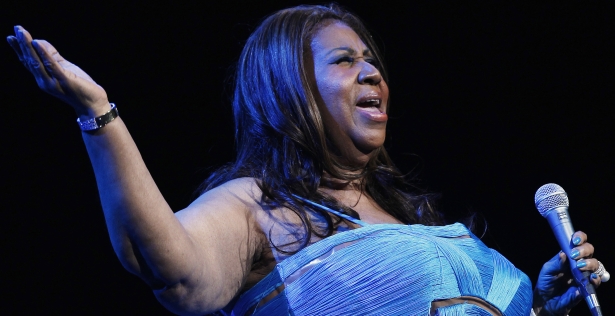 When a queen has a big birthday, the party lasts all year. So it goes for the Queen of Soul, Aretha Franklin, who turned 70 in March. After an Annus Horribilis in 2011 that included battling a serious illness and having her son suffer an assault, Franklin is celebrating her platinum year in a big way. She's newly single. She switched agents, jumping from William Morris Endeavor to ICM. She signed a new contract with Sony, reuniting to make an album with fabled music industry executive Clive Davis. A biopic is in the works, possibly starring Audra McDonald. Best of all, Aretha looks healthier than she has in years and is performing again, with about a dozen dates scheduled for 2012.
She is not merely the finest female vocalist in the history of American popular music—she's miles above anyone else. With her fluid range over several octaves, and an incomparable combination of tone, pitch, timing, raw power, and incendiary passion, Aretha lords above all the rest; from precursors like Mahalia Jackson and Ella Fitzgerald, to her three generations of followers, ranging from Patti LaBelle to Mariah Carey and Kelly Clarkson.
Born in Memphis in 1942, she was raised in Detroit by a Baptist preacher father. At 14, as a soloist in her father's traveling gospel revue, she would record her first album, The Gospel Soul of Aretha Franklin. Just 18 in 1960, Aretha signed with Columbia records. She would have a few hits, but struggled to forge an identity at a label that wanted her to sing jazz. In 1966, she signed with Atlantic Records. Then-president Jerry Wexler was determined that Aretha would get back to her gospel roots. He sent her to the fabled FAME Studios in Muscle Shoals, Alabama. That first recording session would produce an astounding seven consecutive Top-10 hit singles. It was a legendary collection of classics, including 1967's hits "Chain of Fools," "Think," and "You Make Me Feel Like a Natural Woman."
But it was her second single for Atlantic that would make her a icon. Aretha took "Respect," an Otis Redding song about a bad relationship, and turned into a clarion call for equality. The song, jumping to the top of both the pop and soul charts, was immediately adopted by the civil rights movement and feminists alike. A young, black, single mother, Aretha literally embodied the disenfranchised of her generation, demanding justice with all the range, fluidity and righteous power of that incomparable voice, creating an urgency that more traditional protest songs like "We Shall Overcome " and "The Times They Are a Changin'" couldn't.
To give you some sense of precisely what makes Aretha better, this video below compares how three of her talented followers have handled one of her songs, "I Never Loved A Man (The Way That I Love You)." Or, more specifically, the clip compares how they handled one particularly tricky snippet from it.
MORE ON MUSIC
As you can hear, that voice at 70 remains a marvel, almost undiminished. It's evident in the innumerable bootleg videos from her return to Radio City Music Hall in February—shows that had even more resonance when they happened to coincide with the funeral for Whitney Houston, Aretha's surrogate niece and best protégée. It was evident, too, when I saw her perform earlier this month at the acoustically precise Kauffman Center for The Performing Arts in Kansas City, Missouri.
After seven decades, almost all of them on stage, her range is still stunning, and her trumpet-like tone still makes jaws drop. Unquestionably, though, she suffers from a bad case of Aging Great Singer Syndrome. Like Sinatra and Elvis before her, Aretha's arrangements have gotten bigger, slower, and lusher. The notes are more elongated. She will spend the first verse of two skittering above and around the tune, content to have three backup singers follow the original. At the Kauffman Center, during "Giving Him Something He Can Feel," she got through the entire song without once singing a full bar of the original melody line.
But she remains the queen, nevertheless, and that remarkable instrument is still an American crown jewel. She will display it in all it's undimmed glory in her hometown, June 22, playing Detroit's Fox Theatre, then a Chicago date a week later, and two nights in Los Angeles at the end of July. But the most appropriate celebration of Aretha Franklin's 70th year might come when she visits Las Vegas on July 15 to play Caesar's Palace. There could be no better place to see a queen.