Act in a Movie, Relive Election Day '08
A call for extras from a first-time filmmaker chronicling his experience for The Atlantic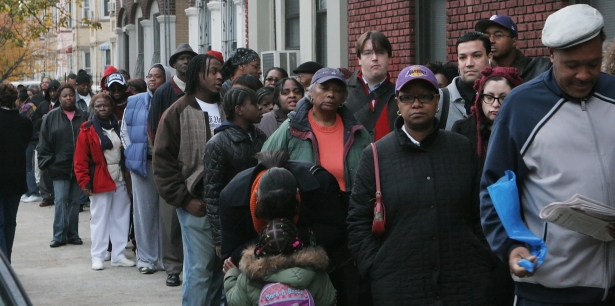 AP Images
Where were you on November 4, 2008, the day our current president was elected? Well, if you would like a chance to revisit that momentous day, wish you could have voted in one of the boroughs, or have always dreamed of playing a responsible citizen in a motion picture, you're in luck. Tomorrow morning, May 11, we will be creating a scene that depicts a typical voting line in Brooklyn, New York on that 4th and are desperately seeking extras to queue up. It doesn't matter who you voted for back then, or who you might pretend to vote for now to get into character. We'd be thrilled to have you help us make this moment in the film as realistic as possible.
For reference, here's what that looked like:
We will be lining up on Taaffe Place between Myrtle and Willoughby Avenues in Fort Greene, Brooklyn, right near the Pratt University campus. Our costume department humbly requests that all extras try to bring or wear lightweight fall clothing. No heavy jackets. Pants and long sleeves. Preferably no bright colors or logos. The call time for extras will be 7:30 a.m. (It's early, yes. But this way, you can participate and still make it in to the office on time.)
If you know in advance that you're going to be able to make it, please drop me a line by emailing me or leave confirmation in the comments section below. This is strictly for headcount reasons. You can also just show up. The production will be most grateful either way.
In addition, we will be staging a mock reading with The Atlantic editor and writer Ta-Nehisi Coates at 8:30 a.m. on Saturday, May 12, at a wonderful bookstore in Soho. If interested, contact us via email and we will provide the location and further details.
As my assistant director says often and with gusto: "Let's make a movie, people!"