A Bloody Battle for Floyd Mayweather Jr.'s Invincibility ... and Image
The boxer maintained his incredible winning streak Saturday, but seemed slower, more vulnerable, and concerned about his status as a sports-world villain.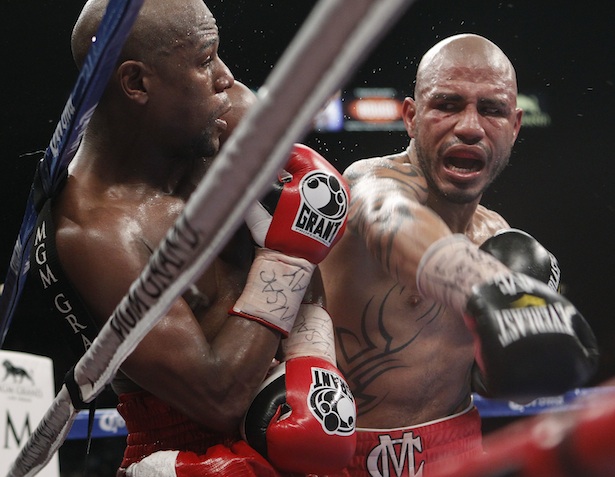 AP Images
On Saturday night in Las Vegas, boxer Floyd Mayweather Jr. endured more punishment and threw more punches then he has in years, maybe ever. Mayweather—the greatest American boxer and arguably the best fighter practicing today—said that the reason he took so many concussive blows was to ingratiate himself to the American public who are enduring an economic recession.  Mayweather was guaranteed $32 million for the bout, and his promoter was projecting it to be the second largest pay-per-view fight in history. Millions of people, Mayweather said, were making a sacrifice to purchase his $59.95 pay-per-view fight—they deserved a good show.
They got one.
Big ideas in arts and entertainment.
See full coverage
Miguel Cotto, a Puerto Rican star, came into the bout as a longshot but nearly matched Mayweather for 12 rounds. Mayweather would end up victorious in a unanimous decision, increasing his incredible winning streak to 43 straight victories, an epic feat in modern sports. But the fight wasn't without its nervous moments for the American fighter. Cotto, a betting underdog, forced Mayweather, 35, into some precarious situations in the ring.  Cotto, 31, who reportedly went to the hospital after the final bell, pressed the action, and took more than he gave, but he fought with incredible verve.  It was unclear if it was age or truly a desire to create a "fan-friendly fight"—meaning one with a lot of punches given and received—that forced Mayweather to go toe-to-toe with Cotto, but toe-to-toe he went at his own peril.
And for the first time since he fought Oscar De La Hoya five years ago, Mayweather showed some vulnerabilities. Instead of using his beautiful footwork to move backwards and laterally to avoid punches, he spent time on the ropes, taking shots from Cotto, saying later "I could have boxed on the outside, but I wanted to give the people a battle."  Mayweather might have chalked up his ring strategy to his desire to please the fans, but Cotto brilliantly mixed up his punches, smartly cutting off the ring, and even giving Mayweather a bloody nose with a couple of stiff jabs mid-way through the fight.  For years, Mayweather has seemed untouchable, but Cotto's intelligent fury scraped away some of his veneer of invincibility.
Mayweather was able to earn the win because he is still a master boxer blessed with a brilliant mind for the fight game, deflecting punches by angling his own body, and changing his strategy from round to round to keep his opponent off balance.  He threw 687 punches, 181 more than Cotto, and Mayweather connected on 26 percent of them, and, most importantly, neutralized Cotto's signature left hook. Mayweather showed some power up his own, landing a vicious upper cut in the twelfth and final round, which almost ended Cotto's night before the fight went to the score cards.
After his fights, "Money" Mayweather usually comes to the post fight press conference in a tailored suit, but on Saturday he wore a black track suit. His face was bruised and puffy like I've never seen it. ("Usually I don't have any bumps and bruises," he said solemnly. "Tonight I do.") After 43 experiences in the prize fighting ring, there is a toll that starts to take—the fighters get just that much slower, their desire to fight just that much less.  Mayweather hinted at retirement and there was a nervous sigh in the boxing universe.  Mayweather is the most well-known American in the sport, and he has no obvious heir apparent.
Nearing midnight, Mayweather was more personally reflective than usual. He seemed to want people to like him, and was trying to figure out how to do that. He had started the night by having Justin Bieber walk him to the ring, which helped deflect the usual rainstorm of boos.  People pay to see Mayweather's fights because they want to see him lose, but now as he nears the end of his career, he seems uneasy with his notoriety.  It's well-earned, though:  He can be a bore with his chronic bragging, and he is due in jail on June 1 for domestic battery.  But on Saturday he talked like a man seeking redemption, speaking of his charity work with the United Nations and Habitat for Humanity. Then, of course, the conversation—as it always does—lead to Pacquiao, the boxer/Congressman/game-show host from the Philippines.  The sports world has been begging for the two men, considered the best boxers of this era, to finally face each other.
Would he fight him? "I wanted to fight Pacquiao this fight but I couldn't make it happen."  The men have been talking about fighting for a couple years, but both seem reluctant. The two are still the best, but they are also getting older.  Every punch they receive leads to the inevitable. Pacquiao looked just a little bit slower in his last fight against Juan Manuel Marquez, and on Saturday Mayweather didn't look quite as quick as he once did.  Mayweather talked of Pacquiao, who fights in June, and wanting to fight him because the fans wanted it. Everyone cheered him because everyone wants it, too, but Mayweather vs. Pacquiao looks no closer to happening. Both men won't let it: They don't want to end the illusion of their own invincibility.