8 Bits of Wisdom From Neil Gaiman to Graduates on Being a Creator
The author of The Sandman explains the key to making fearless art.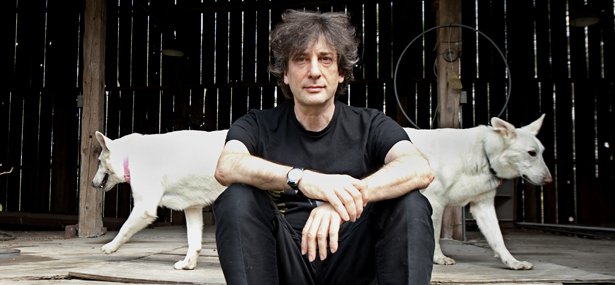 AP Images
On the heels of last week's timeless commencement addresses by icons like David Foster Wallace, Ellen DeGeneres, and Ray Bradbury comes this fantastic speech by Neil Gaiman, addressing the 2012 graduating class of the University of the Arts in Philadelphia. (Which happens to be technical birthplace of Brain Pickings as we know it today—it's there I took my first web design night class in early 1800s and transformed what began as a tiny email newsletter into a tiny website.) Gaiman himself never graduated from college—in fact, he never even enrolled in college—yet he earned his place in literary culture as one of the most celebrated and prolific writers working today. Here, he imparts several pieces of life wisdom on young people beginning a career in the arts.
1. Say "no" to projects that take you further from rather than closer to your own creative goals, however flattering or lucrative. (Hugh MacLeod put it beautifully: "The most important thing a creative per­son can learn professionally is where to draw the red line that separates what you are willing to do, and what you are not.")
2. Approach your creative labor with joy, or else it becomes work. (As Ray Bradbury said, "Writing is not a serious business. It's a joy and a celebration. You should be having fun of it.")
3. Embrace your fear of failure. Make peace with the impostor syndrome that comes with success. Don't be afraid of being wrong.
4. When things get tough, make good art.
Sometimes life is hard. Things go wrong—and in life, and in love, and in business, and in friendship, and in health, and in all the other ways in which life can go wrong. And when things get tough, this is what you should do: Make good art. I'm serious. Husband runs off with a politician? Make good art. Leg crushed and then eaten by a mutated boa constrictor? Make good art. IRS on your trail? Make good art. Cat exploded? Make good art. Someone on the Internet thinks what you're doing is stupid, or evil, or it's all been done before? Make good art.
5. Make your art, tell your story, find your voice—even if you begin by copying others.
6. You can get work because of the story you tell about yourself, even if it means embellishing, but you keep working because you're good.
7. Enjoy your work and your small victories; don't get swept up into the next thing before being fully present with the joys of this one.
8. This is an era in which the creative landscape is in constant flux. The rules are being broken down, the gatekeepers are being replaced and displaced. Now is the time to make up your own rules.
Gaiman sums it all up thusly:
Go and make interesting mistakes, make amazing mistakes, make glorious and fantastic mistakes. Break rules. Leave the world more interesting for your being here. Make. Good. Art.

This post also appears on Brain Pickings, an Atlantic partner site.