Why LeBron James Should Be This Year's NBA MVP
He's having the best season of his career—but some people can't get past his arrogant reputation.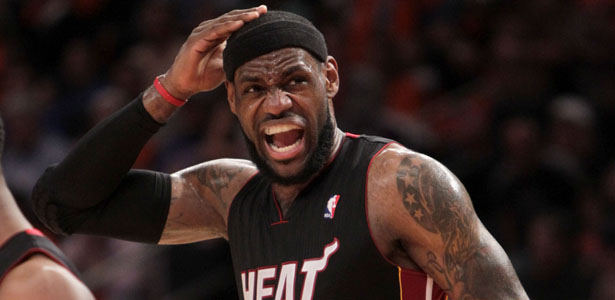 AP Images
When people look back on the 2012 NBA Most Valuable Player race, they will point to Monday's Heat-Nets clash as the game where LeBron James locked up the award.
What's new in arts and entertainment.
See full coverage
The Heat star, playing without injured teammate Dwyane Wade, scored Miami's last 17 points in the final 4:48 to rally his team past the New Jersey Nets, 101-98. For the record, that's a 135.1-points-per-game pace. LeBron outscored the Nets team 17-12 in the final stretch and hit the go-ahead and game-sealing shots in the last minute.
To say LeBron won the award Monday would be a mistake though. The King sewed up the award a long time ago, no matter what his peers or the pundits have said.
Despite a hellacious compressed schedule that has sent virtually all the league's stars to the bench in street clothes (the injured list currently includes Derrick Rose, Kobe Bryant, Dwight Howard, and Jeremy Lin), LeBron has been durable and dominant from Day One of the regular season, a 105-94 Miami win over Dallas on Christmas Day that featured a 37-10-6 from LeBron (that's point-rebound-assists). James has hardly slowed since, playing in 59 of the Heat's 60 games and leading them to a 43-17 record, including a stunning 11-1 record over the course of the season in games without Wade in the lineup.
The stats should speak for themselves. LeBron leads the Heat in points (27.1 per game, third in the NBA), rebounds (7.9), assists (6.3), and steals (1.9). His shooting percentage on two-point field goals is a career-best 52.9 percent, and he's smartly taking a career-low 2.4 three-point attempts per game. With Wade hampered by injuries, LeBron has been even better in April, averaging 29.6 points a game against the likes of Chicago, Boston (twice), Oklahoma City, and Philadelphia.
I bombard you with stats because the sheer day-to-day brilliance of LeBron is lost on the casual NBA fan. They only see a parade of late-game misses and ESPN graphics documenting LeBron's struggles in the fourth quarter of close games. After LeBron missed a last-minute free throw that would have iced an April 12 game against Chicago—a game Miami eventually lost in overtime—the chorus of "Choker!" started again.
MORE ON LEBRON JAMES
Even the reigning league MVP is a LeBron hater. When asked to name the front-runner for this year's MVP award, Rose said it was Thunder forward Kevin Durant. Rose also mentioned the stellar play of Minnesota forward Kevin Love, but he didn't say LeBron's name once.
Durant has had a great season for the Western Conference-leading Thunder and will probably chase down Kobe for the scoring title. But he doesn't belong in the same conversation as LeBron this year, because their situations are so different:
–The Thunder's top guy off the bench, future 2012-Sixth-Man-of-the-Year-Award winner James Harden, is averaging 16.4 points a game. The top three guys off Miami's bench (Norris Cole, Mike Miller and Shane Battier) average a combined 16.8 ppg.
–Durant is not required to be a passer, posting just 3.5 assists a game. Oklahoma City scores much of its offense from isolation sets and other individual plays—point guard Russell Westbrook leads the Thunder with 5.4 apg, far less than LeBron's season average.
–Were it not for Knicks center Tyson Chandler, LeBron would probably win Defensive Player of the Year and is a lock for NBA First Team All-Defense. Durant is an average defender. I don't understand why this hasn't been played up as more of a differentiating factor between the two stars. When the Heat beat the Knicks 93-85 on Sunday, it was because James spent the fourth quarter shutting down Carmelo Anthony. Though he scored 42 points, Melo had just two baskets in the fourth after James took over defensive duties on Anthony from Shane Battier.
–Durant is widely loved. LeBron is widely loathed.
The last point explains the "close MVP race" between LeBron and Durant. No one wants to root for LeBron because of how arrogant he has come off in the past. In fact, the schadenfreude possibilities with LeBron are unprecedented—just look at the 2011 NBA Finals. But despite the boos and palpable hatred that rain down every time he touches the ball in a road game, the NBA's best player is having his best season. That should be the beginning and end of any MVP debate.