Examining one of the strangest character trends in entertainment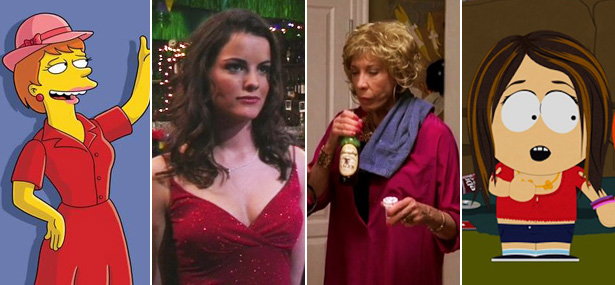 FOX/FX/NBC/Comedy Central
We've realized a silly trend in recent comedy TV—the minor bitch characters are always named Tammy. Now, before you get your Dillon Panthers jerseys in a bundle, we're not counting Tami Taylor from Friday Night Lights; she's a "Tami," not a "Tammy," and guidance counselors named Tami are clearly sweethearts. Anyway, we came to this revelation while watching an episode of Parks and Recreation (featuring Tammy Two) and mumbling to ourselves, "This is classic Tammy," appropriating Charlie Kelly's short-lived catchphrase from season one of It's Always Sunny in Philadelphia.
Do you know a girl named Tammy? Is she "the eye of Satan's butthole" like the second Tammy Swanson? Or is she "the cold, distant mother [April] never had" like the first? Does she exploit gangly bartenders like the teenage Tammy of Paddy's Pub? As it turns out, Ron Swanson and Dennis Reynolds aren't the only suckers to have coped with saucy Tammys. We call this "The Tammy Theory," or a roundup of coincidentally treacherous TV Tammys. P.S. If your name is Tammy, we're sure you're a very, very nice person.
This post also appears on Flavorpill, an Atlantic partner site.
We want to hear what you think about this article. Submit a letter to the editor or write to letters@theatlantic.com.