Wait, Why Am I Directing a Movie?
The first dispatch from a newbie film director who'll be chronicling his shoot for The Atlantic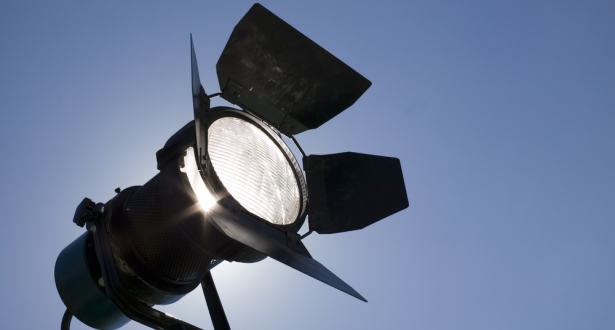 I never dreamed of being a movie director. And by that, I don't mean, "I never dreamed I could be a movie director." The gig was not something I ever wanted.
What's new in arts and entertainment.
See full coverage
Yes, I went to pretty good film school, the University of Southern California's School of Cinema-Television. But I enrolled in the undergraduate screenwriting program with the intent of being not the guy behind the camera, but the guy a safe distance behind that guy and—most likely—behind a few other guys in suits with open checkbooks. That's if I was fortunate enough to find an available canvas chair with "writer" stitched on it. Despite my professors' frequent warnings about the lowly, oft-disrespected position of the screenwriter, I always felt I'd get plenty of fulfillment from being the dude who got the ball rolling with roughly 110 pages of pure, Aristotelian three-act gold. Leave the directing to the megalomaniacal control freaks and self-styled auteurs. Also, I was intimidated.
Now, 16 years after film school, I find myself on the eve of directing my first full-length feature film. It took seeing the title on IMDB to believe I am actually doing this: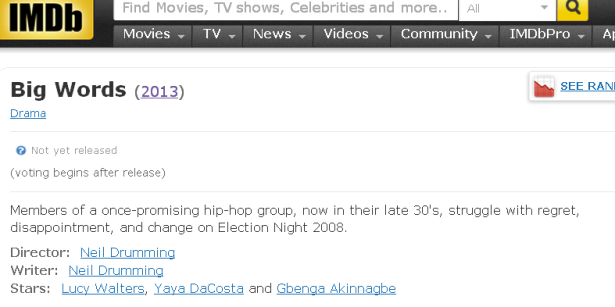 Films, especially independently made ones, are often love's labors that take long, hard years to make, so I won't be so self-centered as to waste this space lamenting my particular struggle. In short: I finished writing the first draft of Big Words in March of 2009 and have since gone through a few rewrites, an untold number of requests for "feedback" from people in "the industry," several flirtations with different producers and directors, one well-intentioned but ultimately fruitless option agreement for a single dollar, one self-imposed, complete script overhaul, and eventually a brief, honest conversation with myself.
I'm paraphrasing, but it went kind of like this:
Dude, it's time. You're going to have to direct this movie yourself.
I dunno, man. Directing seems hard.
Dude, seriously? This is your vision. No one is going to make this movie the way you want it made but you.
Ultimately, the part of my psyche that says "dude" too much was right. I really admire talkie films by people like Richard Linklater and Nicole Holofcener. I love movies like the Big Chill and Sideways about growing up and not being entirely happy about it. And I get a huge kick out of unabashedly nostalgic movies like Dazed and Confused and Diner. I had written a screenplay in the tradition of these films but through my own lens, that of a black man in his mid- (now, late-) 30s and mentally tethered, for better or for worse, to the hip-hop of the early '90s. Big Words is not autobiographical, but it's a rather personal story. Try as I might, I was unable to surrender control over its execution to any of the film's would-be shepherds.
The good news was that once I decided to direct the film myself, I found that other people—smart, talented, creative people—were drawn to my commitment. First, friends became my producers and investors. Then, after the requisite research, we began hiring a strong crew, attaching a great cast. Within a few months, I was deep into pre-production on an honest-to-goodness motion picture.
Filmmaking is a collaborative effort like no other. When I'm not too busy being terrified by the enormity of the task, I am being inspired and amazed by the creativity and individual efforts of all the great folks who are pulling for this project. In these columns, I hope to be able to share this experience in peculiar and fascinating detail.
That, of course, will have to wait a couple days. I'm writing this post after 11 p.m. We start shooting tomorrow, and I have a 9 a.m. call time at a local bar—to start blocking the scene and rehearsing with the actors, not to drink. I wish.