The NFL Draft Is Still a Crapshoot
All the algorithms in the world can't predict who will succeed and fail in pro football.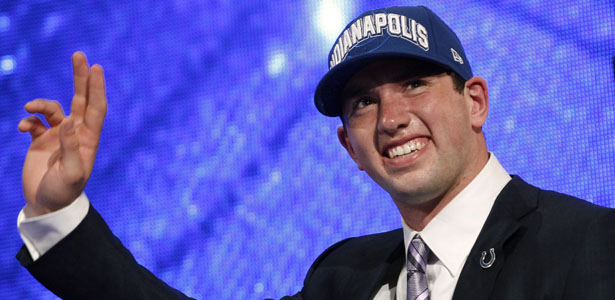 Reuters
For the last couple of months, scores of the best college football players in the country have been made to jump through hoops like trained animals and undergo psychological tests like the replicants in Bladerunner, all to determine whether or not they are suitable fodder for the National Football League.
Now the draft is under way, the first step in a process that will prove, over the next couple of seasons, that despite the most sophisticated and rigorous scouting and testing techniques, selecting players for the NFL is still pretty much what it has always been: a crap shoot.
Writing for The Atlantic in 2006, I asked a pro football scout:
Why, despite the enormous amounts of time and money devoted to it by NFL think tanks, the annual college draft produces such erratic results. Nobody, I noted, had been anxious to select Johnny Unitas or Bart Starr or Joe Montana—by my measure the three greatest quarterbacks of the last 50 years and winners of a combined 11 NFL championships. By NFL standards, they weren't very big and didn't have great arms. Unitas was the 102nd player drafted in 1955, Starr was the 200th in 1956, and Montana the 82nd in 1979.
What's new in arts and entertainment.
See full coverage
The scout told me that even as recent as 1979 football scouting was "in the stone age." Scouting, he said, had become so sophisticated since Joe Montana was drafted that it was unlikely such a great player would go ever go that low in the draft again. A few weeks after our conversation, the New England Patriots drafted a relatively unheralded quarterback out of Michigan named Tom Brady. He was chosen in the 6th round, the 199th player selected overall.
Add Brady to the list that includes Unitas, Starr and Montana, and you have 14 championship rings among four quarterbacks who have this in common: Nobody much wanted them when they left college.
I asked then-New England quarterback offensive coordinator Charlie Weis why he was so adamant about drafting Brady. I expected some deep-dish analysis. Weis said, "I don't know, call it a gut feeling. To me he had the look of a bulldog."
Go plug that formula into your computer.
Last night, the Indianapolis Colts and Washington Redskins did exactly what everyone had known for months they were going to do: choose Stanford's Andrew Luck and Baylor's Robert Griffin III in the first two selections of the draft. Both are quarterbacks. Both have been groomed for the job of NFL quarterback since high school. At the least a couple of years with a top flight college program is the equivalent for a baseball player of two seasons of Triple-A ball.
There isn't any question that both men have all the required physical attributes, and if they aren't intellectual standouts, the truth is that in the modern NFL they don't have to be. When they step out on the field in their first professional game, most of the work that requires actual thinking will be done for them by a head coach and a brain trust of assistant coaches who have already decided from what formation their quarterback will take the snap, how many receivers will be in on the play, and what kind of defense the opposition is likely to run.
The last great quarterback to call his own plays was probably Bart Starr back in the late 1960s. Compared to the old-time greats, the modern quarterback is less of a leader than an extension of the team's coaching staff. It's like the difference between a dog-fighting World War II fighter pilot and a modern flier working with radar and preprogrammed missiles.
MORE ON FOOTBALL
Surprisingly, considering how important the position of quarterback is, this is just the 6th time in NFL draft history in which the first two picks went for passers. Here's hoping for Luck and Griffin that their stories work out better than those number-one and -two picks from previous drafts. Only two of those previous five drafts (1954, 1971, 1993, 1998, and 1999) produced a quarterback who earned a Super Bowl ring: Peyton Manning and Jim Plunkett (the Patriots picked Plunkett No. 1 in 1971while the Saints picked Peyton's dad, Archie Manning, second). Plunkett led the Raiders to two championships, but oddly enough, the rest of his pro career was undistinguished.
Probably the best one-two selection was in 1999 when the Cleveland Browns took Tim Couch while the Philadelphia Eagles went with Donovan McNabb. Couch was a solid professional for several seasons with an absolutely dreadful Cleveland Browns franchise and McNabb, despite the abuse heaped on him by Eagles fans, led his team to five NFC championship games and one Super Bowl.
The language used by most writers covering the 1999 draft sounds very similar to descriptions of Luck and Griffin this year. When I was writing about Couch and McNabb for ESPN Magazine at the time, Couch was a "pocket passer" and "student of the game"—expressions frequently applied to Luck. McNabb—and now Griffin—was described as "athletic" and "instinctive." In case you're wondering, these are generally code words among sportswriters who don't know how else to say "white" and "black." White quarterbacks, it was and still is commonly assumed, like to stay behind their protection and read opposing defenses, while black quarterbacks like to run with the ball—or at least scramble until they can find an open receiver.
These are prejudices that have lingered long after the circumstances which created them. As late as a generation ago most white quarterbacks came out of big high school programs where passers were encouraged to stay in the pocket and let the runners and receivers do their work; black QBs usually came out of high schools with smaller rosters and the most talented player was simply given the signal caller's job and allowed to advance the ball as best he could. Or at least, that was the argument usually made as to why white passers.passed more and black passers ran more. By now, college quarterbacks like Luck and Griffin are pretty much products of the same system—i.e., pro-type offenses which often feature just one running back and four and sometimes five receivers going out on pass patterns.
But what everyone wants to know this year is which of the two, Luck or Griffin, is more likely to succeed in the NFL. In terms of size, strength, arm strength, mobility, and all other NFL grading systems, the two are either very similar or, at the least, acceptable by NFL standards—this should be obvious, or they wouldn't have been the first two players drafted.
The most famous one-two quarterback draft of all—the one in 1998—produced both the best passer (arguably) in NFL history, Peyton Manning, and the biggest bust in NFL history, Ryan Leaf. Both scored equally well on virtually every test the NFL had and were rated by nearly everyone as the two best pro passing prospects of the decade. This year, Manning, who has taken his team to three Super Bowls, signed a five-year, $96-million contract with the Denver Broncos, and Leaf, after three horrible years in the NFL in which he pitched innumerable temper tantrums and indulged in countless mood swings, was finally bounced out of the league and was arrested a few months ago for breaking into houses.
Which is to say that the ultimate success of an NFL quarterback isn't measured by talent—by the time they reach the NFL they are all supremely talented—but by factors that no one has yet to find a way to quantify—such as "the eye of the bulldog" that Charlie Weis saw in Tom Brady. Bear Bryant was found of saying "It ain't the size of the dog in the fight, but the size of the fight in the dog." In the 57 years since Johnny Unitas was passed up 101 times in the draft, no one has devised a test to measure that fight.