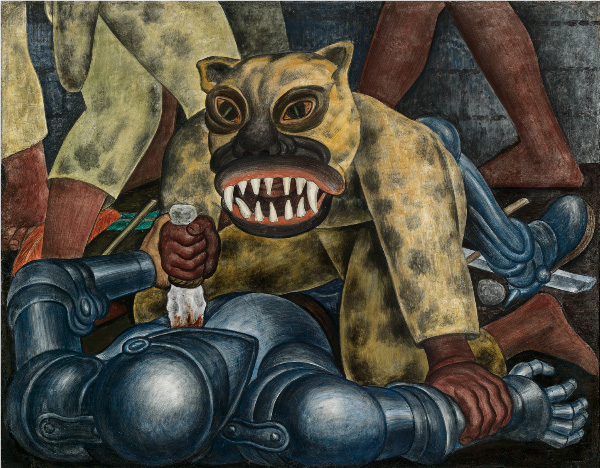 I took my first trip to the MOMA this weekend with friend of the room
Ricardo Gutierrez
. Our main mission was to see
the Diego Rivera murals
up close. I liked his style--it reminded of a graphic novelist in the best possible way. But I often felt like there wasn't much space to explore the murals. It felt the message was on top, and the art was sort of second. I am, by no means, any kind of art expert. So I'd be open to hearing more about what I didn't see.
With that said, oddly enough, this piece--
"Indian Warrior"
--was probably my favorite. I say "oddly" because it's message is fairly direct--a conquistador in full armor slaughtered by an Aztec Jaguar knight. And yet I felt like there actually was room in there for me. Maybe it's the Jaguar garb, or it could be the feet the background. I don't know.
Anyway, we saw some other stuff that really got me--the Dada stuff, for instance, was wild. More on that later.