Reviving a Forgotten Journalism Icon on Stage
The Columnist explores the life of a Joe Alsop, a luminary who, amid a changing news culture, lost his way.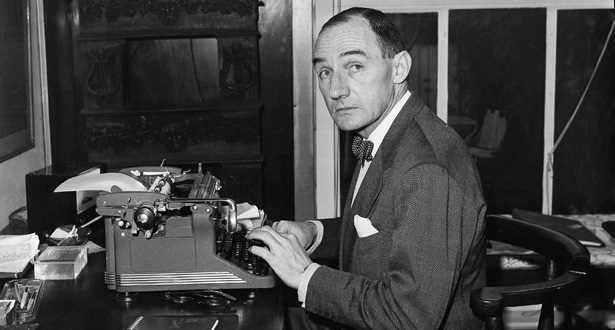 AP
It has been nearly 50 years since Joseph Alsop was at the pinnacle of American journalism, with an influential syndicated newspaper column and a flamboyant persona that made him a Washington character of the first rank. John Lithgow's portrait of Alsop in The Columnist, which opens this week at the Manhattan Theater Club on Broadway, captures Alsop's distinctive quirks and his era with admirable attention to period detail. The Columnist is written by David Auburn, whose play Proof won the 2001 Pulitzer Prize for Drama and the Tony Award for Best Play and was later adapted as a film. Proof focused on the inner turmoil of a central figure, Catherine, who was determined to defend the integrity of her late father's challenged work as a mathematician at the University of Chicago. Like Proof, the subject of The Columnist focuses on a fall from grace: Alsop was renowned for his opinions and fluency in his heyday during the 1950s and 1960s, but gradually lost much of that clout as his irascibility undermined the column's clarity of judgment, particularly about Vietnam.
What's new in arts and entertainment.
See full coverage
For all his years of eminence in Washington's elite circles, Joe Alsop, as the play unfolds, seems increasingly lonely and out of phase with the emerging culture of political trends, popular protest, and broadcast punditry that was not Alsop's style. In an unusual and astute self-appraisal about his role, Lithgow wrote in a Newsweek column that, despite his "fame, notoriety and power, Joe has been forgotten by all but the chattering class of 70-year-olds and older. But Auburn has chosen to place him center stage once again -- a brilliant, seductive, infuriating, secretive altogether captivating leading man, born to the spotlight."
Alsop, his brother Stewart (with whom he collaborated on a widely admired column  from 1945 to 1958), Alsop's wife Susan Mary were quintessential figures in Washington's elite social and journalism circles of the Cold War era. So prominent was Alsop that, at the end of his inaugural evening rounds, John Kennedy stopped off at Alsop's townhouse in Georgetown for a nightcap. Susan Mary, who had two children (consolidated for the purposes of the play into a daughter, Abigail, nicely portrayed by Grace Gummer, Meryl Streep's daughter), married Alsop knowing the central secret of his life: that he was a homosexual. In fact, the play opens in Moscow in 1957 with a gay sexual encounter Alsop had with a "guide" supplied by the KGB, which photographed the men and, in a clumsy effort at blackmail, circulated the pictures widely. To Alsop's credit, they were unsuccessful in intimidating him. Privacy in sexual matters still prevailed in Washington then, and Alsop's homosexuality was clearly an open secret, which the play uses as a frame for the arc of the story.
The photographs surface again when, in the play, they make their way into the hands of David Halberstam, the New York Times reporter (and later a distinguished author) who, in reality, vigorously clashed with Alsop over his support of the Vietnam War. Alsop's fervent backing of the war, which continued long past the point when most of his peers believed the conflict a hopeless quagmire, is crucial to the ultimately poignant sense that Alsop was increasingly isolated as the years passed. As a focus of dramatic action, Halberstam is meant to represent the deep divide between his generation of reporters, whose best sources were soldiers in the field, in contrast to Alsop, whose preference for officials at the highest level led to his misjudgments about the status and outcome of the conflict. Even as his standing as an arbiter of events was waning, Alsop, by now long separated from Susan Mary, continued to surround himself with prominent Washington figures. In the early 1970s, Alsop visited Vietnam while I was there as a correspondent for the Washington Post. I no longer exactly remember the circumstances, but recall Alsop saying one evening after several glasses of wine that the wretched war had cost him "his health, his figure, and his reputation."
Although faithful to the basic facts of Alsop's activities and the tenor of the times, The Columnist is not meant to be a docudrama. The script, published in book form by Faber and Faber, describes the play as "inspired by the real-life story of Joseph Alsop," and there is considerable conflation of events for the valid purposes of shaping the narrative. The question that hangs over the play is its relevance to our age beyond its portrayal of an especially colorful personality. Certainly, journalism still has its celebrities, including some who write columns, but their standing comes far more from visible prominence as public commentators than it did in the past from. Lithgow contends in his Newsweek piece that the only person "wielding a fraction of Joe Alsop's power is Rush Limbaugh." The comparison would have appalled Alsop, who prided himself on erudition and high-brow mannerisms. Actually, presenting Alsop as a historical artifact is entirely appropriate, but many of the preeminent journalists of today are in their own way his descendants, with the same ambitions and pursuit of power that he so manifestly displayed. Perhaps in a half-century there will be a play about, say, Rush Limbaugh. But for now, The Columnist gives us a vivid star-turn on Joe Alsop, a man of his times, with echoes for our era as well.