Museums Want to Entertain You (and That's Not a Bad Thing)
A new exhibition at the Nelson-Atkins in Kansas City uses technology without going too far.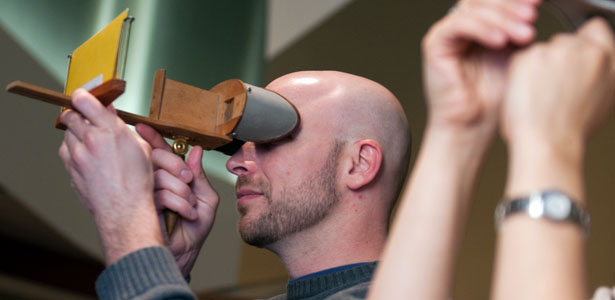 Bob Greenspan
Once, art museums were like fortresses. They were built of stone atop forbidding mountains of stairs. Today, museums might be nestled under glass pyramids, or sheathed in undulating ripples of stainless steel, or built to look like boats and the hood of a sports car. A city in China has plans for a comic book museum that's shaped like a speech bubble.
What's new in arts and entertainment.
See full coverage
Just as the buildings have changed, so have the exhibits inside them. Today museums must compete with a host of entertainment options that didn't exist a generation ago. Customers who could be down the street seeing Titanic: An IMAX 3D Experience instead are unlikely to be satisfied with the old school, cattle-like shuffle past painting after painting, just as patrons with smartphones in their pockets don't want to read names and dates off of little white cards. Even the Louvre has gone high-tech. The venerable institution has partnered with Nintendo to put gallery maps, high-resolution imagery, and a dozen languages of audio commentary in every visitor's palm.
Patrons who expect multimedia bang for their buck get it at "Inventing the Modern World: Decorative Arts at the World's Fairs 1851-1939," a new exhibit at Kansas City's Nelson-Atkins Museum of Art. The ambitious show, which opened on Saturday and runs through August 19, explores how World's Fairs did—and still do—offer a means for nations to assert themselves on the international stage. World's Fairs also became the first platform for introducing new styles, manufacturing techniques, and consumer goods on a global stage. Popular products first presented at a World's Fair, for instance, range from mayonnaise and Cracker Jacks to the sewing machine and telephone. The bejeweled Cartier clock is eye-popping. The prototype Herman Miller plexiglass chair will make any design-lover swoon.
Fittingly, "Inventing the Modern World," also boasts plenty of new technological accoutrement. A movie screen welcomes visitors with looping archival footage. There's an "augmented reality station" where visitors can examine virtual 3D models of objects on display. At a mock dressing table, a set of mirrors imprinted with images lets people see how they would look wearing some of the exhibition's spectacular jewelry. Outside, squatting incongruously at the north edge of the Nelson's manicured grounds, is the temporary Sun Pavilion—a half-elegant, half-ramshackle structure built from reclaimed shipping containers and powered by a canopy of solar panels. The Nelson's cafe is serving a World's Fair-themed menu, and, of course, one must exit through the gift shop.
MORE ON THE ARTS
None of it feels overwhelming. Given the nature of this exhibit, in fact, it would have been almost impossible for the museum to go overboard. If anything, with "Inventing the Modern World" the Nelson erred on the side of caution. Or, at least, on the side of restraint.
In doing so, the Nelson's curator of decorative arts Catherine Futter, and co-curator Jason Busch from Pittsburgh's Carnegie Museum of Art have illustrated something vital about the evolution of museums, and especially about the limits of new, showplace settings and multimedia add-ons.
Tom Hennes is the founder of Thinc Design, a leader in creating exhibits for museums and expositions. Because the impetus behind World's Fairs was so intensely scientific, futuristic and commercial, he said, and as the fairs were so inherrently glitzy, almost any technological bell or whistle would have felt appropriate.
"In this case, with the art of exposition," Hennes said, "if you are being coherent about the way you create it, it's hard to be excessive."
There is a danger for curators in general, Hennes said, is in trying to do too much. He described a class of "immsersive museums"—institutions that try so hard to be stimulating and interactive they create an experience "that people find exhausting."
"And if the exhibit is about an idea, rather than merely a collection of objects, it becomes much easier to cross the line and overwhelm people."
Hennes mentioned the Jewish Museum in Berlin, which he said "left him staggering and feeling completely defeated." The museum "seemed so hellbent on telling me exactly what to think that I felt manipulated."
This isn't a problem for the Nelson's new exhibit. But Nelson-Atkins director Julián Zugazagoitia is well aware that most museum patrons want more than the old-school experience of staring at a piece of art in silent contemplation. The Sorbonne-educated Zugazagoitia, who joked that his institution has "bet the farm" on the World's Fair exhibit, excitedly embraces "tools for digital curation," and talks about how museum can use websites to drive visitors to the real-world site as well as augment their experience afterward.
Still, Zugazagoitia also knows that it's easy to overwhelm people. He describes visiting museums "where you walk into a room and there's one little painting surround by all these cards in different languages. And the video. And X-rays of the painting. And the only thing you can't see is the work of art itself."
Even with an exhibit called "Inventing the Modern World," he said, some visitors still want the pre-modern experience of art—without help from all the technological doodads.
"There are people," Zugazagoitia said, "who go to the museum and do want that more traditional, contemplative, one-on-one experience." One of the museum's jobs, the director said, "Is to ensure that people who do want that kind of experience are still able to have it." A museum can't be successful, he said, if it doesn't allow people the psychic space to have their own, individual reactions to the objects on display.
In other words, the true purpose of an art museum can't be dictated by curators, exhibit designers, or critics. Ultimately, no matter how beguiling a museum building may be, whatever multimedia elements are slathered on an exhibit, the central experience of the museum is, and must remain, the utterly idiosyncratic connection between a viewer and the objects viewed. The Nelson-Atkins' "Inventing the Modern World" allows space for that relationship; one that is most fittingly described with great elegance in an inscription by Paul Valery on the Palais de Chaillot—built for the Paris Exposition Internationale of 1937.
The passerby must decide
If I am tomb or treasure house
Eloquent or mute
The choice is yours my friend
Do not enter without desire