Marnie on 'Girls': TV's Latest Beautiful Control Freak
Like Mad Men's Betty and Charlotte from Sex and the City before her, Marnie is flawless on the outside but neurotic on the inside.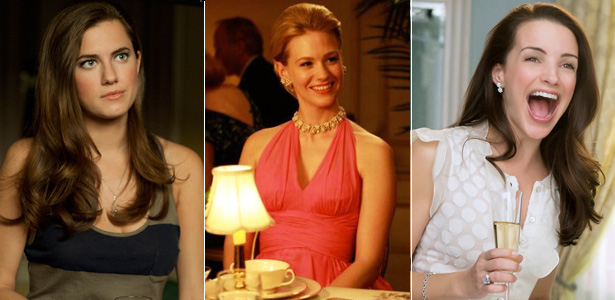 HBO, AMC
Two weeks into the new HBO series Girls, one character has emerged as the most divisive: Marnie, the gorgeous, uptight roommate of the show's heroine, Hannah. In a discussion about the most recent episode, Slate's L.V. Anderson asked, "Does she have any redeeming qualities?" Vanity Fair's Juli Weiner echoed the sentiment, calling Marnie "a gallerina with overbearing mothering tendencies."
What's new in arts and entertainment.
See full coverage
Marnie is not TV's first beautiful control freak: She fits squarely into a character type formed by Mad Men's Betty and Sex and the City's Charlotte, two stunning women with deep neuroses. Marnie, Betty, and Charlotte highlight a strange trend in highbrow television: With beauty comes a desire for control—which the character ultimately must lose in humiliating fashion.
Most television characters are physically attractive, of course, and Girls is no exception. But the other women on Girls have qualities that blunt their beauty in some way and make them seem "realer." Jessa has her ridiculously bohemian outfits and tough attitude; Shoshanna her laughably dated Juicy jumpsuits and tense, eager-to-please smile; and Hannah her well-documented arm and tummy fat. Marnie, however, is basically physically flawless. She has beautiful hair, clear skin, and a long lean frame, and she wears classically fashionable clothes that fit her well. She has no obvious outward flaw to signal to the audience that she's "just like us."
Betty and Charlotte also stand out in their respective shows for their near physical perfection. Even in a series as aesthetically gorgeous as Mad Men, Betty is a knock-out: never a hair out of place, always wearing an exquisitely tailored outfit that's just right for the occasion. On Sex and the City, most of the main characters have humanizing wardrobe quirks—Miranda's mannish pantsuits, Samantha's penchant for neon, Carrie's slavish devotion to high fashion. Charlotte, on the other hand, wears simple, classic clothes and accessories, even when she's exercising. She always looks good.
MORE ON TELEVISION
But these women's beauty is mainly external: Marnie, Betty, and Charlotte are all controlling, childish characters. Marnie is desperately bored with her long-term boyfriend, so she finds excitement by micromanaging her friends' lives—throwing an "abortion party" for Jessa and lecturing Hannah for having sex with a man who doesn't respect her. Betty, similarly unhappy first in her marriage to Don and then in her union with Harry, is cold to her children and conniving with her friends. Charlotte is also unhappy, but for the opposite reason as Marnie and Betty. She's miserable that she can't find a husband, so she concocts a set of rules for herself to ensure she'll find a perfect man.
This combination of beauty and obsessive self-control is toxic. Countless articles and video montages decry Betty's
poor parenting skills
,
self-pity
, and
all-around annoyingness
. Charlotte didn't inspire the same amount of vitriol as Betty, but still had her detractors. Over the course of the
Sex and the City
's six-year run she was dismissed as "
dopey
," "
prudish
," and "
conventional
." After just two episodes, Marnie is getting the same treatment:
Good
magazine
wonders
why Hannah would ever be friends with her;
Vanity Fair
calls her the show's "
most polarizing character
." Even her defenders couch their approval in apology: A male reviewer at
Mother Jones
says
, "I fully understand the
kind of guff I'm inviting by reserving praise exclusively for the hot one."
Mad Men and Sex and the City each found their own ways of humiliating their outwardly beautiful, inwardly flawed characters. Betty's simply become less beautiful: This season, to her horror, she's gotten fat. Charlotte had to undergo a much more excruciating process of humiliation. Her relationship rules land her the ideal WASP husband: Trey MacDougal, a surgeon from an old-money family. But the beautiful bagpipe hymn that's playing as Charlotte walks down the aisle toward Trey is actually a funeral dirge. They soon learn that he has no sex drive and she's infertile. Their marriage ends with a quiet conversation while a photography crew from House and Garden prepares to document their seemingly perfect life together.
These story arcs do their job in softening people's attitudes toward the characters. The Washington Post's Jen Cheney wrote of the first episode featuring "Fat Betty," "suddenly, we all found ourselves feeling really bad for Betty Francis/Draper." Vulture's Jessica Grose agreed, saying Betty's weight gain could be a long-awaited catalyst for growth. Charlotte's difficult marriage and struggle with infertility also made her more appealing. Salon wrote that Charlotte's triumph despite disappointment "almost single-handedly saved its final season." It's too soon to know what will become of Marnie, but if her predecessors are any indication, she'd better watch out: She's probably heading for a fall.