How On-Demand Is Redefining the Film Festival
Tribeca's embrace of home viewing shows that movie premieres don't have to be tied to one location.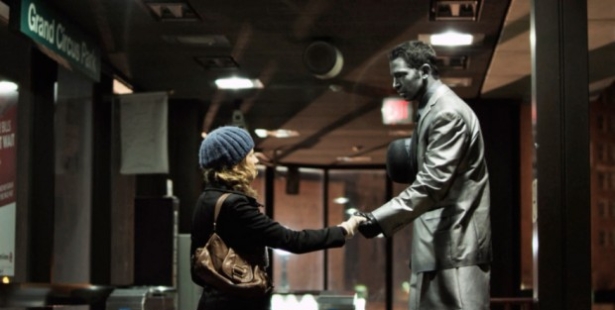 The Tribeca Film Festival, which opened on Wednesday, is often criticized for lacking an identity. While Sundance, for example, is closely associated with top-of-the-line independent film premieres and Cannes is world-renowned for favoring big-name directors, industry analysts have regarded New York's biggest festival as something of an unfocused mess. As David Poland, editor-in-chief of Movie City News, told me, "It's all a blur. Nobody can answer, 'What is Tribeca?' in 25 words or less."
What's new in arts and entertainment.
See full coverage
The truth is that Tribeca is too sprawling to be codified in simple terms. Conceived in 2002 to help reinvigorate a neighborhood shattered by September 11, the event has been simultaneously oriented toward preserving its community roots and expanding its reach in the film world. Reflecting the city it calls home, the festival is bold and ambitious, offering a slate of movies ranging from big-studio blockbusters (The Avengers) to experimental independents (Eddie — The Sleepwalking Cannibal). There's a popular street fair, free "drive-in" outdoor screenings offered in lower Manhattan, and more. Put another way, Tribeca aims to be all things to all people.
But there is one distinct area that sets the annual confab apart. Some of the movies that premiere there actually premiere everywhere—which is to say, in living rooms and on computer screens nationwide. The festival has developed a robust, multi-faceted digital presence, anchored by video-on-demand offerings and a smart innovation called the Tribeca Online Film Festival, now in its third year. Four of the 90 feature films from 2012 will debut through cable companies' on-demand services during the fest. At the same time, the online festival will present features, shorts and live-streamed events to a first-come, first-serve online audience for free. The only catches are that the various events and screenings are only offered at set dates and times, and there is a cap on the number of viewers permitted.
While film festivals typically aim for location-based exclusivity, trading on the appeal of getting a privileged sneak peek at their picks, Tribeca adopts a big-tent, everyman approach. The digital initiatives exemplify Tribeca's populist bent. After all, you don't even have to visit New York for a taste of what the event offers.
The films that will premiere on demand and be made available online between now and April 29 also encapsulate Tribeca's populism. They're as unclassifiable as the rest of the diverse fest's offerings, a portrait-in-miniature of an event made up of countless niches.
On cable, Hollywood names get their due in the romance The Giant Mechanical Man, which stars Jenna Fischer and Topher Grace. A police detective tries to barter for his kidnapped son in the French thriller Sleepless Night. Death of a Superhero, a drama with fantastical elements, follows a teenage artist coping with a terrible medical diagnosis. Finally, the terrific documentary Booker's Place: A Mississippi Story looks back on the late Booker Wright, an African-American waiter who courageously testified about racial injustice to NBC News in 1965.
The Tribeca Online Film Festival offers the Bronx-set coming-of-age story Babygirl, documentaries about high school wrestling (On the Mat) and an Ethiopian town that's produced multiple Olympic running champions (Town of Runners), and a film about musician John Forté (The Russian Winter). Multiple shorts join the online film-festival program, as do special events such as the TFF Awards Night next Thursday.
Tribeca might never achieve the cachet of its top-of-the-line counterparts. The festival is not a first-rate marketplace, or a staging-ground for prestigious world premieres. In fact, it's most notable for these online and on-demand initiatives, groundbreaking pursuits that have made Tribeca the first truly nationwide film festival. The focus is a logical evolutionary step, given the independent film business's increasing dependence on leveraging digital platforms as tools to earn the sort of instantaneous national exposure that smaller movies simply can't get theatrically. There's no better way to achieve what is ultimately Tribeca's primary purpose, building the audience for independent cinema, than by embracing that reality.
Of course, there's still a stigma around the industry's shift away from the traditional distribution model. Theatrical purists will never accept the turn toward video on-demand and the web, and one wouldn't be wise to bet on the oldest, most entrenched festivals (i.e. Cannes) expanding horizons in that area. But other major annual events, most notably Sundance and South by Southwest, have also waded into the digital realm. Sundance, in particular, lately has been feverish about expanding its brand online, creating Sundance areas on Hulu, iTunes and elsewhere. The New York Times attributes the top American festival's focus on expansion in part to the competition provided by Tribeca.
In fact, Tribeca "created a new roadmap for a modern film festival by aggressively expanding its footprint," writes Film Society of Lincoln Center director of digital strategy Eugene Hernandez. It will undoubtedly continue doing so in its second decade, reworking and reassessing all the tools at its disposal to carry out the mission of promoting small, quality films as widely as possible. And if more festivals follow suit, it could turn out that Tribeca finally gets a concrete claim to fame: changing the film industry.