How a 5-Year-Old Foreign Film Sparked a Free-Speech Fight in Tunisia
The prosecution of a broadcaster who aired Marjane Satrapi's acclaimed Persepolis shows that the success of the Arab Spring hasn't necessarily led to freedom of arts and expression.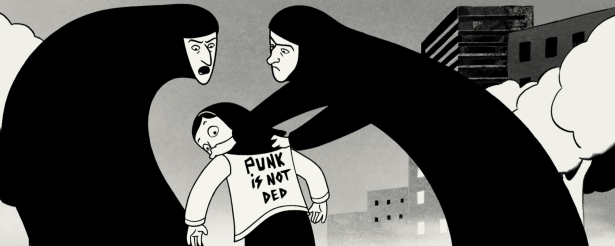 Sony Picture Classics
Marjane Satrapi's comic book series-turned-film Persepolis was celebrated upon its 2007 release in France and the U.S. as being a heartfelt, complex, and beautifully animated tale of the 1979 Islamic Revolution's impact on one family in Iran. It was nominated for an Oscar, won the Cannes Film Festival's Jury prize, and sparked dialogue about women's rights and individual freedoms in the Islamic Republic. The film addressed politics, but Satrapi herself didn't want to be seen as a controversy causer: "Polemics," she said at one panel screening, "are not my cup of tea."
What's new in arts and entertainment.
See full coverage
But a controversy is exactly what's emerged in Tunisia because of Persepolis, five years after the film's international release.
On Thursday, Tunisian courts will hand down a verdict in the public prosecution of Nabil Karoui, chief of popular Tunisian broadcaster Nessma TV, for airing Satrapi's film. The verdict will say a lot about the future of freedom of expression in the very country whose citizens kicked off the Arab Spring a year and a half ago.
Although Nessma representatives told The Atlantic that Persepolis was translated into Tunisian Arabic and prepped for air long before, Persepolis made its contentious TV debut in October 2011, just around the time Tunisian Islamist party Ennahda won a majority of the seats in Tunisian parliament. Some observers took the film's airing so soon before Ennahda's win as a political statement, associating Tunisia's newly empowered Islamist leaders with Iran's theocratic dictatorship. Indeed, Tunisia's Islamist leaders have since reportedly praised Iran's Islamic revolution as an exemplary "anti-hegemonistic"' movement.
The trial comes at a time when many post-revolutionary Arab states exist in uneasy tension with their artists. Egypt, now ruled by a Muslim Brotherhood majority in its parliament, overturned a three-month prison sentence Thursday for 71-year-old comedic actor Adel Imam for "insulting Islam" with films like the canonical 1992 satire Terrorism and Kebab (El Erhab W'El Kebab). In Morocco, Casablancan rapper El-Haqed (as also known as L7a9ed) was jailed for rap supporting the nation's protest movement. His trial, which is pending, has gained international attention.
In the Tunisian case, Persepolis drew outrage for scenes in which God visits the young Satrapi in her dreams--and appears in human form, violating one of Islam's most famous taboos for artists. Nessma representatives told The Atlantic that only some 50,000 households tuned in to the broadcast, and that the film had already been shown in theaters in Tunisia and across the Arab world. Nevertheless, incensed Salafists set fire to the Nessma TV's offices shortly after Persepolis went to air in October 2011, leading prosecutors to also charge Karoui with "inciting public disorder."
Nessma employees said the airing of Persepolis was, indeed, partly politically motivated.
"We wanted to start a debate," Nessma journalist Jamel Arfaoui told The Atlantic in January. "We wanted to tell Tunisians, 'You have to be very careful [with ideology].' They need to learn that you have to stay moderate and vigilant."
In the film, the young Marjane Satrapi struggles to express herself in the early days of the Islamic Republic, when the American punk rock and metal that she listened to were damned as signs of Western decadence by moral authorities. Satrapi, who visited the U.S. last week to discuss her film, declined to comment on controversy the film has sparked in Tunisia, but other experts say they see why the film touched a nerve in the country.
While the newly empowered Tunisian Islamist government hasn't yet had an opportunity to formerly posture itself as a dictatorship or democracy, Geneive Abdo, head of the Iran department at the Washington, D.C.-based Middle East Institute, said that the Persepolis trial "doesn't bode well for freedom of expression."
"In a country like Tunisia that is so plugged in to Western culture, there's still some fear that Western food or clothes -- as depicted in Persepolis -- will be banned," Abdo said. "In this film, there is a powerful portrayal of a woman who wants her freedom, ends up leaving to the West, and ends up homeless on the streets. She can't seem to exist in the West or Iran. That's a big theme that speaks to secular people in the Arab world now."
Tunisia's judiciary twice postponed a verdict in the Persepolis trial, all the while organizations like Amnesty International have spoken out against the TV boss's prosecution. Activists across Tunisia and the Arab have used the Twitter hashtags #PersepolisTrial to discuss whether Karoui should indeed be held accountable for airing a depiction of God on Tunisian TV. The digital rallying call for those on Karoui's side has become #Nessma7orra: "Free Nessma."
"This [trial] isn't about Nessma--this is about liberty in Tunisia," Nessma's Arfaoui said. "This is about freedom of speech."
But, he acknowledged, it's a kind of fight that has recurred through history--and not just in the Middle East.
"In the U.S., there is always a war of power between the government and the media," Arfaoui said. "Even in the U.K., the journalists fight with the government to be able to say what they want. This is natural. And this will never end."