Hockey's New Battle Against Homophobia
In the year since player Sean Avery voiced his support of gay marriage, the sport has gotten more tolerant—but the fight is just beginning.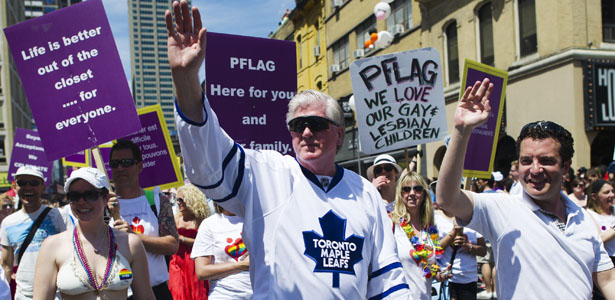 "If there's a kid in Canada or wherever, who is playing and really loves the game and wants to keep playing but he's worried about coming out, I'd tell him to pick up the phone and call [NHLPA executive director] Donald Fehr and tell him to book me a [plane] ticket...I'll stand beside him in the dressing room while he tells his teammates he is gay. Maybe if Sean Avery is there, they would have less of a problem with it."

–NHL player Sean Avery in a February 2011 interview with the Toronto Sun
When Adam Knoerzer and his partner were in Los Angeles to see the Pittsburgh Penguins play the L.A. Kings, last November, they found themselves sandwiched between two, seemingly incongruous parts of hockey culture. To their left was a lesbian couple, supporting the Kings. To their right was a father-and-son duo cheering for Knoerzer's Penguins, all the while talking about "what a fag the PA announcer was," Knoerzer recalls. For Knoerzer, a self-described beer-drinking, TV-screaming, show tune-hating, hockey guy who came out a decade ago, it remains a jarring, telling experience.
What's new in arts and entertainment.
See full coverage
"It was so bizarre being in between lesbians on my left and a father and son on the right, who are unabashedly trashing this guy because they think he's a gay and a queen," Knoerzer, 27, says. "When the Penguins scored, [the father] would give us high fives. I kept thinking, 'Would you give us a high five if I told you that this is the man I love?'"
This experience highlights the tensions that still exist among hockey fans when it comes to homosexuality. It has been a little more than a year since Sean Avery, the lightning-rod of an NHL player and gay marriage advocate, spoke out in support of gay teammates in hockey. Avery's endorsement was just one of several recent milestones in the discussion concerning the sometimes complicated relationship between players, coaches, and fans of hockey and the gay community.
"We've created an atmosphere where players can come out in support of LGBT issues," says Brian Silva, interim executive director of Marriage Equality New York. "But we're still not at the point where anyone from the LGBT community feels comfortable playing."
IT'S A BUSY TIME of year for Patrick Burke at his job. With the Philadelphia Flyers beating the Penguins and advancing to the second round of the Stanley Cup Playoffs, there is no downtime. But there's even more happening for Burke. He isn't known as just a scout for the Flyers or the son of revered hockey executive, Brian Burke, but rather, as one of the main figures trying to make the culture of casual homophobia within hockey, one he grew up with, a thing of the past. "I grew up, unfortunately, in the locker room saying, 'Don't be gay,'" says Burke, co-founder of You Can Play. "For me, it was natural and normal, and I never stopped to think of it. It wasn't until Brendan came out and what it meant to have a gay teammate that I said, 'Whoa, OK.'"
Before Avery's advocacy, there was Brendan Burke. In November 2009, Brendan Burke came out publicly while he was still student manager for the men's hockey team at Miami University. Almost immediately, Burke's announcement helped change how players and fans view gay hockey players. It shifted the common hockey fan's understanding of masculinity and what's right and wrong to cheer for during a game. Brendan, however, wasn't able to see the cause through. He died in a February 2010 car crash.
But the seeds had been planted for the You Can Play campaign, which launched last month and with a set of PSAs playing during some hockey broadcasts. In the PSAs, the players stress tolerance, equality, and gay rights at all levels of hockey, noting that if a hockey player can skate, score and even fight, then nothing else really matters—including sexual orientation. To date, about 30 players from the NHL and elsewhere have been filmed for PSAs. Recently, NHL Commissioner Gary Bettman also gave his public support to the campaign.
"The big thing we've seen in the past year is that the athletes are showing a willingness to talk about it," Patrick Burke says. "We've had athletes who've been quietly supportive but never spoke up about it. Now, it's no longer seen as exceptional when athletes speak out against homophobia."
MORE ON HOCKEY
Avery's influence on the tolerance of gay players in hockey is a little harder to quantify. As the gay hockey conversation has hit a tipping point, the casual fan may still point back to Avery—he of "sloppy seconds" and "fatso"—taking a stand for gay teammates and his subsequent support of same-sex marriage in New York State as their only knowledge of the topic in the past year. Even more than a year later, Avery's endorsement still elicits a wide range of feelings, most of them directed toward Avery's polarizing character and reputation as an agitator rather than his support for the cause. In terms of figuring out Avery's influence in helping the conversation in the past year, it's a delicate dance in trying to separate the good from the bad, especially when the public perception of Avery's image is, by and large, sufficiently negative.
"I know people have issues with Avery, but I don't think it matters any time you get a straight person who steps up to the plate like that," says Jeff Adams, a gay hockey player for the New York City Gay Hockey Association and contributor to the Puck Buddys blog for gay hockey fans. "Maybe some people discounted it because it came from Sean Avery, but he put the message out there to people who would have never thought about it. "
But some feel that Avery and his image on and off the ice made him a poor candidate to be the guy to help advance the conversation. Even with the little public pushback from Avery's critics on his stance on gay teammate in the locker room, "It's great what he did, but he has so little credibility," Knoerzer says. "In some ways, it's almost too bad we can't all look past his goonery."
There isn't any quantifiable, recent evidence in polling or statistics that indicates how much attitudes toward gay hockey players have changed in the past year. Those within gay hockey circles continue to cite pre-You Can Play and pre-Avery statistics, such as the 2006 Sports Illustrated survey, which indicated that almost 80 percent of 346 NHL players polled would support a gay teammate.
A number of incidents during the past year suggest that casual homophobia among professional athletes and fans both in and out of hockey persists. In a September preseason game, Avery accused Wayne Simmonds of the Philadelphia Flyers of calling him a homophobic slur, which Simmonds could not recall using. (The NHL did not suspend or fine Simmonds, citing lack of evidence.) When describing the style of play of the Toronto Maple Leafs' Cody Fronson, Toronto media personality Bill Watters labeled Fronson as "more of a 3rd of July parade guy," making reference to the Toronto Pride Parade, which was held on July 3.
The conversation surrounding incidents on social media has also raised eyebrows. After footage of three Flyers fans pummeling a father and son dressed in Rangers gear following this year's Winter Classic went viral, one of the men allegedly linked to the fight bragged about it on Facebook, using a misspelled homophobic slur in his challenge for anyone to do anything about it. In February, a minor-league hockey player in Houston was suspended by the Minnesota Wild, his team's NHL affiliate, for using a homophobic epithet in a tweet about a Foo Fighters concert.
But it isn't just hockey-related incidents. The list of pro athletes and coaches in other sports who've been punished for or been accused of using anti-gay language in the past year remains a long one. Whether it be Kobe Bryant and Joakim Noah in the NBA, or Gregg Williams, James Harrison and DeSean Jackson in the NFL, or Roger McDowell in MLB, or Real Madrid coach Jose Mourinho and the Houston Dynamo's Colin Clark in soccer, casual homophobia hasn't gone extinct in these professional forums in the past year.
"We're not here to sugarcoat anything because part of the hockey community and other places are homophobic or anti-LGBT," Silva says. "I think the biggest success our LGBT community has had and the biggest change you can see in the past year is really the kind of the "who cares?" attitude. It is becoming much like a person's race, gender or religion. How does [sexual orientation] affect their ability to be a good hockey player? It's moving more and more in that direction."
THERE'S A SENSE of calm in the Sky Rink at Chelsea Piers on a damp and gloomy March weekend. The saturated smell of sweaty hockey pads is an aroma straight out of a high school locker room, overpowering the pizza and popcorn at the concessions stand close by. The Final Four is only a couple hours away, but none of the handful of spectators inside the frigid rink seems to care. Banners signifying the New York City Gay Hockey Association's nearly 13-year existence and presence have been raised around the Sky Rink. Three children, no older than 5, are making signs in support of the Sled Dogs, one of the teams about to take the ice. "Go Sled Dogs, Go!" they yell. The viewing experience feels inherently normal. Nothing is out of place or forced. It's just hockey.
In many ways, NYCGHA is the blueprint, a microcosm at the local level of what the gay hockey community hopes to accomplish across the sport. "I was amazed by the number of gays, lesbians, and gay-friendly people who were welcoming for hockey," says Jeff Kagan, founder of NYCGHA. "To me, it was one of those things I couldn't comprehend. Those stereotypes told me that gay people don't play hockey."
Ultimately, how the conversation will push forward hinges on how deep the message of You Can Play can go at all levels of the game. Patrick Burke and Kevin Jennings, CEO of Be The Change and former "safe school" czar for the Obama Administration, are adamant that there will be an openly gay NHL player within two years. And when that time does come, the conversation will move to unchartered territory—much like it did with the wedding proposal involving a lesbian couple at an Ottawa Senators game last month and the rousing ovation it received. That kind of moment in hockey would have seemed surreal not too long ago. Now? Not so much.
Whether Avery understood what he was doing when he spoke out in favor of gay teammates and the influence it would have on perception toward gay hockey players is uncertain. But his advocacy, as well as the commitment from those at You Can Play and throughout other levels of hockey, has given meat to a formerly bare-bones idea that you can play no matter your sexual orientation. For this, Avery's statement, though just one act at one time, may have been the game-changer that gay hockey advocates hoped to see.
"Something is happening with players and fans where you can feel the culture shifting in a truly tectonic way," Jennings says. "It's amazing. I think this is the year where everybody looks back on as the year everything changed for gay people in hockey."