Fenway Park's Unlikely 100th Birthday
The Red Sox's ballpark is hailed as a national landmark today, but 50 years ago it was almost torn down.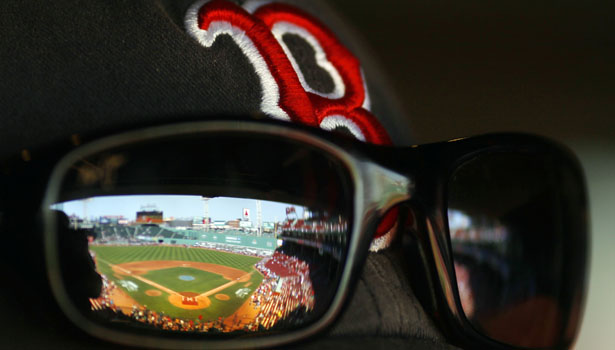 Reuters
It was 100 years ago today that Fenway Park officially opened, and whatever the Red Sox's current troubles (4 wins against 8 losses so far this year and new manager Bobby Valentine already in hot water) one thing is certain: Now is a happier time for the ball park than its 50th birthday was. Today the ball park is nothing less than an American icon, newly listed on the National Register of Historic Places and celebrated on a PBS documentary narrated by hometown-boy-made-good-in-Hollywood Matt Damon.
What's new in arts and entertainment.
See full coverage
But it was very different 50 years ago. Back then the prevailing wisdom was that the Red Sox were trapped "in undersized, ancient Fenway Park" and looking for another place to play. Far from "sacred ground," what turned out to be a premature autopsy in Sports Illustrated pronounced that Fenway was not only "ancient" but was "obsolete... with its 33,524 seats, its totally inadequate parking facilities and its Great Wall in left field." Unless something was done to replace it, "the Boston Red Sox may well become the San Diego Surfers." Summing up the spirit of the time, Frank Deford wrote, "Fenway Park is not really a stadium anyway. It holds only 33,000 because, essentially, it is a left-field wall with seats. For years people laughed at it and said it was the ruin of the Red Sox."
Actually, Fenway's perceived problems were long-standing. The "Green Monster" of a left field wall, just 315 feet or so from home plate down the line, was regularly cited over the years, not as today's prime piece of baseball real estate, but as—according to Al Hirshberg's classic answer to the perennial question "What"s the Matter with the Red Sox?"—"one of the prime reasons why the Red Sox have had so much trouble down through their years of frustration. For by trying to tailor their ball clubs to Fenway Park, packing the lineup as much as possible with right-handed sluggers they have consistently left themselves wide open for disaster on the road."
MORE ON BASEBALL
As to the complaint that Fenway's smallish seating capacity made it "obsolete" (especially in an era when 50,000-plus stadia were becoming the norm), such a concern dated back the ballpark's initial seasons. Just three years after its opening, the Red Sox shifted their "home" games for the 1915 World Series two miles west down Commonwealth Avenue to Braves Field, the newly built home of Boston's then National League team, to take advantage of its larger seating capacity. And they did it again when they returned to the World Series the next year, both times playing before more fans than Fenway itself has ever hosted. The attendance of 47,373 at Braves Field for Game 2 of the 1916 World Series must still be the largest "home game" crowd in Red Sox history. (You can make barroom betting money knowing that).
What saved Fenway back then? First, that the team was so bad in the early 1960s that there was no incentive to spend public money for a new ball park and owner Tom Yawkey was himself convinced that declining interest in baseball did not justify spending his own money on such a (fruitless) project. After all, only about 10,000 fans had bothered to come out for Ted Williams's last game in 1960 and season attendance dropped to 650,000 in 1965. And then just as a "Slow Death by Committee in Boston" was being pronounced (the title of the Sports Illustrated piece quoted above which appeared in June 1967) the "Impossible Dream" pennant of 1967 came out of nowhere (or rather ninth place in 1966) and suddenly "ancient, obsolete" Fenway Park was not inhospitable to winning—and profitable (attendance more than doubled)—Red Sox baseball after all. And so lived on to become a kind of template for the current style in ball park design which is characterized by idiosyncratic features and downsized seating capacities.
The half-century mark is a dangerous time for ball parks. That's when the original Yankee Stadium (opened 1923) fell victim to a "renovation" in the 1970s that stripped it of its epic grandeur. This year, Dodger Stadium is marking its 50th anniversary amidst speculation that the record $2 billion-plus price paid by the team's new owners only makes sense if the ball park's prime location is monetized through commercial development with the ball club relocated to a new downtown stadium (cue cruel irony—that the Dodgers who came west after plans for a downtown Brooklyn ball park failed would end up playing downtown after all—but in Los Angeles).
And not only for baseball's fields of green. The wrecking ball came to New York City's oft lamented Penn Station, which had opened in 1911, in 1963.
So, what can we learn from Fenway's centennial? That the hard part was making it past 50.