Janie Bryant, costume designer for the AMC show, describes her creative process.
Long before she was the costume designer for AMC's Mad Men, Janie Bryant was known at her Tennessee high school as Miss Vogue, and it seemed she was destined for a life in the world of high fashion. After studying fashion design at the American College of the Applied Arts, she moved to Paris to learn the art of couture, and then to New York's Seventh Avenue. But the screen always beckoned, and after meeting a costume designer at a party, she transitioned into a career designing for television rather than the runway. In 2005, she won an Emmy for the HBO Western series Deadwood. As the costume designer for all five seasons of Mad Men, she has both captured a particular period—men in grey flannel suits, women in lacy dresses, everyone, for the last time, in hats—and the incremental sartorial revolution that brought the starchy '50s into the Modish '60s. Her designs have captivated everyone from Michael Kors, whose Fall '08 collection bore her influence, to Banana Republic, which recently launched its Mad Men line. Here, Bryant shares selections from her sketchbook, including an early rendering of Joan's eye-catching dress from the Season Five premiere, and explains how a costume travels from a napkin doodle to the screen.
---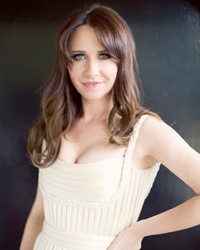 I begin every season with six weeks of prep to create an overall closet for each character. Having been the costume designer for all five seasons now, I have an idea of who these characters are. My job as the costume designer is to tell a story about these characters through their costume design. But it's not like I get all 13 episodes from Matt [Weiner] at the beginning of the show. I don't think that's possible. Specific scenes come up that have just been written. It's a process throughout the whole season.
I might sketch on a napkin, or in a meeting, or in my studio, or even on a little coat-tag card while I'm talking to my manufacturer / tailor. There's no routine. I can wake up in the middle of the night—that's when a lot of my designs occur, especially when I'm designing a show. Then it's all in the middle of the night.
My first scratch illustration, that may take a minute. A real sketch takes me about half an hour, 45 minutes. First I use a mechanical pencil, then colored pencils, and then a black felt-tip pen. Sometimes I use gouache. But I have to be fast—especially for Mad Men, where there's no time to do anything—so I'll usually use my colored pencils. They're the fastest.
MORE ON MAD MEN
Then I'll go to the fabric store—I go to a variety of contemporary and vintage ones. I like to feel the fabrics, I like to see what's out there. I'm also going to the rental houses, I'm pulling from costume shops, I'll buy vintage pieces and redesign them. Whether I design from scratch or buy from a vintage store or a rental house, it's costume design. It's not just throwing some shirt or dress on somebody. There is significant meaning for every piece worn by each actor.
Once I get the fabric cut, I'll bring it back to my tailor, and then she starts her process. She's the one who drapes it on the dress form, and converts it to a paper pattern, and then cuts the fabric. Then I'll do my fitting. Usually the actors aren't there until I've already built the garment. If I'm having a sitting with Christina Hendricks [Joan] and I'm thinking about building more dresses for her, I might put the fabric around her and see how it's going to work with her skin tone. But usually I'll drape the fabric on a dress form.
Every single person has to be fit from head to toe when doing a period show. [Fitting background actors] has to be so fast—20, 30 minutes max. When I fit the principal cast members it can take three hours. That's a good day. During my fittings with the actors, my assistant will take photos, and then I'll go see Matt and show him all the photos for each actor. We've worked together for five years, and he's always given me a lot of creative control. There aren't too many chefs.
I was in the process of making Betty's pink-and-white lace dress for Derby Day, and I had sent Matt a picture of Betty for January [Jones]. I hadn't finished the costume yet. I'd had a fitting really late with January. Matt called me really late, at 10:00, and the scene was to be shot the next morning. And he said, "Janie, I don't like this dress, it looks like a grandmother's." And I said "No, you do like this dress, it's perfect for this scene. It's romantic, it's everything you wanted for her first encounter with Henry, it's amazing." He said, "Just tell me it's going to be amazing." I was like, "It's going to be amazing." It was a costume I felt so confident about, but I really had to talk him into it. The next day I got a text from him, and he wrote to me, "January looks amazing! Thank you!" I was wiping sweat from my brow. But she really did look gorgeous.
For Joan's wardrobe, I've looked to Sophia Loren, Marilyn Monroe, Lana Turner, Jayne Mansfield—iconic actresses with that classic hourglass shape. Matt and I talked a lot about [her dress for the Season Five premiere]. I wanted to do something inappropriate for the office, more of a dinner dress or a cocktail dress. Sometimes Joan will wear kimonos, and I wanted to show an Asian influence with this costume as well. I wanted her to be the focus of the scene, so I went with hot pink, which is a little garish for that super bright white office.
Don Draper, his style is very understated, very minimal. He's all about being mysterious. For me, it's about creating a well-tailored man. His suits, sport-coats and trousers, they're always very well-tailored. Is his style going to evolve? I think we'll have to wait and see. But for so many, and also for Don Draper, those pieces he wears are also his uniform, and it really is based in the classics. Mainstream men's fashion didn't change that much until about 1967. Then you start getting into the wider collars and lapels and wider ties and bell bottoms, and then, going into the '70s, the full-on plaid, polyester leisure suits. But you still have this super minimal understated look from the late '50s through the mid- '60s.
I love the subtleties of men's wear. I love Don Draper's different cufflinks. I love that he wears his monogrammed "D" belts—he has four or five different belt buckles with his full initials. I love his ties, and how they've changed subtly throughout all five seasons. With [Roger] Sterling, I usually do a monogram on his shirts, and his three-piece suits and sock garters.
And I love the idea of the actresses getting dressed as women of the 1960s would, putting on their different foundations. It transforms them into their characters. They walk differently, they hold themselves differently, they feel differently in their costumes. It's all about how an outfit transforms the actors into their characters. That's so important to me.
–Janie Bryant, as told to Alex Hoyt
Read past First Drafts from Wilco, Will Shortz, Stephen King, Christo, and others.
We want to hear what you think about this article. Submit a letter to the editor or write to letters@theatlantic.com.
Alex Hoyt
is a freelance writer and digital illustrator whose work has appeared in
The Atlantic
,
National Geographic
, and
Architect
.