The American Pie characters have had growing pains, but so have the cast and their audience.
When American Pie hit theaters in 1999, it was clear that the teen sex comedy, which tackled everything from guys learning to go down on their girlfriends to the Internet's role in sexual mischief, was a worthy update to the equally blunt Fast Times at Ridgemont High. But it wasn't immediately obvious how enduring American Pie would be. The movie's spawned two sequels and four spin-offs, and Jim's striptease presaged a world where private humiliations would become instant memes. It's unlikely, though, that the new American Reunion will make as lasting an impression. Instead, by getting together Pie's characters for their high-school reunion, the film seems pitched to reconnect with viewers who were themselves in high school when Pie was released. Which is to say, viewers like me.
Related Story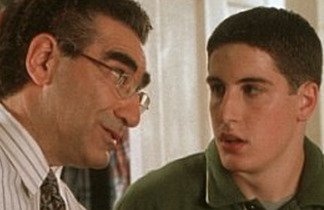 American Reunion isn't as delightfully inventive as the recently remade 21 Jump Street was about the cognitive dissonance of returning to high school. That movie confronted its former nerd and former jock with a complete but plausible inversion of the old social order, a world where the cool kids ace their classes, recycle, and embrace gay rights. The new generation of teenagers in American Reunion, on the other hand, is just as horny and irresponsible as its predecessors were. But the webcam that broadcast Jim's premature-ejaculation humiliations 13 years earlier look positively antiquated. "Teen sex. Rainbow parties. Sexting nude photos," says Kevin (Thomas Ian Nichols), now a henpecked husband, to show how kids today have potentially outstripped the original Pie gang. "I saw it all on Kathie Lee & Hoda." Perennial dirtbag Steve Stifler (Seann William Scott) can be trusted to put things more succinctly: "These young chicks, they know some crazy shit in the bedroom!"
To be sure, plenty has changed for American Pie's four friends. Jim (Jason Biggs) has a son and is married to Michelle (Alyson Hannigan), and appears to be doing OK—just OK—at his job. Kevin (Thomas Ian Nichols) is likewise hitched. Oz (Chris Klein) is a sportscaster and reality dance-show veteran with a vapid live-in girlfriend (a wasted Katrina Bowden). But what hasn't changed for the dudes is that they remain titillated by high-school girls. Mercifully, though, Stifler—who's pretending to be an ass-slapping corporate master of the universe even though he's merely a temp—is the only character still trying to score with them. Once back together, the gang's no less prone to purile hijinks, heavy drinking, and embarrassing nudity—though in keeping with Hollywood trends in nakedness, we get Jim's squished penis rather than Nadia's bare breasts.
These antics are tiresome, but American Reunion can be surprisingly sweet when it turns to the substance of adulthood. Jim's mother has died, leaving his father an anxious widower, and Jim tries to coax him back out into the world. Jim and Michelle's sex life has gone flat after the birth of their son. She's getting cozy with their bathroom showerhead (the franchise has always been nicely un-shy about the reality of women's sexual desire), and he's regressed into porn as a substitute. "Whenever I try to shop online and start to type in Amazon.com, Amazing College Sluts comes up," Michelle says ruefully. It's a sad comedown for the once-adventurous couple. Finch (Eddie Kaye Thomas) is spinning tales of adventure that may not be precisely grounded in reality. And Oz is humiliated by the meaninglessness of his entertainment career and the showboating of his shallow girlfriend, no replacement for Heather, who is dating an obnoxious cardiologist (Jay Harrington).
American Pie was wonderfully frank about the varied ambitions and sexual desires of its characters 13 years ago. In an age where Hollywood's vision of adult life usually includes swanky apartments and fulfilling employment in the creative industries, American Reunion isn't afraid to paint a mixed portrait of how they all grew up. Adding a meta dimension to the whole enterprise is that it's an opportunity to evaluate the subsequent careers of the first movie's cast, given that the actors once represented a rising, and in some cases wildly talented, new generation in Hollywood. Chris Klein and Natasha Lyonne have both struggled with substance abuse and drunk driving charges. Tara Reid became a tabloid staple more for her botched plastic surgery and broken engagements than for her performances. With American Pie and American Beauty, 1999 proved to be the height of Mena Suvari's career instead of a kickoff for even better things. Seann William Scott has made a steady living out of Steve Stifler-like characters, which isn't saying much, artistically or financially.
The most successful member of the cast, by a considerable margin, is Alyson Hannigan. In same year that Hannigan became a teen feminist icon as sexually adventurous band geek Michelle in American Pie, Willow, Hannigan's teen-witch character on Buffy the Vampire Slayer, began the arc that would turn her into one of the most groundbreaking gay characters on television. She moved from that show to How I Met Your Mother, where, as school teacher and now-expectant mother Lily Aldrin, Hannigan has turned in seven warm, funny seasons-worth of performances. Hannigan's success that reminds me, and gawky girls everywhere for whom the end of high school was the beginning of the best years of our lives, that we can stride back into those crepe-paper festooned gyms with confidence, no matter what we did at band camp—or anywhere else—all those years ago.
We want to hear what you think about this article. Submit a letter to the editor or write to letters@theatlantic.com.