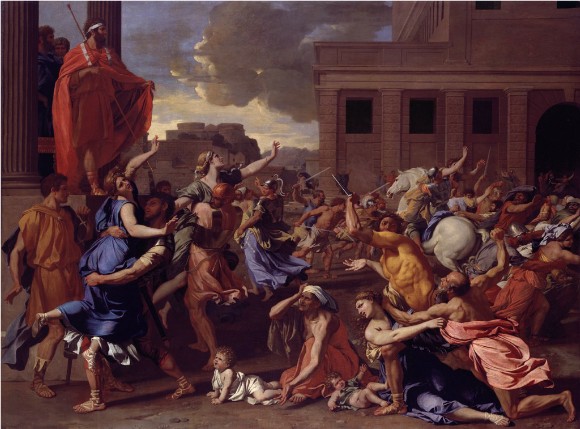 As someone who's taken a recent interest in the Old Masters, it's shocking to see how much of the art involves sexual violence. Here is Nicolas Poussin's "Abduction of the Sabine Women." It's almost wrong to think too much about the painter's focus. A lot of my favorite work is drawn from classical myth or the Bible. Sexual violence figures strongly in many of those stories.
I've looked at the painting a couple of times at the Met. I'm always draw to the woman in blue--to the far left--being carried away. The painting always reminds of a very obvious truth: This era, where women (and some who are not women) are not taken as property, is such a recent innovation. The great charge of feminism has always been, to my mind, ensuring that we never go back.
So I just stumbled into a political point, without meaning to. And it's funny because we've had quite a few conversations over the past few weeks over art and feminism. I'm reminded of this great insight 
from Breakerbaker
:
Art is rarely ever the ideal forum for getting one's point across. People who chose the so-called "shock" route do it because it's the one with greatest likelihood of taking you where you intend to go at the outset. Artists who are frustrated by the potential of being misunderstood have chosen the wrong field.
Indeed. Pousson could not have intended for me to write what precedes. The art I love is open, and I think this what we mean when we say "timeless." It does not foreclose the imagination. You don't need to have lived in Pousson's time to understand the horror depicted above. And what I see may not be what you see. I have no idea what he intended me to see. Does it matter?
When I go out and talk about my memoir, I'm always interested in other people's read. I made that book with some specific things I wanted to say, but with little thought of what I wanted you to hear. Once it was published, it no longer belonged to me. It probably was never mine in the first place.
This is the problem of didacticism. It is a dishonest selfishness. It pretends to give you something. But what it really wants is to make hostage of your imagination and march you at the point of a bayonet down some predetermined road.