'30 Rock' Live: A Funny Reminder of Why Sitcoms Aren't Shot Live Anymore
The show highlighted how far scripted TV has come from the days of the live studio audience.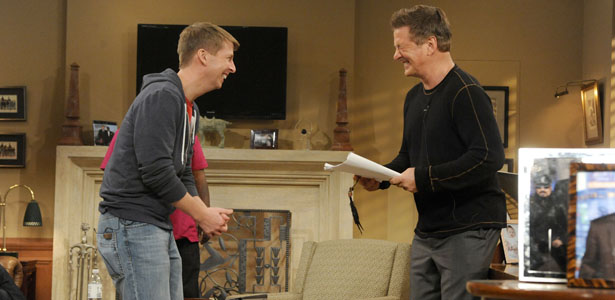 NBC
Last night's episode of 30 Rock was filmed at 30 Rock. That's unusual. Tina Fey's Emmy-winning sitcom is usually shot at a studio in Queens. Then again, the NBC show is also usually shot in pieces, edited at leisure, and broadcast weeks later. Last night, though, for the second time in its six seasons, 30 Rock was broadcast live from its namesake building, 30 Rockefeller Center. There were two broadcasts, actually. The first was at 8:30 p.m. Eastern, and three hours later, the cast did the whole thing again—with minor variations—for viewers in the Pacific time zone.
Both were directed by 11-year SNL veteran—and Susan Lucci of directors—Beth McCarthy-Miller. Both broadcasts, to be sure, were technical marvels. The premise was that 30 Rock's fake show-within-a show TGS would save money by no longer being broadcast live. Only Kenneth the Page (Jack McBreyer) stands up for the tradition of live television, creating a sort of combination bottle episode/clip show when he locks much of the cast in a small room, swallows the key, and tries to convince everyone a la 12 Angry Men, that live television still has a place in the 21st century.
The cast reminisces about great moments in live television: the Moon landing, the Beatles on Ed Sullivan. Then a series of "flashback" sketches offers a history of live TV. There were no big, evident glitches, and only one flubbed line, when Fey confused two characters' names early in the Eastern version. The guest stars and cameos came at a frantic pace—Paul McCartney, Jon Hamm, and Donald Glover, along with plenty of Fey's friends from her SNL days, including Jimmy Fallon, Amy Poehler.
MORE ON TELEVISION
If the writing was typically sharp, the targets of the humor were a tad familiar. A spoof of The Honeymooners lampooned the sexism in 1950s sitcoms. A send-up of NBC's Nightly News in the 1960s mocked the sexism in broadcast journalism. There were two jokes about men being scared of menstruating women, and Rick Sanatorum's name seemed woven into the story for the express purpose of demonstrating how topical live TV can be. But the larger problem—one that made this episode such an admirable failure—was another quality typical of 30 Rock—the lack of depth in the characters or a believable story. For all the sharp writing, beloved stars, and technical accomplishment, Fey and company didn't make much of a case for live TV. In fact, 30 Rock Live perfectly illustrated why the tagline "shot live before a studio audience" has gone the way of rotary dial—and it isn't money.
The episode quite naturally was clunkier than 30 Rock's usual well-lit, well-edited, and nicely scored world. That's a realm where actors are free to retake scenes a dozen times until they get exactly the desired effect. Sure, the live format is exciting. But the tension and energy isn't worth the trade-off in staginess. The format's rushed pace, along with the applause and laughter from a live crowd don't give the actors very much room to be subtle. Then again, most members of the cast aren't actors. Fey, McBreyer, and Tracy Morgan came out of sketch and improv comedy.
Fey, brilliant though she may be, has always seemed more interested in skewering the sitcom than in making one and has never seemed able to commit to characters as real human beings. Fey is too self-aware—and too much of an improv comic—which is why 30 Rock can never go two minutes without a character saying something wildly incongruous, or self-conscious, or otherwise breaking the fourth wall and reminding viewers that they are, in fact, watching a TV show.
The thing is, viewers of scripted TV shows usually don't want to be reminded they are watching an illusion. Usually people want to lose themselves in the character's lives. That's hard to do when, as on 30 Rock, the audience is always being reminded otherwise.
This live episode was a stunt—and a very smart one, beautifully executed by extremely talented people. The episode was fun—for nostalgia's sake and daredeviltry of it. But the attempt mostly served to illustrate why sitcoms aren't shot live anymore—not even "live on tape" in front of a studio audience. All that laughter and applause seems stiff to an audience increasingly demanding shows with a look and feel closer to real life. Don't expect a widespread return to live comedy, like Uncle Miltie's day is coming soon. Modern Family, say, seems unlikely to follow suit.
People will always watch sports live. Nobody wants to see a Super Bowl three days after the fact. People will watch reality TV result shows. With narrative, scripted television, though, there's simply not that much value to immediacy and topicality, or the electricity of a live broadcast. With scripted shows, the character and story are what matters most. Case in point: The Andy Griffith Show is still in reruns 40 years after it first aired.
Another case in point was last night. Tina Fey fans who also like football had to chose between her show and ESPN's frenzied coverage of the NFL Draft. For this fan anyway, the football won easily. The NFL draft is a much newsier event, with a shorter shelf life. So, without the least bit of irony, I set my DVR to record 30 Rock Live.