Wilt Chamberlain: The Babe Ruth of Pro Basketball
He electrified the sport at a time when few people were paying attention.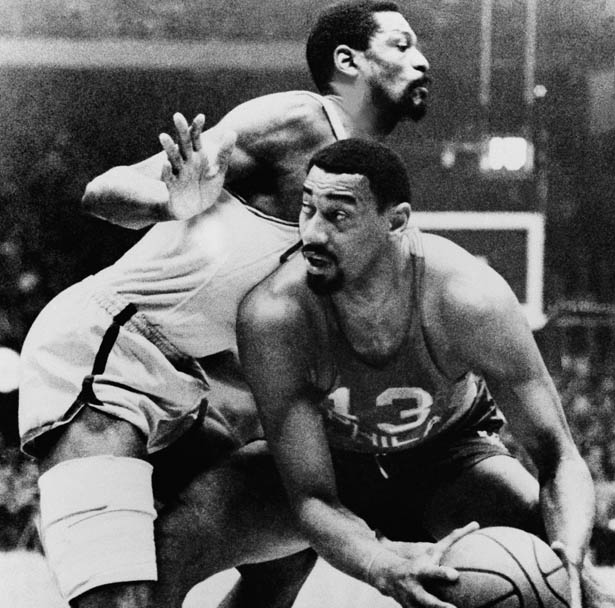 AP Images
The celebration of Wilt Chamberlain's career that accompanied the 50th anniversary of his 100-point game last weekend was too short and passed too quickly.
Wilt Chamberlain was the Babe Ruth of pro basketball. Like Ruth, he was by far the most dominant force in his time, and quite possibly of all time. Like the Babe, Wilt was the lightning rod for interest in the sport in a time when it was badly needed. In Chamberlain's case, he was more important to basketball than Ruth was to baseball.
Contrary to popular opinion, baseball was doing quite well at the turnstiles when Ruth came along and would have survived the stink of the Black Sox gambling scandal with or without him (though the recovery certainly would have taken longer). But without Wilt, who knows if the NBA would have made it from the 1960s—when it was scarcely one of the big three pro sports behind baseball and football—to the Magic Johnson-Larry Bird boom of the late 1970s and the Michael Jordan tidal wave a few years later?
If you doubt this, consider one extraordinary fact: Wilt played his 100-point game not in New York or even in the Warriors' home city of Philadelphia but in an odd-looking, plain concrete barn-like structure with an arched roof in Hershey, Pennsylvania, where the Warriors played several games a year in order to increase a fan base that wasn't showing them overwhelming support in Philly.
Try and imagine the equivalent in baseball: Babe Ruth hitting his 60th home run in, say, Newark, New Jersey, at a Yankees "secondary" park in front of a handful of fans. If not for an unknown student listening to a late night rebroadcast of the game who thought to tape the fourth quarter on a reel-to-reel, we'd have no live coverage of the game at all.
Chamberlain's triumph came at the Hershey Sports Arena. Today the HersheyPark Arena looks virtually the same, a practice facility for the AHL's Hershey Bears and home ice for a local college that is also open for public skating. It's easy to miss the notices that here Chamberlain played his landmark game: a small sign on a pole outside the main gates and a copy of the photo of Wilt holding up the handmade "100" in the back side of the lobby.
MORE ON BASKETBALL
There is one primary difference between the careers of Babe Ruth and Wilt Chamberlain: Ruth was—and is—regarded by most baseball analysts as the greatest player in his game. But basketball people have never quite been able to make up their minds about Wilt.
Back in the '60s, it was common to hear sports fans say things like "Well, yeah, he scores a lot of points, but it's just because he's so big." Yes, at 7'-1", he was big all right. The reply to everyone who said that should have been, "Yes, and how many clumsy, slow, seven-foot guys are superstars in pro basketball?"
The truly amazing thing about Chamberlain was not his size, but the agility and savvy that propelled him. There are great scorers in the game, and there are great rebounders. Seven times Wilt Chamberlain led his league in scoring and 11 times he led it in rebounding. LeBron James is having the greatest season of any player in basketball s history. And, indeed, LBJ has been dazzling, averaging, after 38 games, 27.7points. 8.4 rebounds, and 0.8 blocked shots per game.
Over 16 seasons, Wilt Chamberlain's averaged 31.1 point s and 22.9 rebounds per game. Blocked shots? We don't know—they didn't keep that stat for most of Chamberlain's career. The reason they started counting block shots was because Chamberlain blocked so many.
Actually, there was one more big difference in the careers of Babe Ruth and Wilt Chamberlain: Ruth didn't face the baseball equivalent of a Bill Russell. There are a great many basketball fans and analysts who will argue that Russell was greater than Chamberlain. There is much to support this argument, but here's the point that matters the most: During the span of Russell's career, Chamberlain's teams won a single championship while Russell's Boston Celtics won nine. Of course, there is the question of the supporting cast, and a fair person must concede that the Celtics, man-for-man, were much better than Chamberlain's teams.
But is there another way to compare them? First off, it needs to be remembered that Chamberlain and Russell were universally bigger than the game. In fact, to a large portion of the sports public in the 1960s that only paid attention to professional basketball when the championships came around, they were the game. It wasn't Boston vs. Philly, or, later, Boston vs. LA; it was Wilt vs. Russell.
Chamberlain was the master—for all intents and purposes, the creator of the most crowd-pleasing power play, the slam dunk, and the shot-blocking specialist. And one of the greatest in the game, along with Wilt himself, was Bill Russell. They brought out the best in each other.
Russell is regarded by many as the greatest rebounder to ever play (or at least to play before Dennis Rodman). And he was an octopus under the boards, averaging 22.5 a game for his career. But Wilt averaged more rebounds in eight of the ten seasons they both played in the league, and against Chamberlain, Russell averaged just 14.8 rebounds per game. Wilt's career rebounding average was 22.9 per game, but against Russell he averaged 28.7, 4.5 more than he pulled down against the rest of the league.
As for scoring, not only did Chamberlain outscore Russell by a wide margin (which would probably be expected given the dependence of Wilt's teams on him) but his shooting percentage is 100 points higher than Russell's (.540 to .440).
But Wilt's superiority wasn't simply a question of more scoring opportunities. During the Russell years, Chamberlain averaged 34.5 points per game against the league; against Russell, he scored 28.7 points per game - 5.8 points below his league-leading average. That, of course, proves how much better defensively Russell was than the other centers around the league. Still, Wilt did average 28.7 points against perhaps the greatest defensive center who ever played and—and this really shouldn't be overlooked in any comparison of Chamberlain and Russell—poured 40 points or more against Russell 26 times. Russell, on the other hand, averaged a modest 14.8 points per game during the 10-year span against the rest of the league (he averaged 15.1 points per game during his 13-year career). Against Wilt, he averaged 23.7 points per game, 8.9 points higher than his regular season average. That shows you how adaptable and talented Russell was; it's also an indication that Russell could have scored more points if the Celtics had needed him to. He scored more against Wilt because he felt he had to. Against the rest of the league he didn't need to score as much for the Celtics to win.
Still, Wilt averaged five points per game more than Russell during their head-to-head meetings. And he had a higher field goal percentage in mano-a-mano matchups.
Nothing, of course, is going to shake the faith of those who regard Russell as the better player or that his championship rings outweigh any of Wilt's statistics. Okay, then, let's leave it at this. Together they were the two most dominant players ever to play basketball, and the greatest rivals in American sports history.