Tiger Woods vs. Rory McIlroy: The Rivalry Golf's Been Waiting For?
If Tiger resurrects his game, he could be ideal challenger to the young champion.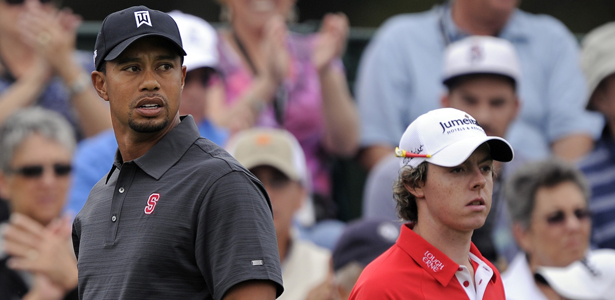 AP Images
As the final round of the PGA Tour's Honda Classic event got underway this weekend, the best outcome a fervent golf fan like myself could hope for was a coronation. Northern Irishman Rory McIlroy held a two-shot lead over journeyman Tom Gillis and untested pro Harris English and was poised to claim both the tournament and the No. 1 ranking in the world. After a second-place finish at the World Match Play Championship and top-five finishes in nine of his last 10 official starts, the 22-year-old phenom appeared to be outstripping his young rivals and settling in as the undisputed best player in the world. No one, it seemed, could stand in his way.
Then Tiger Woods shot a final-round 62. And this golf fan allowed himself to dream of a rivalry long in the making.
MORE ON SPORTS
Tiger's fall from grace and two-years-and-counting winless stretch are well-documented. But the longer he failed to come up big on Sunday, the more pundits and fans declared that he would never retain his former greatness or even some semblance of it. So as much as people wanted to see Tiger challenge McIlroy and blunt his meteoric rise to the top of golf, there was no evidence to support Woods as a legitimate rival. Sure, he'd been accumulating top-five finishes recently, but his lone win came at his unofficial, 18-player Chevron World Challenge—a victory that came with a hell of an asterisk. And he hadn't put together the kind of round that was a staple of the old Tiger, whether it was a 70 in terrible conditions at a U.S. Open or a final-round charge to shake up a leaderboard.
That changed Sunday, when Tiger had six birdies and two eagles in his bogey-free round, posting the best final-round score of his illustrious career. The 14-time major winner had everything going—he holed multiple putts outside of 20 feet, he eagled both par-5s, and he finished the round birdie-eagle to move just one stroke behind McIlroy after starting the day a full nine shots back.
The eagle on 18 was vintage Tiger—perfect drive, five-iron from 216 yards over water guarding the green to eight feet, dead-center eagle putt. While McIlroy had been steadfastly tuning out the buzz from the gallery, he said he couldn't ignore the titanic roar from the crowd after Tiger's eagle putt dropped.
At the time, the young phenom was on the 13th green lining up an eight-foot birdie putt that would move him two in front of Tiger. In true No. 1 fashion, McIlroy nailed the putt, then made pars the rest of the way for a two-shot win and the coveted top ranking.
To some, it may look like nothing has changed. McIlroy's still winning tournaments, and Tiger's still coming up short. But Tiger's 62 proves he still has that peerless talent inside him, and he just needs to consistently bring it out. A rivalry with McIlroy, a legitimate threat to win 10-plus majors in his career, could stir the fire in Tiger and inspire him to old heights.
It's ironic that Woods may find the perfect challenger after he is no longer champion. When Tiger was winning seven majors in 11 events and throttling everyone in his path, fans bemoaned the lack of a true rival that could elevate Tiger's game even further and be the Palmer to Tiger's Nicklaus, the Nadal to his Federer. David Duval briefly appeared like a worthy challenger, but chronic back problems limited him to one major title and irrevocably curtailed his game. Vijay Singh briefly usurped the No. 1 ranking from Tiger in 2004 thanks to a nine-win season and a PGA Championship victory, but he never beat Tiger in a major or World Golf Championship tournament in a mano-a-mano duel. The closest thing Tiger had to a worthy opponent was Phil Mickelson, who won four majors but could never best Tiger in a major when they were both in contention on Sunday.
Now a worthy adversary has definitively emerged in McIlroy, who blew out the field in the U.S. Open and is now the consensus (and statistical) best player in the world. It's up to Tiger to resurrect his game and give the sport the rivalry it's yearned for since 1997.