Before Romare Bearden gained fame for his colorful collages, he was offered a chance to play in the major leagues. Here's why he turned it down.
In early January I sojourned from Brooklyn to Harlem for a tour of The Bearden Project, an exhibit The Studio Museum in Harlem was hosting to celebrate the centennial of artist Romare Bearden's birth. It was one of many events occurring across the city and perhaps the most august in its artistic approach: a gallery of collected works by contemporary artists who have been impacted by Bearden's vision. Pieces by Glenn Ligon, Lorna Simpson, Kerry James Marshall, and Faith Ringgold, among others, adorned the walls of the great Uptown hall. It was Bearden at his best: a mish-mash homage from his artistic progeny, a sort of curatorial composition to the man the New York Times had deemed "the nation's foremost collagist."
At the start of the tour, our guide, a head-wrapped young woman from Bed-Stuy, asked the group to share facts they knew about Bearden. "He graduated from NYU," I offered. Others, too, divulged facts a cursory Wikipedia search might reveal: Bearden was born in North Carolina; he lived in Harlem for a time; much of his work detailed the folkways of Afro-America. Then this: "Did you know," our guide began, "that Romare Bearden played semi-professional baseball during the Negro Leagues and had an opportunity to play in the pros?"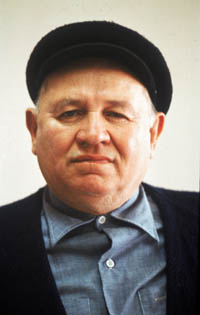 I cannot tell you much of what information the guide offered next, as a barrage of questions cluttered my thinking: How had I never heard of Romare Bearden's baseball days? What team had he played for? Why hadn't he gone pro? And worst of all: If Bearden had gone pro, what would we have missed out on?
I didn't have all the answers then. Neither did the guide. But I promised to find out.
Quiet as it's kept, Romare Bearden's baseball career is storied. In the winter of 1930, Bearden took flight from the green flatlands of Oxford, Pennsylvania, where he was then a freshman at Lincoln University, to Boston. Once there he attended Boston University and, in addition to his regular course load, began to take classes in art history and instruction, despite his thinking he still might become a doctor. It was still only a feigning interest then—"a hobby," he might have called it—but it marks an important point of departure. "When I went to college I thought that I was going to be a doctor and I majored in science and later in mathematics," Bearden told Henri Ghent in a 1968 interview for the Smithsonian.
Another thing also happened while at BU: Bearden began pitching for the university's varsity baseball team and became something of a star. He'd always had a love for the game. In fact, when his mother, Bessye, became the New York editor of the Chicago Defender in 1929 (then the most widely circulated African American newspaper in the country) Bearden wrote stories on "topics such as baseball" on rare occasions. But at BU he finally had the opportunity to showcase his physical talent to a wider audience. He was such a remarkable pitcher that not long after his star began to rise, he was approached and offered a spot on the Boston Colored Tigers, one of the city's all-black, semi-professional baseball teams. In the long and rich history of the Negro Leagues, it was common practice for teams to wait for high school and college seasons to end and recruit players thereafter in an effort to further fortify repute. Bearden was one such player.
MORE ON THE ARTS
Thus began Bearden's relationship with the Negro Leagues. Not only was he an extraordinarily talented pitcher—he was on what many believed to be "the first prominent black ball club in 20th century Boston." The Tigers were a traveling team from Boston's Roxbury neighborhood, and during Bearden's tenure the team reached its heyday (which roughly spanned from 1921-1933), often beating out opposing ballclubs—both black and white. In September 1936, still equipped with a decent lineup, a reporter from the Lewistown Daily Sun detailed the Tigers' renown before the season-ending game in Maine: "These Colored Giants are one club that the management of the Buccaneers have been trying to book all season, without success. This group of colored performers have been too much in demand elsewhere." Despite the chokehold the Great Depression had taken on the city and country at large, the Tigers' celebrity endured, even emboldened, during this turbulent time. Add to this The Great Migration—the single largest exodus of African Americans from the confines of the South to cities like Boston, New York, and Philadelphia in the Northeast—and one might begin to grasp the historical import of the Tigers' legend. Despite the Tigers' grandiosity, the team never earned a proper seat in the professional Negro Leagues, as was the case for several other all-black squads. Yet in the story of black Boston ballclubs from the era—the Boston Pilgrims, Roxbury Wolverines, and Boston ABCs are among the city's other local teams—the Tigers stand at the pinnacle.
Like many other gifted black baseball players of fair skin, Bearden became a product of the times. His pitching for the Tigers soon caught the eyes of recruiters from the Philadelphia Athletics and the owner offered him a position on the team. For most, this would have been a dream long realized: a prized spot in the major leagues. But the offer came at a price—and for Bearden, one too high. The Athletics would grant Bearden access into the majors with one stipulation. He would have to pass for white. Bearden proudly declined. Soon after he would leave Boston, only after two years at BU, and return home to New York. He never played professional baseball again.
The end of Bearden's short semi-pro career was perhaps the singular turning point for Bearden as an artist. Bearden's one chance to make it in the big leagues, to actually cross over and make a career out of playing baseball (and a successful one at that), came at a price. He would have had to pass for white and turn his back on his family and his race. If Bearden hadn't rejected the offer from the Philadelphia Athletics, it is uncertain if he would have ever become the visionary painter and collagist he did. This much is certain, though: Following his departue from BU he returned to Harlem, where he graduated from New York University in 1935, after which he would study under George Grosz at the Art Students League and, upon completion, begin a job as a political cartoonist for The Afro-American, a popular black newspaper circulated in Baltimore. From that point forward his career rose sharply.
In 1940, eight years after he pitched his last ball for the Tigers, Bearden bumped into Jacob Lawrence on the street. Lawrence, who was then a better-known artist than Bearden, told him of a vacancy above his studio located on 125th Street, the lifeblood of Harlem's pulsing community. Days later Bearden acquired the space, renting it out for eight dollars a month ("including electricity") and became neighbors with Lawrence, poet Claude McKay, and writer William Attaway. It was his first studio and the beginning of all that would follow. Bearden would go on to become one of the most important artists of the last century, detailing the beauty and fragility of black life in his stunning folk collages. Manhattan gallery owner Arne Ekstrom once referred to Bearden as "the pictorial historian of the black world." And it's true. Bearden documented the African-American narrative like no one else, and conjured the cultural essence of his beloved people in every inch of his work, the very same people whom he had been asked to turn his back on.
We want to hear what you think about this article. Submit a letter to the editor or write to letters@theatlantic.com.
Jason Parham
is the editor of
Spook
. His work has appeared in
Vibe
, the
Village Voice
, and on GQ.com.