The Challenge of Bringing Dr. Seuss to the Big Screen
The Lorax is the latest attempt to turn Theodor Geisel's simple yet political tales into blockbusters.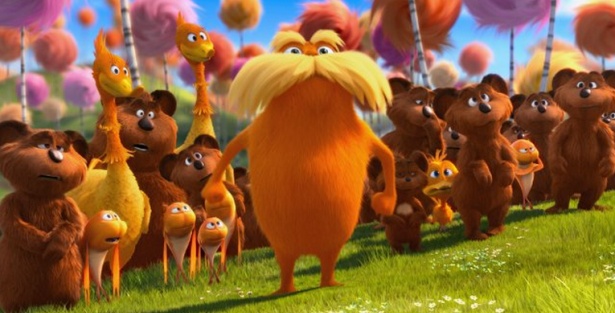 Universal
There are few things people are more inclined to protect than the stories they loved as children. These are books that mattered to us at our most open-hearted and most vulnerable—read to us by beloved parents, teachers, or friends (sometimes over and over again). They taught us how to read, and sometimes how to think. They matter. And there are few authors who have mattered to more children than Dr. Seuss. Random House reports that 600 million Dr. Seuss books have been sold in more than 30 languages, and cultural references to his most indelible creations—including the Grinch and the word "nerd," which he invented—abound.
But it wasn't until recently that Hollywood brought Dr. Seuss to the big screen. Though he signed off on many animated, televised adaptations of his works, Dr. Seuss (real name Theodor Geisel) resisted Hollywood's lucrative offers for decades. But after Geisel's death in 1991, the rights to his works passed to his widow, Audrey, who has since signed off on the production of four feature-length films based on his works: How the Grinch Stole Christmas, The Cat in the Hat, Horton Hears a Who, and this Friday's new release, The Lorax.
Despite the best efforts of some of Hollywood's biggest names, attempts to bring Seuss to the box office have been mediocre at best. It began with Ron Howard's garish live-action adaptation of How the Grinch Stole Christmas, which earned a (very generous) 53 percent positive reviews from critics and became 2000's top-grossing movie of the year. But the film clearly struggled with the limitations of Seuss's children's-book narrative, which makes for a much better animated TV special than a live-action feature film. The film adaptation takes Seuss's whimsical story and pads it out with the trappings of a generic blockbuster, including a tragic back story, an obligatory love interest, and a treacly tie-in single sung by Faith Hill that continues to haunt radios each December.
Neither audiences nor critics were as kind to the follow-up Seuss film: 2003's execrable adaptation of
The Cat in the Hat
. A feature-length film based on
The Cat in the Hat
presented even greater challenges than
How the Grinch Stole Christmas
; the book is deliberately simplistic in plot and language because it was written to help young children learn to read. But it's hard to imagine a more grotesque, less faithful
Cat in the Hat
than the version that reached theaters in 2003.
The Cat in the Hat
took the worst elements of
How the Grinch Stole Christmas
and cranked them up, and film's gross-out humor—due primarily to Mike Myers, whose crass interpretation of the titular Cat was likened to "an alcoholic clown harassing kids at a birthday party" by
Movie Gazette
—felt like a personal affront to Seuss's child-friendly, career-defining work. Audrey Geisel was so distressed by the film that she
resolved never to permit a live-action Seuss adaptation again—a promise that she's kept.
But the makers of the more recent, animated Seuss films—Horton Hears a Who! and The Lorax—have a less obvious but even bigger problem than the simplicity of Seuss's storytelling: the political nature of the original texts. Seuss, who drew more than 400 political cartoons for the leftwing newspaper PM in his lifetime, was sometimes overtly political in his texts—leaving filmmakers to determine just how political their Seuss-based films can afford to be.
The first challenge came with the semi-political Horton Hears a Who! (which Seuss biographer Philip Nel calls a "parable" intended to teach children "that everyone needs to get involved for democracy to work") was routinely co-opted by political organizations, to its author's frustration; when its most famous line- "a person's a person, no matter how small"—was printed on the stationery of a pro-life group, Geisel himself threatened to sue if it wasn't removed. In the end, the so-so film adaptation of Horton Hearts a Who!, which hit theaters in 2008, managed to successfully excise anything that could cause controversy—ending up as an inoffensive, generally entertaining film about teamwork and togetherness.
MORE ON FILM
But The Lorax is a much trickier text to adapt without offending someone. Conservative commentator Lou Dobbs was roundly mocked last week after he criticized The Lorax as an attempt to "indoctrinate children." But he's not far off; The Lorax has been an overtly politicized story since its original publication in 1971. The story opens in a bleak, treeless wasteland before flashing back to a time when the same land was a paradise of Eden-esque proportions. The story's pro-industry character, The Once-ler, tells The Lorax "Business is business! And business must grow" as he systemically destroys the Truffula Tree-based ecosystem. The Once-ler later goes on an anti-Lorax rant that could easily pass as an excerpt from the minutes of a Tea Party meeting:
"All you do is yap-yap and say, 'Bad! Bad! Bad! Bad!' Well, I have my rights, sir, and I'm telling you, I intend to go on doing just what I do!"
The Lorax has been so effective in its ability to make children concerned about deforestation that the National Wood Flooring Manufacturer's Association commissioned a bizarre, pro-lumber industry parody called Truax, in which a friendly logger convinces the misinformed "Guardbark" that when it comes to deforestation, "things ARE NOT quite as bad as they [seem]!" (Masochists can view a free PDF copy of Truax here).
But the film, despite Lou Dobbs's concerned, isn't likely to ruffle quite as many feathers as its source material. It is, after all, a big-budget, mass-market Hollywood release. Seuss purists shouldn't worry about the film adaptation of The Lorax being too political—they should worry about it not being political enough. Universal Studios has already struggled to reconcile The Lorax's environmental message with its mass-marketability; the film's promotional website only added a "go green" section after a petition, started by a class of Massachusetts fourth graders, went viral.
Even with the concessions Universal has made, there's something deeply un-Lorax about the marketing machine behind the Lorax film, which includes "Lorax-approved" disposable diapers, five Lorax­-themed breakfast options at iHop, and a stunningly tone-deaf cross-promotion with a Mazda SUV. The trailer's most prominent environmental message is its suggestion that you pay extra to see the film in "IMAX Tree-D."The trailer for The Lorax credits "the creators of Despicable Me" and "the imagination of Dr. Seuss," but the film seems to belong more to the former than the latter. Additions to the original story include: a motor-scooter chase sequence; a pint-sized, wisecracking Lorax (voiced, perhaps inevitably, by Danny DeVito); a protagonist (named Ted and voiced by Zac Efron), who replaces the nameless, voiceless protagonist of Seuss's original book.
These are necessary additions for a feature-length children's film. But it's also worth nothing that the nameless, voiceless protagonist of Seuss's The Lorax was nameless and voiceless for a reason: He's an audience surrogate, expressly designed so that children who read the book feel as if The Lorax and The Once-ler are speaking directly to them. The bleak, open-ended conclusion, which is directly addressed to the reader, is the entire point of The Lorax:
And all that the Lorax left here in this mess
was a small pile of rocks, with the one word... 'UNLESS.'
[...] UNLESS someone like you cares a whole awful lot,
nothing is going to get better. It's not.
It remains to be seen how well The Lorax's film adaptation will channel Seuss's moral—or if it's even going to try. Few things turn audiences off more than the feeling someone is preaching to them. But The Lorax has endured more than 50 years as a children's classic because it matters to people—and if the film can capture that feeling, it's already halfway there.