Talking with Christoph Niemann, whose new book Abstract City captures life in a metropolis through clever visual gags
Abrams
Christoph Niemann is the 21st-century Saul Steinberg. He doesn't draw anything like Steinberg, but he is just as conceptually fertile—and original. Maybe more so.
In less than two decades, he rose from lanky German art student to peripatetic international illustrator and graphic commentator. He has authored and illustrated an armful of children's books, including a few that are adult-oriented too. And has served as one of the first New York Times' Op-Ed online visual essayists (the other was Maira Kalman).
His monthly digital column, Abstract Sunday, a transplanted artist's response to an adopted metropolis, New York, has just been turned into an ink-on-paper book published by Abrams and handsomely designed by Paul Sahre. The 15 short visual essays make up a catalog of absurdities, each rendered in a unique manner, ranging from the incredibly expressive employ of coffee stains on napkins for a story on coffee to Legos assembled into cubistic city icons.
A few selections from the book:
I've known the tall, disarmingly goofy Niemann ever since he came to New York, and worked with him often when I was a Times art director. Every image he did for me—and I mean every, not every other—was a gift. No idea was reused (and very few ever had to be redone). I recently asked Niemann about New York City, Abstract City and babies.
---
When you arrived in New York from Germany more than 15 years ago what was your first impression of this "Abstract City?"
The Statue of Lberty was much smaller than I had expected. But then I discovered bagels, and that more than made up for the initial disappointment.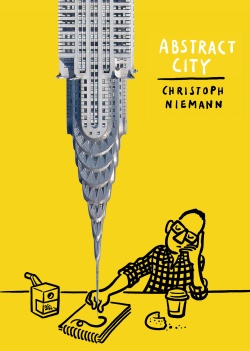 New York has been a tremendously fertile ground for you. You've created a book making gags about the city out of Legos, I Lego NY, and now this compendium of essays that started in 2008. What was your guiding light in doing this work?
The life I live is perfectly average, and I have found that my joys and fears and obsessions are shared by a lot of readers. Playing with these shared experiences was really the theme of the column.
Your conceptual acumen is 12 on a scale of 1 to 10. What gives you the most pleasure—conception, execution, or final birth?
There is a very brief moment when you realize that a vague set of rough ideas reaches a critical mass. This is a pretty thrilling moment. Very short though. Because next up is usually the execution, which is defined by the anxiety to mess up the idea with sub par images. The only chapter that was truly enjoyable in terms of the execution was "I LEGO N.Y." of course.
Speaking of birth, you love each of these babies. But which are the most satisfying for you?
Definitely "the Boys and the Subway." I had absolutely no idea where I wanted to go with this whole column. I was very anxious about the readers' reaction (can't help it!), and if that was not so positive, I don't know if I would have been able to go on with so much enthusiasm. I am still very fond of "Bio-Diversity" because the art is so utterly art-less [editor's note: everything is made from leaves]. There is no Photoshop at all. My favorite is the coast line of California—the leaf looked like that when I found it and I just had to add a few straight cuts to finalize it. With each column I tried to work more and more on tying the single images tighter together into a narrative, and I am very happy how this worked out with that last one.
I hate the "how did you get that idea" question. But tell me how a couple of these ideas came to you: my favorite, "Master of the Universe," my next favorite, "My Way," and next favorite after that, "Let It Dough."
"Master of the Universe" originated from watching an NBA game with a friend. I always thought I was the only one who couldn't help but think that my actions in front of the TV was somehow influence what is happening on the court. Obviously I am not the only one at all. After that column I received some emails from readers who had diagnosed me with OCD. On the hand I may have exaggerated a bit in the story, but when you look at the field of behavioral economics, it is fascinating to see how much acting irrationally is an inevitable aspect of life.
My obsession with geography is rather obvious (I'd say about every other column has some sort of map in it). I knew I wanted to do a chapter only on maps. This was very tricky because there is such a rich history of this theme with illustrators and designers. After a lot (A LOT!!) of failed attempts I realized that 99 percent of the maps I look at these days are based on Google maps, and that playing with this particular visual vocabulary opened some new doors.
I remember baking cookies with my mom as a kid, and it is amazing how little has changed when I see my kids doing the same today: All they care about is making them big and drowning them in colored sugar and sprinkles. Once they are done, nobody wants to eat them. At least not until all the good ones are gone—the macaroons, the "Kipferl"—the ones that my mom made all alone after we were done decorating. All this is such a quintessential holiday experience for me that I figured it would be a good starting point for a year-end column.
We want to hear what you think about this article. Submit a letter to the editor or write to letters@theatlantic.com.
Steven Heller
is a contributing writer for
The Atlantic
, the co-chair of the MFA Design program at the School of Visual Arts, and the co-founder of its MFA Design Criticism program.