The strange story behind the global hit, which was released a decade and a half ago today
On June 6, 1990, producer/musician Teddy Riley was supposed to be at his friend and fellow band member's birthday party. Instead, he spent the night at a Soundworks Studio on 23rd Avenue in Queens, working on grooves for none other than the King of Pop, Michael Jackson.
"I told [the group] I had a lot of work to do," Riley recalls. "Michael was my priority. I was going out to California to meet him soon, and he wanted me to bring my best work."
It was a fortuitous decision.
Later that evening, Riley learned someone was shot on the dance floor at the party he had skipped. He was shaken. At just 23 years of age, violence and death were already becoming a recurring theme in his life. Within that same year, his half-brother and best friend both had also been murdered.
The rhythm track Riley worked on that night was aggressive, ominous, menacing. But it had no words, no title, and no melody.
The following Saturday he was on his way to Neverland Ranch to meet Michael Jackson. Riley was nervous. Jackson had already tried out a handful of people to replace legendary producer, Quincy Jones, including L.A. Reid, Babyface and Bryan Loren. None stayed on.
Jackson had high hopes, however, for Teddy Riley, whose street-inflected New Jack Swing style brilliantly fused jazz, gospel, R&B, and hip hop. Indeed, perhaps its greatest achievement was in bridging the divide between R&B and hip hop, a bridge, incidentally, that Jackson had been hoping to find since working on Bad.
Jackson listened carefully to the tapes Riley brought with him and instantly loved what he heard. The tracks used different chords than he was accustomed to. The rhythms were fresh and edgy. The beats swung with velocity and hit like sledgehammers.
Among several tracks Jackson listened to that day was the groove Riley worked on the night of the party. Jackson had no idea about the context. "He knew nothing about it," Riley says. "I never told him anything about it."
A couple of weeks later, however, Riley says he was shocked to learn Jackson's title for the track: "Blood on the Dance Floor." Riley got goose bumps. "It was like he prophesied that record. He felt its mood."
Over the subsequent months, Jackson and Riley began working feverishly on a variety of tracks, sometimes separately, sometimes together at Larabee Studios in Los Angeles. "I remember he came back with this melody, 'Blood on the dance floor, blood on the dance floor.' I was like, 'Wow!' He came up with these lyrics and harmonies. Then we just started building it up, layer by layer."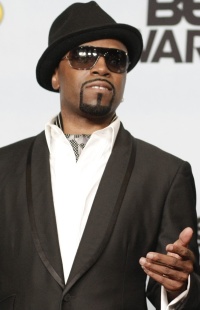 Riley used a vintage drum machine (the MPC 3000) for the beat. The snare was compressed to make it pop ("I want it dry and in your face," Jackson used to say). It was a sound they used throughout the Dangerous album. "Listen to 'Remember the Time,'" Riley says. "It's very similar."
Ultimately, however, "Blood on the Dance Floor" didn't end up making it onto Dangerous. "It wasn't quite finished," Riley says. "There were still some vocal parts missing. Michael loved the song, but he would listen to it and say, 'I like what you did here, but we still need this here.' He was a perfectionist."
As the Dangerous sessions continued, other tracks began to take priority, including "Remember the Time" and "In the Closet." Jackson wouldn't resume work on "Blood" until nearly seven years later. It was now January of 1997. Jackson was in the midst of his HIStory World Tour, and had decided to visit Montreux, Switzerland during a break between the first and second leg (according to news reports, while there he also tried to purchase the home of his longtime idol, Charlie Chaplin).
Here, at Mountain Studio, Jackson went to work on the old demo. "We took Teddy's DAT (Digital Audio Tape) and worked it over with a four-man crew," recalls musician, Brad Buxer. The completed multi-track, engineered, and mixed by Mick Guzauski, was modeled very closely on the last version Jackson and Riley recorded.
"When I heard it finished, I wished I could've been the one to [complete it]," Riley says. "But Michael knows what he wants, and he was happy with it."
It was, in some ways, an unusual dance song. Like "Billie Jean," its subject matter was dark and disturbing (in this case, a narrative about being stabbed in the back in the place he least suspected--the dance floor). Jackson's clipped, raspy vocals evoke a sense of foreboding, as the electro-industrial canvas conjures a modern urban setting. Still, the song feels anything but bleak. The beat cracks out of the speakers like a whip and the hook is irresistible.
MORE ON MICHAEL JACKSON
Jackson told Riley he believed the song was going to be a "smash." "He explained it like this: A hit is a song that stays on the charts for a week or two. A smash is a song that stays up there for six weeks," Riley says. "He felt 'Blood on the Dance Floor' was a 'smash.'"
"Blood on the Dance Floor" was released on March 21, 1997. Strangely, the song wasn't even promoted as a single in the U.S. Riley says Jackson didn't mind in this case. "He figured people in America would find it if they really wanted it. He wasn't worried about it." Globally, however, the song thrived, reaching the Top Ten in 15 countries and hitting No. 1 in three (including the U.K.). It also proved ripe for remixes and received frequent play in clubs and dance routines. Left off Jackson's two major studio albums that decade, "Blood" ironically became one of Jackson's most durable rhythm tracks of the '90s.
Fifteen years later, what makes the song unique? I ask Riley. "It was just a direct, aggressive sound for Michael. He always pushed for something stronger. But what was really amazing was how he pre-meditated the energy of the song. He knew what it was about even before I told him what happened that night. I've never witnessed anything or anyone as powerful as Michael."
Teddy Riley photo: AP Images
We want to hear what you think about this article. Submit a letter to the editor or write to letters@theatlantic.com.
Joseph Vogel
is the author of
Man in the Music: The Creative Life and Work of Michael Jackson
. His work has appeared in
Slate, The Huffington Post
, and
PopMatters
. He holds a Ph.D. in american literature and culture from the University of Rochester.