A conversation with the man who co-founded The Village Voice and wrote the first biography of Andy Warhol
John Wilcock is the Zelig of '60s counter-culture publishing and a missing link in the narrative of those socially, politically, and culturally critical times. He was co-founder of The Village Voice, East Village Other (EVO), Other Scenes, and the Underground Press Syndicate, which codified the term "underground" for alternative publications. He contributed to a dozen other periodicals, was a pioneer of original programming on public access TV, a prolific travel writer, and a member of Andy Warhol's Factory. His life and work in New York, from 1954 through 1971 is being made into a serialized bio comic, a collaboration between Ethan Persoff and Scott Marshall, whose second installment, "Co-Founding the Village Voice" with Norman Mailer, Marlene Dietrich, Ammon Hennacy, Moondog, and Steve Allen, and the women of the NYC Women's House of Detention is now online.
A recent exhibition and panel discussion on the history of The East Village Other, "Blowing Minds: 1965-1972" at the NYU's Arthur L. Carter Journalism Institute has brought the unretiring octagenarian Wilcock—who now resides in California and still publishes his "Column of Lasting Insignificance" online in The Ojai Orange: Being the Ongoing Journal of John Wilcock, That Peripatetic Patriarch of the Free Press—back onto my radar. I knew him slightly back in the late '60s and took this opportunity to delve further into his byzantine history.
Born in Sheffield, England in 1927,Wilcock had read a lot about Greenwich Village and its famous artists, writers, Bohemians, so when he landed in New York, he told me in a recent interview, "I fully expected to find some fabulous local paper that would tell me where all the action was and parties were." Without knowing a soul, after finding a cheap apartment on Waverly Place, he wandered over to Sheridan Square, where he put up a handwritten note in the Seven Arts bookstore asking if anybody was interested in helping him start a paper. "We had a few meetings attended by [future Voice editors] Dan Wolf, Ed Fancher and others, but nobody had any money so nothing came of it." A year later, the money was found and Wilcock was asked to join.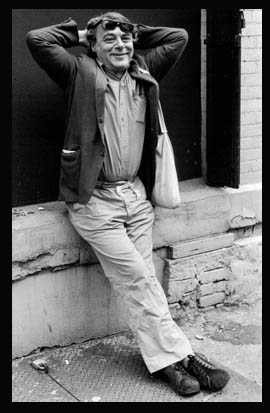 The Village Voice marked a major shift from the old-school neighborhood journalism of The Villager to a more aggressively partisan approach. It took a certain amount of temerity to start a paper back then, but Wilcock had worked for the Daily Mail while still in his teens and the Daily Mirror right afterwards. Initially he emigrated to Canada, where he worked for the BUP wire service (later UPI) and the magazines Saturday Night and Liberty, so starting a paper didn't faze him. Wilcock does not, however, take credit for the path the Voice then took, although of course he brought an international dimension to it from the start. "I was the first news editor but soon came to spend most of my time on a weekly column which was always rather widespread in its subject, the result I suppose of having by now worked as a journalist in three countries." Wilcock was not the stereotypical underground gadfly.
He worked three years on the New York Times travel desk and graduated to writing Frommer's early $5-a-day books after meeting Mr. Frommer at a party. Yet after ten years of writing his column he resigned from the old-left Voice for the culturally new-left East Village Other. "My move came about not from any initiative on my part," he explained. "No, what happened was that I met this enticing lady, Sherry Needham, wooed her a few times, and made her promise to star in The Singing Tit-o-Gram (four pix in one of those 25c machines) for my column when I got back from a trip to Japan. On my return, I found she'd shacked up with Walter Bowart [the publisher of EVO] but she agreed to do the photo thing as long as Walter came along. After our stoned trio had pulled this off, Walter asked me if I'd write for his new paper and I agreed."
Ed Fancher ordered Wilcock to stop writing for EVO or leave the Voice. "I said I'd leave. I was aggrieved because Ed had recently banned me from receiving mail at the office in case I was getting marihuana (I wasn't). As soon as Walter heard this he invited me to edit EVO and changed the masthead to read: 'Edited by William Randolph Hearst and John Wilcock.'"
One of Wilcock's most important contributions to the '60s alternative press was the founding of the Underground Press Syndicate (UPS), which in addition to the Liberation News Service (LNS), provided undergrounds with a steady stream of news and views. This significantly changed the way small undergrounds operated because they now had almost unlimited access to inexpensive content—text and image. The idea came while sitting around EVO's Tomkins Square office. "We realized there were similar papers: Art Kunkin's Los Angeles Free Press (which had been carrying my Voice column); Jeff Shero's The Rag in Austin; The Paper in Lansing, Mich; and Max Scherr's Berkeley Barb," Wilcock recalled. "What was needed, we felt, was a syndicate which would allow us all to swap papers, use each other's stuff, and generally cooperate. What would we call it? There have been differing explanations ever since but I recall that I'd always been impressed (while living in wartime Europe) by the French maquis (underground) and threw in that suggestion. It became The Underground Press Syndicate."
After a short time, the staff at EVO had become much too busy to deal with UPS and Wilcock agreed to take it over with Tom Forcade, who had produced his own underground paper with a bullet hole through the center (years later he killed himself with the same gun). Wilcock had instigated a UPS subscription deal which offered all UPS papers to mainstream media outlets such as Time, Newsweek, and others for a mere $25. Forcade eventually took over UPS, while Wilcock was galloping between Europe and Japan doing his travel books, and financed it by selling the microfiche rights of UPS papers to Bell & Howell.
Wilcock also founded John Wilcock's Other Scenes. While an editing stint at the Los Angeles Free Press, he published a tiny broadsheet that he named for a column he was writing and later, in New York, he decided to produce it as a tabloid. "I had so much material and so many worldwide contacts there was never a shortage, and the IBM (with balls of different typefaces) machine we rented to do our paper led inevitably to [a business called] Ambertype (run by my then-wife, Amber) to do typesetting for many other papers (including Abbie Hoffman's Steal This Book!)."
"Incredibly lucky timing played a major part in my trajectory," he added. "I was goaded into attending the screening of a Warhol movie, so intrigued by the audience's reaction. Even though I hung around the Warhol scene for the next seven or eight years, I never had the intention of becoming Andy's first biographer. I started asking questions of his friends and associates, and taping their answers, to satisfy my curiosity." He published The Autobiography and Sex Life of Andy Warhol in 1971.
Wilcock asserts he was probably the oldest person in the underground press (late 30s) and so "I think that maturity, coupled with experience in working for five of the world's biggest dailies and several magazines, along with a generally rebellious nature, was probably of value." What's more, he said, "I have no regrets about the path I took which helped to backstop and record the youth revolution (maybe the first time in history that teenagers actually had power)." Wilcock indeed helped to create the platform the underground press built for all the young and aggrieved. "It was a hippy bus for all to ride (the Barb claimed to have sold 80,000 of one issue), something that backed what was to become a Movement. And I probably enjoyed every minute of it."
Image credits: The Village Voice; "Encounter with John Wilcock, Spring Street Bar, SoHo," 1977 Photo (c) Gerard Malanga
We want to hear what you think about this article. Submit a letter to the editor or write to letters@theatlantic.com.
Steven Heller
is a contributing writer for
The Atlantic
, the co-chair of the MFA Design program at the School of Visual Arts, and the co-founder of its MFA Design Criticism program.