Curt Schilling: From World-Series Pitcher to Video-Game Entrepreneur
After retiring from the Red Sox in 2007, the ace started his own gaming company.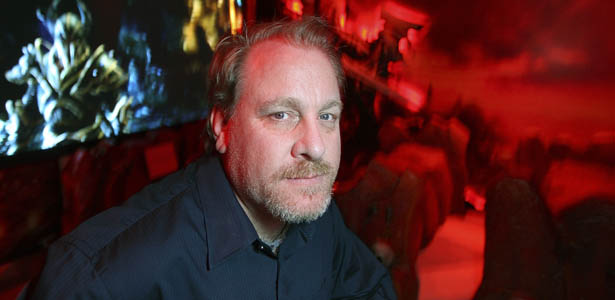 Reuters
Three World Series rings adorn Curt Schilling's fingers, and he was instrumental in winning each of them. During the Boston Red Sox' comeback against the New York Yankees in the 2004 American League Championship Series, Schilling pitched on an ankle surgically repaired just days before—visibly bleeding through his sock as the innings wore on. And then, following the Red Sox's 2007 championship season, Schilling retired from the MLB. A lot of men in his position would have parlayed a spectacular playing career into a broadcasting gig, or maybe a coaching spot. Schilling began a second life entirely.
An avid gamer and self-professed dork going back to his childhood, the former ace took aim at the video game industry. He was aggressive from the start, picking up major creative names and sinking his fortune into a new company: Green Monster Games, which quickly became 38 Studios (named for Schilling's old jersey number). The nascent developer then acquired Big Huge Games, owners of a powerful proprietary 3D engine. After years of development and millions of dollars invested, 38 Studios released their first product. Kingdoms of Amalur: Reckoning is an action-oriented role-playing game set in an original world—one created by famed fantasy author R.A. Salvatore, shaped by comic book legend Todd McFarlane and brought to life by former Elder Scrolls world designer Ken Rolston.
Reckoning hit stores and digital distributors last month, and enjoyed strong reviews. The first downloadable content (DLC) pack, "The Legend of Dead Kel," is due on March 20. Schilling spoke with The Atlantic by phone from the 38 Studios office in Providence, R.I.
---
You've been working on this game for five years, and you push it out at long last. Do you think immediately, "On to the next thing"?
We're building a franchise. This is not a one-and-done. We just announced our first DLC for it [last week], which is huge...[it's] very unconventional from a size and scope perspective. You know, we launched a franchise; that's different than launching a game. Maintaining the awareness, especially in this day and age, is hard. You got Mass Effect 3 coming out in [a few] days, and we need to survive past the launch of Mass Effect 3. We need to continue getting eyeballs on the product, and we have the ability and the desire to patch it and make it a better experience. At the end of the day we're a studio full of gamers who want to make awesome games for gamers, as opposed to being a publicly held company. It's different, and I'm not belittling that, but it's very different in how you look at your players.
A lot of game studios start with a couple guys in a garage. You guys started with a bunch of capital and a bunch of big names.
The garage in this case was Teamspeak. The small group of people who were forming the company were my guildmates in Everquest who worked for Sony Online. We had been friends for a while and we'd been talking for a long time, and it came to the point where the conversation needed to end or I needed to do something about it. And I did something about it.
MORE ON GAMING
You took an unusual approach, where you guys built this big, lore-filled world and moved on from there to game design.
I don't want to sound arrogant, but we built from a place of success. We believed we were going to be hugely successful and awesome, and instead of starting small and [hoping for success], we've run the company as if we were. Everything we do is created and manipulated with the thought that this is the most important thing in the world, from an IP (intellectual property) perspective. So we're treating our IP as the Holy Grail from day one, instead of getting validation from other people. We knew two years ago that Reckoning was a phenomenally fun and exciting game.
You've been a gamer your whole life; you know what it's like to be totally immersed in a video game. Do you feel like the design of your company lends itself better to creating that attachment?
Oh, absolutely. We are never going to make games we don't want to play. That's a difference between privately owned and publicly owned. I have no interest right now in owning a publicly traded company. Wanting to create a multi-billion-dollar company is about [keeping] all your focus on things other than the money. In my mind, if we all do things to the best of our abilities, the money will happen. To me, Reckoning was proof-of-concept. We made Reckoning and we got the response we expected to get from Reckoning, but we're realists. We know what we did wrong; our first goal is not to sit around and say what we've done, but to figure out what we can do better next time.
That links to your pro athletic background, right? The best sports owners know that if you're winning and putting a good product on the field, financial success will happen.
Right. You never hear teams complain about making money that are winning. I played the game for 23 years, and the last ten or 12 years of my career I realized I did all the preparation and work for those 30 minutes after a win. There's nothing like those 30 minutes after a win in the clubhouse. I didn't realize until I retired what a small window that was, because 30 minutes later I was focusing on, "five days from now I need to pitch against the Yankees and here's what I need to do." Every day is a new day and I'm very much an optimist. I try not to ride the highs and lows for more than a day, because no matter what happened today it's a total reset tomorrow.
Are there any nods to your playing career in Reckoning?
There is! It's [a special animation], what we call a Fateshift kill—you'll know it as soon as you see it.
You've said Reckoning features the "best combat ever in an role-playing game." What, in the 38 Studios philosophy, makes video game combat great?
The fact that it's incredibly accessible: you can pick up the controller and be Jet Li. Added to that is the incredible depth and breadth of combat. You could probably go through the game mashing a couple buttons, and eventually make your way through the game. You could also be an incredible perfectionist in combat, figuring out how to do a 15-hit juggle [combo]. The depth of the combat is hard to believe, [considering] that combat system is driven by an RPG engine—a stats engine. Those two things have never been put together in an RPG before to the level we've put them [together]. You've had the depth and breadth of combat we've had in stats and data before, but never visually. I don't think I've ever bypassed an opponent in this game...because killing stuff is so fun. That's Tekken, that's Mortal Kombat, that's Street Fighter. In God of War, the visceral combat keeps you moving through the stuff between battles. In Skyrim, you move through the combat to get to the quest stuff, and the lore. We've put both those things in the same game.
I'd imagine sports fans are similar to gamers, with substantial opinions underneath layers of irrational language. How do you deal with Reckoning fans?
The exact same way. You look at our forums, you'll see I post every day. Part of my job is interacting with our players to understand what we're doing right, what we're doing wrong, and to let them know that their opinions matter. I post on nine or ten huge forums, and I think that's part of my job. The second we sound or feel corporate, we become like everyone else. To me, that would be a tragedy. We aren't like everyone else. And you can't pick and choose where you're different—that difference that we're asking them to believe in us for has to show itself on our forums. We're human beings, we make mistakes, and we're trying to create an immense amount of trust between players and the company. We don't like to make mistakes, but we have no problem owning up to them as long as we don't repeat those mistakes. If we can do that, then we can gain the players' trust and we can get to the point where if a game comes out with the 38 Studios logo on the box, you perceive it the same way you do with Blizzard. You may not like the genre, but you'll never question the quality of the experience.
Talk about the first DLC pack for Reckoning.
It's called "The Legend of Dead Kel." What's not to like? It's dwarves and it's pirates and it's undead—it's huge, from a content perspective. It's enormous. It's another tip of the cap to the players, saying "when we ask you to spend your hard-earned money on something we've done, we want you to understand there's immense value in that." DLC is one of those places. Before DLC, console games were one-and-done. It was a point of sale and you had no opportunity to engage with your players after that. It's different now, with Xbox Live Arcade, PlayStation Network, Steam, all the platforms to deliver content. We launched Reckoning realizing we launched a service. So our DLC is a way for us to patch the game we launched and make it a better play experience...I don't know if you're finding Reckoning somewhat easy, but we're going to put a harder mode in there sometime soon. We totally missed the boat on that one. We're starting to see [data] that says otherwise, that players are dying, but we need to tweak things.
Two guys you played with for years on the Red Sox, Tim Wakefield and Jason Varitek, have retired this offseason. When you see that happen, how's it feel?
I don't miss anything. I was ready to walk away. I've missed nothing from the day I retired to today. I'm busier now than I ever was when I played. I'm unbelievably thankful and blessed to have the career I had, and I was ready to leave. Both of those guys, I'm not sure either of them wanted to walk away just yet. It's disappointing, I'm sad to see it. But at the same time, they both had long, storied, incredibly good careers. I wish them nothing but happiness and I think they'll both be in [baseball] for a long while.
You got to take the ball, go out in front of 50,000 people, and it's just you on the mound. Is there any way to get that kind of thrill?
Nope. Nope. I have to find my motivation in other ways. It's cool and I love it and I'm inspired, but I had a God-given ability to throw a baseball very hard and very accurately. I was blessed to do it for 20-something years professionally....To all the fans of 38 Studios, we're 100% reliant on their passion and commitment to be what we're gonna become, and we're grateful for it.
This interview was condensed and edited for clarity and length.