Confessions of a College-Basketball Benchwarmer
An interview with former Ohio State player Mark Titus about his first book, Don't Put Me In, Coach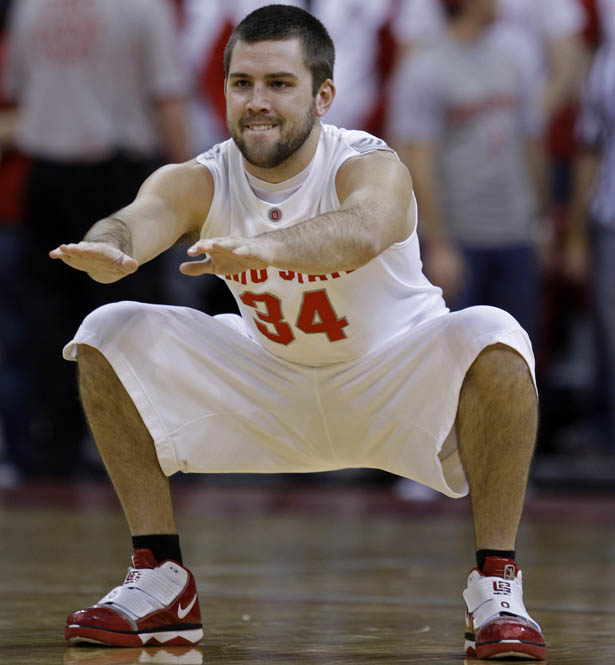 AP Images
For a reminder of the fun that can be had in college sports, turn to Mark Titus. A walk-on for the Ohio State Buckeyes basketball team from 2007 through 2010, he straddled the line between real-deal player and fan. As a member of the team, he went along for the ride (at his comfortable spot at the end of the bench), through the highs and lows, but as a fan he was able to step away from the self-serious nature of college athletics, helping to loosen up the team in the process. Titus, now a writer for the Grantland, is coming out with his first book, Don't Put Me In, Coach, a spin-off of his popular blog, Club Trillion. The book, a comic tale of coming to terms with failure, is littered with stories of pranks, jokes, and team hijinks that may turn around that understandably low opinion of college sports. Everybody seems to be having a great time.
I spoke to Titus over the phone, where we discussed his early love of everything Big Ten, the advantage of being friends with Greg Oden, and the equal amount of love and hate he gets from Ohio State fans and teammates.
---
What initially struck me about the book is that it seems your attitude toward basketball was cemented at an early age, as far back as high school basketball and AAU. Was this something you recognized at the time, or only in hindsight?
I have an older brother who's three years older than me. So, each step of the way I saw him -- when I was a freshman in high school, he was a senior—during his final year trying to appreciate every moment. I feel like I got a better appreciation of the situation. It's just a game and what ultimately matters is the relationships you have with your teammates, and having fun, all that kind of stuff. That's where I got the attitude, seeing him go through it and going, "Oh, crap, that's right around the corner. I don't have much high school left." At Ohio State I got to that point where I knew I was definitely not playing pro. This is it. I need to have as much fun as I can.
You mention in the book, briefly, that you considered going to Harvard. Why was it important to choose Ohio State?
I grew up worshipping Big Ten basketball. My mom actually played at Purdue. She was on one of the first, after Title IX passed, she was one of the pioneers of women's basketball in the Big Ten. She likes to tell stories of the early days of riding buses and all that kind of stuff. My dad didn't play in college, but he went to Indiana, and my brother went to Indiana. Everybody in my family went to Big Ten schools, so my understanding of what college was the Big Ten schools.
Were you hoping to play for Bobby Knight?
Oh, absolutely. It was my dream since I was three years old to play for Bob Knight at Indiana. That was what I wanted to do—I wanted to play Big Ten basketball. Then Coach Knight was fired, so that dream was shot. Not that I would have been able to play at Indiana, anyway. So when I was getting recruited I still had that mind frame. I didn't necessarily want to play, but I wanted to go to a Big Ten school. If I would have went to a smaller school I don't think I would have felt like I was in college. It was kind of stupid. [laughs] That was my perception of the world. I got recruited by a lot of mid-major schools and I shot them down initially, when they would send out the feeler letters. It just wasn't for me. Then Harvard got in touch with me, and the prestige of Harvard freaked me out for a little but, so I was interested in that. I never thought I would have the chance to go to Harvard.
MORE ON BOOKS
You could have played with Jeremy Lin.
It's funny, because I really do think he and I would have been in the same freshman class at Harvard. We would have been four-year teammates. It's not that he got my spot or anything—that would make for a better story, I think. I was getting recruited by Harvard and then they went in a different direction and the direction they went was Jeremy Lin. I should change the story to that. [laughs]
We'll spread the rumor right now.
Harvard ended up falling through, and I was like, "Screw it; I don't need to play basketball." I'd been friends with Greg Oden and Mike Conley since seventh grade and they committed to Ohio State because they didn't like Mike Davis, the coach of Indiana at the time. They wanted to go to Indiana. And then Greg, half-jokingly, suggested I should go to Ohio State with him and be his roommate. Looking back on it, I made huge life decisions on a whim, not even thinking about it. I actually never even visited Ohio State's campus when I decided to come here. It's so illogical, looking back. [laughs]. "What the hell, I'll go to Ohio State," like we were going out to lunch or something.
When you arrived at Ohio State, were you nervous about ruining the opportunity, even if it was just sitting on the bench, by cracking jokes and pulling pranks?
Oh, yeah. I was really nervous, my first two years especially. I was kind of spoiled because I had the in with Greg. We were pretty good friends and he was the biggest deal on campus. Head Coach Matta threw a party when Greg committed. I had that thing: 'Don't fuck with me I'm Greg Oden's friend.' [laughs]. I was still really nervous. It was a huge deal with me. I was a fan of Thad Matta. I was star-struck. I definitely took it pretty seriously my first two years. But then I kind of got an understanding of how Coach Matta works. He's a pretty laid-back guy and he's funny himself. I felt it out, how everything worked and what mattered to them and what didn't matter to them. The stuff that didn't matter I had fun with. I learned, after my first years, that my job on the team was just to get pushed around in practice. That's pretty much it. It really didn't matter what I did.
Did it upset you initially? Were you expecting, or hoping, to have a bigger role?
I really was. It kind of sucked. I didn't expect to be a big deal when I got to Ohio State, but it was a change of pace. It was weird, but I embraced it. Instead of sulking about this, I should just have fun with this. I actually started the blog because I was mad. I wanted to make fun of myself, almost beat people to the punch. This was my mentality. I thought people back home were making fun of me because I didn't play. I thought if I write about not playing before they make fun of me, than they can't make fun of me. I was joking about it, but on the inside, it sucked. After a few months, I realized it was kind of fun.
And then the blog became a huge thing, which you obviously could have never expected.
My first two years at Ohio State I definitely was naive. I thought I had a chance to play. I got added to the team three days before our first game freshman year and I had been sitting on the couch all summer. I didn't work out at all. On the bench that first game, I'm sitting there, nervous. I honestly thought Coach Matta would say, "Hey, Mark, get in there." My sophomore year, we went to the NIT and we had the worst team Coach Matta had in his life; we weren't very good. I was taking basketball really seriously at that point and was playing the best basketball of my life. After that year, I said if I didn't play, and our team sucks, I'm never going to play. That's when I flipped the switch. That's when I started the blog. I didn't embrace it before then. I thought all my friends back at home were making fun of me. I was so egotistical. I thought I was the talk of the town: "Did you see that Titus doesn't even play?" [laughs].
You write in the book about how benchwarmers on other teams began to embrace the role, and the idea of the Club Trillion. Were there other benchwarmers who didn't take to you mocking the position lightly? I imagine there are a lot of players in college basketball who are extremely self-serious.
It's funny you say that, because actually one of my teammates, the other walk-on at Ohio State, his dad was a coach. He grew up in a basketball coaching family—he wanted to a coach. To him, basketball is very serious. He broke down film with the players and all that kind of stuff. He didn't scoff at me and think I was a jackass, but he never wanted to join me on the blog. I got some heat from fans. That was when I understood it was getting bigger than I anticipated. Ohio State fans would e-mail me and tell me I need to take it seriously because I have a great opportunity. There was obviously going to be misunderstandings—some people think I just tried to play grab ass in practice all day, or I show up in a clown suit and fuck around. For the most part, though, people enjoyed it.
You write in the book about trying out for the Harlem Globetrotters after you graduated. Were you still hoping to play basketball in some fashion?
Not really. As I talk to you now, I miss basketball so much. It was such a big part of my life. I really do miss it. It got to the point where it was too much. There were times in practice where I would have to play a lot; if a guy hurt, while he was out I would have to fill in his spot in practice for weeks at a time. I talk like an old man, but I would be so banged up—not injuries, but just bumps and bruises. I don't know how guys keep doing it. The NBA is nice because you can get paid millions of dollars to do that but the guys overseas get paid $25,000 a year to play in front of 30 people and everyone speaks a foreign language and you're getting the shit beat out of you every night. Do I really want to do that? Does it really matter to me that much? The Globetrotters thing was such a bizarre situation. I liken it to Harvard. I didn't want to play basketball, and then Harvard called and I thought, "I have to go there." The same thing with the Globetrotters—it was so wacky I needed to do it. But I don't want to play professionally.
Were you always planning a book once you were done at Ohio State?
Once my blog became popular I knew a book was inevitable. It was a good way to wrap everything up. I'm not going to be a benchwarmer my entire life.
You tell some stories about your teammates in the book that I imagine they may not want to have made public, especially since a few now have NBA careers. Have you caught flak from any of the people you wrote about?
Yeah. One of my teammates has expressed frustration, let's put it at that. He was really upset. He didn't read the whole book. He skimmed through the book for his name and then didn't see the parts where I wrote about how awesome he was, only the parts where I'm kind of making fun of him. I got a text message from him and thought it was a joke. I laughed back at him. He said, "No, I'm serious. It's messed up you wrote about that." It's like, whoops!