And other questions raised by Manning's impending move to the Broncos
What do you do with a wildly popular, 24-year-old quarterback who leads your team on a thrilling late-season run to the AFC West title? If you're the Denver Broncos, you dump him to bet the future of your franchise on an old guy who hasn't taken a live NFL snap since 2010. The darkhorse Denver Broncos, reports indicate, have won the gaudiest free agent prize in league history, signing former Colt and cookie spokesman, Peyton Manning.
The 49ers, who were supposedly leading the Manning sweepstakes, must be bummed. After all, you don't bring Randy Moss out of retirement to have Alex Smith throw him wobbly, 15-yard crossing routes. But Manning was always a longshot to leave the AFC, where he already knows the on-field tendencies of every defensive back, as well as their shoe sizes, favorite foods, and birthdays. Besides, Peyton has to stay in the AFC. How else can he and little brother Eli fulfill their lifelong dream of starting against each other in the Super Bowl—and so, in some vaguely Lion King-ish way, avenging the NFL's crimes against their father, Archie, the greatest quarterback to never play in the postseason championship. Beyond the continued threat of an all-Manning Super Bowl, here's a look at what Peyton's new digs means for the league:
Related Story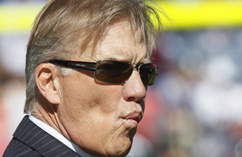 What Manning Gets From Denver
Money, of course.
According to the Denver Post, Peyton's deal will be for around $90 million over five years. The QB will also inherit head coach John Fox's very decent running game, a substandard wide-receiver crew, but a stable offensive line. Last year, in fact, Denver was the only team to have all five starters on the offensive line play every game. That unit returns in tact this fall, and could be augmented by longtime Colts center Jeff Saturday, also hitting the free agency circuit.
What Denver Gets From Manning
With Easter approaching, Denver has made like a bunny. They've put all their eggs in one basket. Specifically, the team has put all their eggs in a 36-year-old, $90 million basket—one with a neck that's been surgically repaired four times in the last 20 months.
If there was convention for dishers of conventional NFL wisdom, this year's keynote address would be called something like " Signing Peyton Manning Makes Denver Awesome!" Las Vegas oddsmakers certainly seem to think so. News of the manning's move to Mile High instantly put Denver among the favorites to win Super Bowl XLVII.
On paper, bringing in a guy with four league MVP awards is obviously going to make any team better. But football—as the old saying goes—isn't played on paper. Football is played in a air-conditioned environment, under a retractable dome roof, on green plastic turf. At least, that's how Peyton played football in Indianapolis. Not so in Denver, however. There he will be exposed to Rocky Mountain winters. He will play on a unpredictable natural grass surface and—not for nothing—face an absolutely brutal first-place 2012 schedule that includes road trips to Baltimore and New England.
What Happens to Tebow
Dangerously, Denver now seems hellbent on trading Tim Tebow. He, in case you forgot, led the Broncos on an unforgettable run to last year's AFC West crown. Coming off the bench, running Kyle Orton out of town, Tebow electrified the league, inspiring equally ardent love and hate with his unconventional, oft-ugly style, flair for the dramatic, and especially his unapologetic declarations of faith.
Manning made it clear to the Colts that he wanted no part of mentoring Andrew Luck, the club's certain first round draft pick. Peyton certainly isn't about to play in Denver with Tebow and his millions of frequently over-zealous fans breathing down that still-fragile neck.
That suits John Elway just fine. The Broncos' Hall-of-Fame former quarterback and current head of football operations has never warmed to Tebow—a kind of anti-Peyton, whose improvisations, recklessness with his own body, and sometimes ludicrous throwing-motion make him the very antithesis of the micromanaged "pure" pocket-passer beloved by today's control freak NFL.
One dude, Bronco linebacker Von Miler, thinks Manning and Tebow can coexist. One. The "Tebow Ticker" set up at NFL.com to gauge the likeliest landing spot for the former Gator, suggests the fait has already been accompli-ed. The Broncos are about to exchange an inexpensive, flawed but young, strong and gifted quarterback for a very expensive, brilliant-but-battered old one. Soon, fans in a new city—probably Jacksonville—will be kneeling and "Tebowing" after every touchdown. In Denver, meanwhile, they no longer will be praying with their quarterback. But if Bronco fans expect years of Peyton-led glories, they ought to start praying for him.
We want to hear what you think about this article. Submit a letter to the editor or write to letters@theatlantic.com.
Hampton Stevens
is a writer based in Kansas City, Missouri. His work has appeared in The Atlantic, ESPN the Magazine, Playboy, Gawker, Maxim, and many more publications.