Bruce Springsteen's Recession Gospel
Wrecking Ball takes aim at Wall Street, but recognizes the limits of anger—and of compassion.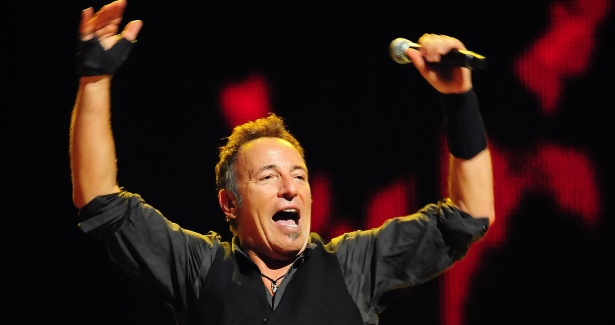 AP Images
On his 17th album, Bruce Springsteen sings a lot about loss—loss of jobs, loss of decency, loss of pride—so it's perfect when, at the very end, he raises the dead. The actual dead: Over a giddy, chug-along thrum of handclaps, whistled melody, and the horns from Johnny Cash's "Ring of Fire," he imagines a railway worker killed while striking in 1877, a black churchgoer murdered in Birmingham in 1963, and a Mexican father lost in the border desert in 2011 all belting out the song title, "We Are Alive."*
The dead who are named all struggled for a better life; through struggle for better lives everywhere, Springsteen says, they continue to live. It's a common eulogy-after-tragedy sentiment, but coming at the end of Wrecking Ball—and surrounded by such joyous music—the idea feels novel: We need some nod towards justice in eternity after all the injustice Springsteen flings at us in the earlier songs.
That's not to say the album's a downer. It's the opposite, actually. Wrecking Ball has been pegged, correctly, as Springsteen's Occupy Wall Street manifesto, a response to America's recent economic disaster just as 2002's The Rising was a response to September 11. But it's also an impressively diverse, compact, and booming collection—as undeniably enjoyable as it is unmistakably political. The gospel-inflected ballads summon chills. The uptempo ones, which range from FM-radio-ready country pop to bellicose saloon jams, swagger. But no two songs summon chills or swagger in exactly the same fashion.
A few may bring cringes, though. On "Easy Money," Springsteen yawls about "fat cats"; on "Death to my Hometown," he's against "greedy thieves." The "lyrics feel more crudely drawn than 1970s Saturday morning cartoon villains," writes the New York Times' Jon Caramanica, and he's not exactly wrong. But the ideas here are more interesting than the terminology. Again and again on Wrecking Ball, Springsteen sings about betrayal: about the corporate executives who swindled America, and about their very real victims. But on the question of what to do about that betrayal, Springsteen's answer isn't so simple.
The wrecking ball provides a nice metaphor for how to think through a messy period like the one America's been going through. We have to knock some things down to build something better. Progress requires loss. But Springsteen, for how much he demonizes Wall Street, isn't very interested in taking a wrecking ball to it. The closest he comes to advocating retribution is on "Death to My Hometown," where he implores us to "get yourself a song to sing" to "send the robber barons straight to hell." That's the extent of the punishment he recommends—condemning the criminals with music. No wonder the tune, with its fifes and shanty sway, sounds designed to be bellowed en masse over Guinesses.
What's the way forward, then? Springsteen preaches compassion and vigilance, not revenge or revolution. If that sounds unbearably messianic, know that forgiveness isn't on the agenda: "Hold onto your anger," goes one refrain of the title track. Loving thy enemies, he says, is less important than loving thy neighbors, friends, and comrades, than sticking together as a tribe—taking care of one's own, as he puts it on Wrecking Ball's opening song.
MORE ON MUSIC
But Springsteen harbors no illusions that good behavior, protest, and hard work will fix everything, at least not anytime soon. On the slow dance of "Jack of All Trades," he embodies a down-on-his-luck handyman who hopes for the future the same way people hope for nice weather: "That hurricane blows / Brings a hard rain / When the blue sky breaks / Feels like the world's gonna change." It's heartbreaking statement in the way it's half right. Clear skies do inevitably follow dark ones. It's just that the dark ones inevitably come back, and the world hasn't actually changed. Springsteen knows this: "Hard times come, and hard times go," he repeats on the title track, voicing a sentiment that's defined his career's work from "Born to Run" to The Rising.
Only once on Wrecking Ball, during the swing-for-the-skyline six-minute voyage of "Land of Hope and Dreams," does Springsteen he dare imagine a nation where everyone actually does take care of their own. Befitting its scaffold of worshipful vocals, swell-and-contract dynamics, and triumphant sax (courtesy the late Clarence Clemons), the song documents the feel—the unrealized vision of—a just society. When "We Are Alive" then kicks in, it's not only a reminder of how many lives have been lost trying to get to that society. It's an acknowledgement of how many still will be, and a celebration of the small comfort that, at the least, we all struggle together.
---
*This post initially misidentified the victims of the 1963 Birmingham church bombing. We regret the error.