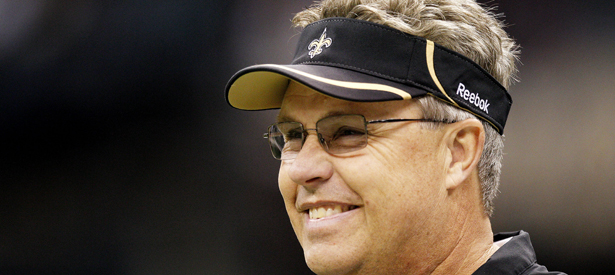 The NFL has concluded that Rams defensive coordinator Greg Williams paid players to knock opponents out the game. Subsequent reporting has shown that Williams did this with other teams across the NFL. From The Times:
Accusations of dirty tactics have hounded defensive players on the Saints -- although they are nowhere near the top in team penalties -- and in the wake of the investigation, injuries they had a hand in are being revisited. Late last season, Vikings running back Adrian Peterson, returning after missing most of four games with a high ankle injury, accused Saints safety Jabari Greer of twisting the ankle in a pileup. Peterson said that he had expected his ankle to be a target but that "I felt like it kind of got overboard." 




In a Week 2 loss, Bears receiver Earl Bennett left after a crushing but legal hit to the midsection from Saints safety Roman Harper. The hit caused internal injuries, and Bennett missed five games. Quarterback Jay Cutler said he was kicked in the throat in the third quarter of that game. 




But one hit still resonates. In a game against the Redskins in 2006 -- when Williams was Washington's defensive coordinator -- Manning was hit low, then high. His body twisted awkwardly as he was pulled down and his neck was wrenched, his helmet flying off. Manning later said that Phillip Daniels "wouldn't let go of my head." 




Daniels defended Williams to The Washington Post on Friday. Tony Dungy, then the Indianapolis coach, and Jim Sorgi, then Manning's backup, have spoken about that play. They say it was the beginning of the neck troubles that caused Manning to miss last season. "I have no idea what was going on in Washington," Dungy, now an NBC analyst, said Saturday. "I do know in Tennessee they definitely had bounties. We had players that went there in free agency; we had some of their players who came to us as free agents who told us. You can draw your own conclusions from that."
There's a section following this one where Matt Bowen really seems to be equivocating, first confirming that there were players paid to injure the opposition and then saying "It wasn't a 'Let's put a bounty on this quarterback and try to break him in half.' It was: 'Play physical. Take him to the ground.'"
That's the kind of language I've used before to excuse the violence of football--or more precisely, my own engagement with that violence. Increasingly I feel that, as a fan, I am facing a moral question. Greg Williams' mentality doesn't sound all that singular to me. "Remember me shots" are a part of football. Asking players to deliver those shots and then clutching pearls when those shots cause injury feels dishonest. Super Bowl XXV is one of my favorite games. It was very much won by "Remember Me" shots.
The difference with Williams seems to be a kind of explicit malice which most of us would rather remain hidden beneath. I don't know if that's going to be enough for me. Not in this age of concussions.