A Year After the Quake, a Rift in Japan's Musical Landscape
After the March 11 crisis, pop went patriotic, YouTubers made protest songs, and indie got weird.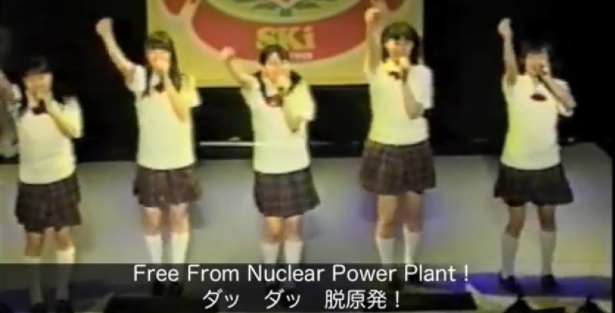 YouTube
It used to be, the Japanese city of Kashiwa's biggest claim to fame was as a food-processing hub. But in the wake of the March 11, 2011 earthquake and the resulting nuclear crisis at the Fukushima Daiichi Nuclear Power Plant, it made news for something else: being the site of a Fukushima-linked radioactive hot spot.
In January, one enterprising citizen decided to capitalize on Kashiwa's new-found infamy. He held an open casting call for an all-girl pop group based in the city. The group's name was to be "Hot Spots," with a debut single called "1 Millisievert Fever." "Through song and dance, we want to improve the way people think about radioactive hotspots in the area," the casting-call ad said.
The outcry—from the local government, citizens, and users of Japan's popular 2 Channel website—was swift and loud against the Hot Spots project's stated mission of providing PR for radioactivity. Within a month, the group was scrapped.
This pop faux pas in Kashiwa wasn't just a bad marketing decision. It also highlighted the fragmented way that Japanese artists have responded to the devastating events of March 11, 2011. Over the past 12 months, the earthquake's fallout has loomed large in Japan's pop culture. But the nation's musical mainstream and undergrounds have diverged in their response to their country's worst crisis since World War 2. Pop has put a positive spin on events, with calls for unity and hope. Smaller-profile musicians, meanwhile, have taken on the task of critiquing the government, rallying against nuclear energy, and documenting the confusion and paranoia that characterizes post-quake Japan.
In the immediate aftermath of March 11, Japan's music industry virtually shut down. Concerts were cancelled, CD release dates pushed back, and artists' debuts delayed. Soon, though, pop stars were doing what they could to help those in the disaster-stricken areas. Groups of "idols" visited shelters housing displaced locals and held special concerts for the quake victims. Other acts hosted benefit shows in Japan and abroad . AKB48, one of the most popular musical units in the country today, earned millions of yen for the region through live events.
In the following months, the big record labels focused on releasing songs and albums devoted to raising relief funds. The most prominent came from the group EXILE, a 14-member outfit boasting two primary singers and 12 dancers. Their single "Rising Sun" shot to the top of the charts with optimistic lyrics set against the vaguely R&B stylings that made them stars in Japan. The 20-plus-year-running boy band SMAP, meanwhile, created SMAP AID, a charity greatest-hits compilation. Publications like Time Out Tokyo criticized it, though, as only 200 yen from each purchase (retail value about 3750 yen, or $40) would go to relief efforts.
Soon, J-Pop artists were playing up the patriotism without directly commenting on March 11. Electro-pop trio Perfume released an album called JPN, featuring only one song that could be vaguely connected to the earthquake and tsunami. EXILE's EXILE Japan, featuring "Rising Sun," also showcased plenty of unrelated filler. Most recently, J-Pop diva Kumi Koda's album Japonesque boasted many references to classical Japanese culture, but the actual music veered towards sexed-up club bangers featuring T-Pain and Omarion.
Absent from these big-name attempts to boost the country's spirits were any direct mentions of the Fukushima crisis itself. The only popular contemporary musician to take an anti-government stance was Kazuyoshi Saito, who reworked the words to his 2010 single "I Always Loved You" into an online screed against the powers that be. His label promptly pulled the video, though plenty of online enthusiasts have re-uploaded the clip.
Indeed, as the public's trust in nuclear power plummeted, YouTube became the outlet for anti-nuclear music. One of the most viewed of such videos was a collaboration between reggae artist Rankin' Taxi and Dub Ainu Band called "You Can't See It, And You Can't Smell It Either." Besides taking aim at the government and power companies, the song commented on how "powerful" radiation is and that it doesn't "discriminate," affecting average folks and world leaders alike.
Japanese rapper Coma-Chi also turned to YouTube to gain a wider audience for her anti-nuclear song "Say No!," which rallied against nuclear power plants and the government's longstanding assurance that Fukushima posed no threat. Meanwhile, '80s rock group RC Succession saw two anti-nuclear songs they performed 20 years ago gain popularity online.
The strangest anti-nuclear clip, though, came later in the year from Seifuku Kojo Iinkai, a group of school-uniform-clad teenage girls who deliver chirpy songs best suited for Sesame Street. In "Free From Nuclear Power Plant," the group sang about the Fukushima disaster and the failings of the government. The song features distinctly un-J-Pop lines like "It's really an unforgivable story" and the science-class-ready "Becquerel, celsium, meltdown, turbine building." Whereas the styles Rankin' Taxi and Coma-Chi belong to have a long history of activism, it's jarring to hear a gaggle of young idols point to politicians and ask "Aren't you ashamed?" over karaoke-machine music. The weirdness of it all actually helps the message stick.
MORE ON POP-CULTURE ABROAD
Tokyo's indie music scene avoided the overtly political and instead pumped out songs reflecting the mood of post-earthquake Japan. Noisy rock trio Miila and the Geeks' album New Age rejected sappiness in favor of raw confusion, with pinballing numbers named "World End" and "New Age" that encapsulated the year's events. The artist Neon Cloud, meanwhile, used shadowy electronics and digitally manipulated vocals to create uneasy compositions that dovetailed with the new normal of newscasters wearing hard hats and Michael-Bay-worthy natural disasters unfolding on live TV. Earlier this year, dubstep producer Takeaki Maruyama, who records under the name Goth-Trad, released the album New Epoch, one of the first recordings to be shaped by the earthquake. Goth-Trad recorded the CD as the events unfolded. "I got angry and I had to represent my own situation on the album," he said to The Japan Times. "It was a scary time. I have a child whom I was very worried about and I even considered leaving Japan."
New Epoch is just one of many works reflecting ongoing fears of nuclear radiation and anger at the government, feelings still going strong as the first anniversary of the earthquake draws near. Yet the one-year milestone will also be marked by songs calling for unity in the face of uncertainty. The music of Japan after March 11 has captured this cultural rift—hope scraping against fear and lack of faith in the government. Don't expect anyone to embrace radioactive-themed pop groups anytime soon.