A D.C. Newsletter Gets the Visual Bite to Match Its Watchdog Content
The Washington Spectator's redesign has been a long time coming.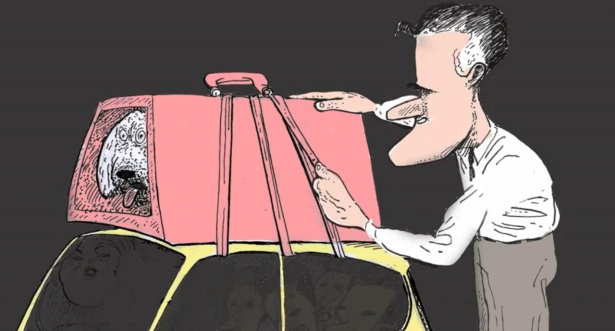 Above: The
Spectator
's online comic, "A Brodner Minute." Below: The new print edition. (Credit:
Point Five design
)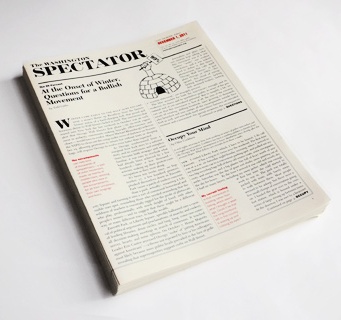 Twenty years ago, a friend gave me a lifetime subscription to The Washington Spectator, an independent project of The Public Concern Foundation, founded by Tristram Coffin in 1971. Like I.F. Stone's Weekly, this periodical broke its share of scandalous Washington stories long before the entrenched press corps got hold of them. But there was always a tragic flaw: The Washington Spectator looked insignificant.
The four-page, double-folded, letter-sized sheet, printed in one color on beige, paper-stock newsletter, was indistinguishable from any insurance or co-op board flyer—and just as easy to discard. That's all changed, and definitely for the better.
Publisher Hamilton Fish and editor Lou Dubose, with the design and development work of Alissa Levin and Ben Levine of Point Five, and online editor Emily Gordon, have spearheaded a brand-new, typographically handsome print product while retaining the newsletter format. And they've built a very engaging online presence. It's a transformation that shows the power of good design.
One of the visual highlights of the new regimen is an exclusive satirical video series by caricaturist Steven Brodner. In "A Brodner Minute," every other week, the artist "skewers the 2012 presidential candidates and other delicious targets." The most recent, "Romney's Dog: The Last Interview," has the beleaguered Irish Setter, Seamus, before his demise, finally having his own say on "the notorious roof-rack incident." The inaugural cartoon was an election-season spin on Mike O'Brien's hit web show, 7 Minutes in Heaven. "Mitt Romney corners Sheldon Adelson amid the moneybags, Barack Obama puckers up à trois, Rick Santorum has a scandalous soulmate, and everyone has—or at least finances—everyone at hello." And more are promised.
Brodner's deft comedy and aggressive caricatures fill a gap that the once stolid Washington Spectator was lacking. His added point of view also fits nicely into the publication's longstanding mission as an independent watchdog in a media and information environment that is brimming, says Fish, "with compromised, corporate-owned news formats."
"We're at an interesting juncture," Fish continues. "There are more obstacles to survival in the non-commercial space than there were 20 years ago, but at the same time there are dynamic new tools that can help preserve and strengthen the independent press, and by extension our democracy."
There are those who discount the true value of striking graphic design to foster engagement, but the Spectator is one case where publication is unquestionably enhanced by graphic improvements. Having illustrator Edel Rodriquez contributing to each issue also broadens its visual appeal. "Audiences are hungry for information they can trust," Fish says. And if design will augment that trust, all the better.