2012: The Year of the Dissolving Diva
Madonna, M.I.A., and Nicki Minaj's single and Super Bowl performance last month were supposed to herald a comeback—but instead left the artists, like so many female pop stars lately, diminished.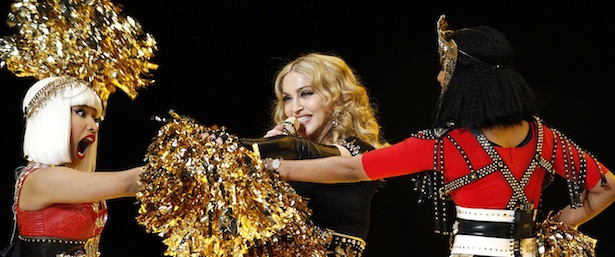 Reuters
A slew of music publications called 2011 the Year of the Woman: a year in which major female artists with equally major personalities reigned in sales and critical discussion. This wasn't really the case (any year offers more than enough triumphs and flops by female artists to claim a trend), but let's briefly pretend it was. If so, then 2012 is shaping up to be the opposite: the year those personalities and their acclaim recede.
It's happening throughout music, but let's stick to pop. Take Beyonce, who released her most mature and praised album yet in 2011 only to see the music near-totally eclipsed in the headlines by her baby. Take Rihanna, who'd already retreated from 2009's Rated R—the closest she's come to a coherent artistic statement—but who provided this year's queasiest news to date in two collaborations with ex-boyfriend and abuser Chris Brown. Lady Gaga, on 2011's Born This Way, explicitly identified as feminist and managed to refurbish the fustiest and cheesiest parts of '80s music as modern sounds, but the media increasingly portrays her as a grandmotherly, harmless demagogue, and her album's been so retroactively panned that U.K. rag NME called it "the most pretentious ever"—a dubious opinion, but hardly uncommon.
These are all solo affairs, though, and they're mostly holdovers from 2011. This year's since seen a higher-profile outing by multiple artists: "Give Me All Your Luvin'," a single and Super Bowl halftime showcase by Madonna, Nicki Minaj, and M.I.A, a three-woman lineup that the media immediately parsed in terms only slightly better than do/dump/marry. One of them supposedly sold out, one was desperate for relevance, one was rubbish in the first place, but nobody can quite agree on who is which. This isn't quite locker-room dross, but it's worse; it masquerades as legitimate criticism so well that people forget there's a difference.
The lineup was no accident. All three women have albums due this year that are presumably meant as artistic coups and/or comebacks. Yes, it's standard to guest or be guested on if you're in a promotional cycle, but this grouping seemed like something more. Madonna, Minaj, and M.I.A. represent a fairly complete cross-section of pop: veteran, newcomer, outsider. And they're three of the medium's most singular personalities—"America's biggest female icons," as Madonna told a Radio 1 interviewer—storming the masculine fortress that is the Super Bowl. The intent of the alliance may have been for all three to peak together, but instead, they're all being thrashed by backlashes that look awfully similar.
Let's start with Madonna. There is much to criticize about the rollout of her upcoming album MDNA, beginning with that title, which tries to force a nickname for her that nobody's used in her decades-long career. It's a just-deniable-enough drug reference that aims for transgression despite being name-checked in Michael Bloomberg's favorite hit of the 2000s, Jay-Z's "Empire State of Mind." It's also a mitochondrial DNA pun rendered like the Tetragrammaton, but you can hardly mock that.
"Give Me All Your Luvin'" isn't bad; it's essentially a rewrite of "Beautiful Stranger." But it takes nerve to sing "every record sounds the same" on a record that reigning hitmaker Dr. Luke could have produced with a dubstep bridge so predictable you could guess its timestamp before hearing the track. Nicki Minaj and M.I.A. get about 30 seconds combined, about the same amount of time as an "L! U! V!" chant swiped from Nicola Roberts and producer Diplo's near-identical and less ironically spelled "L! O! V E!" on last year's breakout hit "Beat of My Drum." Worse is MDNA's, "Girl Gone Wild," which sounds like a RedOne throwaway, with borrowed Cyndi Lauper and Joe Francis references replacing Madonna's personality. Anyone could make these tracks. In interviews, Madonna acknowledged this as "ironic"; a better term is "sad."
Those complaints only come from music critics. The public has an entirely different set of gripes. Madonna's too old to make pop, they argue. She's too maternal to talk about sex, her arms too toned to make cheerleading videos. And she's too entrenched to rely on guest stars for her comeback. None of these accusations are new;. They date back to her newfangled Music in 2000, if not before, and peaked around 2008's Hard Candy, with its too-timely Justin Timberlake collaboration and a spread-eagle album cover. But as stale as the criticisms are, even staler is Madonna's response. MDNA seems so far the equivalent of her retorting "you don't want me to be sexy and trendy? See how blatantly I'll do both!" It's rebellious, but she'd gotten over that sort of rebellion years ago.
M.I.A. would recognize that criticism. In less than a quarter of the time Madonna's been around, she drew a backlash that might well have been fatal. 2010's MAYA was, depending on who you asked, either too pretentious or too poppy. Her politics were either too radical or too bourgeois, the dalliances of (as critics delighted to point out) a Brentwood housewife. Fewer people could name any given MAYA track than could cite the phrase "truffle fries," the most damning image in a Lynn Hirschberg New York Times piece that was, as Charles Aaron wrote in the Village Voice, one of Hirschberg's many "methodical eviscerations of prominent women."
The Vicki Leekx mixtape, released on the last day of 2010, seemed poised to assuage this. While defiant—anything named for WikiLeaks then was bound to be—it was also accessible, filigreed with dance loops, raucous if unchallenging, and containing at least three viable pop songs. One of them, "Bad Girls," was gussied up by Timbaland protégé Danja as her lead single. Neither was panned; although most critics saw both Vicki Leekx and the single as backtracking, or giving the people the pop-rap they demanded, those aren't bad conditions for a comeback.
But neither the people nor M.I.A's comeback demanded what happened at the Super Bowl, when M.I.A. flipped the bird to mass outcry. The gesture was likely spontaneous—it punctuated the lyric "I don't give a shit," which demands something—and had the network not cut the audio for a moment, few people would have noticed. (One headline, after the fact: "Raise Your Hand (Or Your Finger?) If You Didn't Realize M.I.A. Flipped Off The Super Bowl Until You Read 4,035 Breathless Headlines About It.") Nevertheless, NBC went after M.I.A. with vigor, even Madonna chastised her, and if the fracas never equaled Janet Jackson's years ago, it wasn't for lack of trying. What should've bolstered M.I.A.'s profile only served to make her look foolish again. When you're simultaneously criticized for being too transgressive and too safe, how does one even proceed?
For a while, it looked like Nicki would escape the brouhaha. Her Super Bowl turn came and went with zero ado. It's either irritating that the one member of the three who unquestionably qualifies as hip-hop was simultaneously marginalized, appropriated, and ignored; or heartening that she emerged unscathed; or both. She even crashed Madge's outing with a plug for her own Roman character, which either betrays remarkable grace on Madonna's part or colossal chutzpah on Nicki's.
Then came the Grammys, a terminally muddled night enlivened only by a few performances, one of which was the papal potpourri that was her "Roman Holiday." It had a mini-movie, it had multiple Exorcist references, and it almost certainly emulated Madonna, or at least Gaga via Madonna. Minaj's performance was easily the most interesting of the night, but even those who praised it called it "over-the-top" or overly Madonna-inspired, and viewers had harsher words still.
Single "Starships," then, was probably inevitable. Nicki Minaj had gone pop before, including Annie Lennox-sampling "Your Love," breakout bonus track "Super Bass," and David Guetta's "Turn Me On," where she abandoned rap almost entirely to squeeze herself into the anonymous-diva house pop mold. "Starships" was the latter taken even further: an actual RedOne production situated between Britney Spears and Katy Perry. Like Guetta's track before it, her personality is buried in the wash, as Village Voice critic Maura Johnston noted. Worse than that, though, it's disturbing to see one of the only truly massive female rappers to emerge in a while—"Super Bass" was the biggest hip-hop single by a woman in a decade—to abandon rap for something any anonymous voice could do.
MORE ON MUSIC
What's causing this? NPR's Ann Powers argued in the Chicago Reader that it's just another way pop music reflects the national climate—in this case, a presidential race that revolves mostly around highly politicalized women's issues. Or perhaps it's, as Johnston points out, a reflection of what sells in pop: beats over personalities, where a voice is just a more supple kind of instrument. It isn't that female artists are struggling, either; they ruled pop last year on the charts and in the public eye, and even now, people like Adele and Kelly Clarkson have No. 1 hits and (in the former's case) albums.
Yet there's something missing. These hits exist largely in isolation, neither accompanied by a personality as seemingly inescapable as last year's. The artists whom one imagines would make music as vibrant as their personalities, as if noticing the trend, seem to be hunkering back to anonymous tracks, to safe chart bets. And where female artists until recently seemed to bolster each other—think high-profile collaborations like Gaga and Beyonce's "Telephone" and "Video Phone," or even the glut of artists guesting on each other's remixes—they lately seem more at odds.
It's telling that the most common critique of Madonna's new material is "reductive," an insult carpet-bombed in comments sections by Gaga fans retooling an off-the-cuff comment Madonna made in an interview about "Born This Way." Fan warfare is nothing new, but just last year, artist after artist—Beyonce, Rihanna, and others—were more apt to talk about women dominating music, about pop having room for multiple queens. "Give Me All Your Luvin'" could have proven that, but what should have been a grand event single now looks a lot more like three artists undermining one another, less a team-up than a brawl leaving all parties weakened. With collaborations like this, who needs rivalries?