Will Madonna's Hair Be Blonde During the Super Bowl Halftime Show?
A look at all the Super Bowl-related bets you can make—even if you don't know anything about football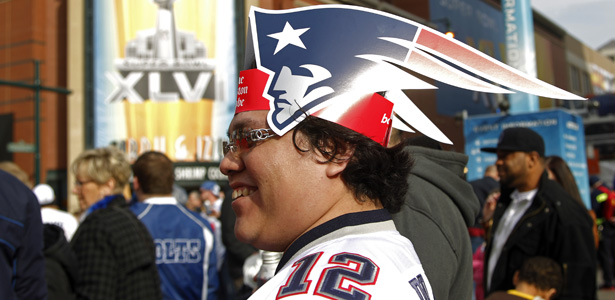 Reuters
Every week, our panel of sports fans discusses a topic of the moment. For today's conversation, Patrick Hruby (writer, ESPN and The Atlantic), Hampton Stevens (writer, ESPN and The Atlantic), and Jake Simpson (writer, The Atlantic) talk about the Super Bowl.
---
The Super Bowl is nearly upon us. More than fodder for the sports page, more than a pop cultural carnival, more than an excuse to eat and drink to unhealthy excess—as if the nation that gave the world Paula Deen, diabetes drug spokesmodel needs an excuse—and more than an unabashed celebration of the fundamental American values of life, liberty and selling something to the next sucker, the big game is an opportunity to cut loose and partake in the one activity we typically tightly regulate, unless you work on Wall Street.
I speak, of course, of gambling.
The most appealing aspect of Super Bowl betting is that you don't have to know a thing about actual football to enjoy a little action. Not with prop bets—those silly-yet-serious wagers that cover everything from the national anthem to the commercials. According to reports, prop bets for this year's game include how many viewers the game will have and whether Madonna's hair will be blonde during the halftime show.
With that in mind, here are a few prop bets I'd like to see:
Number of times Madonna injects HGH during her halftime performance: Set the line at 0.5. Then take the over. If there's one entertainment outfit that's as juiced-up as pro football—the NFL: Where Even Punters Are Roidin'—it's Hollywood. I know it. Vanity Fair knows it. Besides, just look at Madonna's guns.
Rob Gronkowski ankle close-ups vs. number of times Peyton Manning is shown in a luxury box: Gronkowski's high ankle sprain is the most-talked about Super Bowl injury since Terrell Owens' bum ankle in 2005; Manning, who may never play football again, hangs over the game like Banquo's ghost.
Mentions of Tim Tebow during game broadcast: Even though the Denver Broncos' uber-popular option fullback quarterback isn't actually playing in the game, go with at least two. Little known fact: Tebow mentions are required by federal statue.
Commercials featuring talking CGI animals vs. commercials referencing 1980s movies: A push. Does the E-Trade baby count as an animal?
Teasers and trailers for film sequels vs. teasers and trailers for superhero films: Trick proposition, as the real winner is teasers and trailers for superhero film sequels.
Concussions suffered by players in the Super Bowl vs. concussions shown during the NFL's high-concept player safety ad: According to the New York Times, the league will be broadcasting a slick, 60-second spot that presents what writer Stefan Fatsis describes as a "moving timeline of NFL history in which one era digitally morphs into the next during the course of a single kick return, projecting a seamless advance in player safety from the days of the flying wedge to the leather helmet to the single-bar facemask to the horse-collar tackle." Probably not included in the CGI-whizbanggery? The recent spate of lawsuits filed by brain-damaged former players against the league.
Hampton, any other prop bets—or non-football Super Bowl thoughts—you'd like to share?
–Patrick
Oh, Patrick. We couldn't have a roundtable without you acting as everyone else's health police. This weekend, of course, you'll be joined by a chorus of scolds, all fretting over the vast quantities of "unhealthy" or just plain "bad" food that Americans will eat on Sunday—slight but smug neo-Puritan sneer at the day's unabashed celebration of excess.
Well, sir. This publication was founded to explore the American idea, and nothing is more American than Super Sunday. Like us, the day is big, loud, gaudy, violent, absurd, sweet, silly, noble, and loads of fun. Like us, the game is watched around the world with a mixture of joy, envy, awe, hate, and sheer bewilderment. For a citizenry that defines itself as "consumers," this our National Consumption Day. A party built of hype-on-hype which exists for the sake of its own commercials, Super Sunday is as American as democracy and drive-through liquor stores. If a few arteries harden, knees twist, and bells are rung along the way, so be it. You buy the ticket. You take the ride. Hallelujah.
Nowhere is the hyper-American flavor of the day more evident than the obsessive gambling around it. Witness the classic Americanism "You bet!" which is used to mean the yes all over the world. While I'm not callous enough to bet on how many concussions players will suffer in Super Bowl XLVI, the over/under is a steal at 7. Kidding!
But, in addition to betting on the coin flip—a reductio absurdum of the gambling impulse—one casino is offering action on the size of the TV audience itself. Their number seems awfully high, too. Then again, many have said the same thing of me.
At least one casino is taking National Anthem prop bets to an all-new, creepy level. Sure, you can wager on how long it will take Kelly Clarkson to sing the Star-Spangled Banner. You can also bet on whether she'll forget any of the words, and what she be wearing for the performance. (Odds are 15-1 against, for instance, that Clarkson dons any sort of Giants' apparel. She's from Fort Worth and all.) You can even lay money, pardon the expression, on whether her bellybutton will be exposed—which, yes, is the creepy part.
For me, though, betting is the epitome of another Americanism. A bet is a way "to make things more interesting." Wagering next month's rent on Kelly Clarkson's bare midriff is a way to care. Necessary, because I don't. That is, I don't care who wins Super Bowl XLVI. And I'll never care who wins the big game until the Chiefs are in it. (Please, stop laughing.) So, sure, my wallet may be riding on Sunday's outcome, but I won't have nickel on this weekend's other big game—the one where my heart is.

Oh, there's another game. That would be Saturday night. Kansas and Missouri meet for supposedly one of the last battles in their century-long basketball war, and only the third time in series history the teams will meet with both ranked in the top ten. Helz. Yes.
That game, when No. 8 KU visits No. 4 Missouri, will be pretty interesting for yours truly with or without or without Kelly Clarkson's navel.
Jake, our favorite Giants' fan, you must have bigger worries than prop bets. But share some of your favorites anyway. Bradshaw to throw for a TD pass? The number of times Al Michaels says "uge," and means "important"? How about the color of the Gatorade dump?
–Hampton
A whole paragraph about Big 12 basketball, Hampton? I know it's it's been a while since the Chiefs' lone Super Bowl win (hell, I think Hank Stram borrowed his outfit for Super Bowl IV from Robert Duval's character in The Godfather), but COME ON, MAN. It's the Super Bowl. I think there's more than enough to talk about.
Anyway, I could vomit up 2,000 words about this game and the remarkable last 43 days for us Giants fans, but I'll simply say that I have never been this excited for a sporting event in my life. Bar none. On to my almost-fully-baked prop bets...
Over/under 4.5 times a Giants defender tries to "accidentally' roll up Rob Gronkowski: Take the over, folks. After Big Blue defenders admitted to targeting Kyle Williams in the NFC championship game because of his history of concussions, you can be sure they'll try to re-aggravate Gronkowski's high ankle sprain—legally, of course.
Time spent watching Madonna's halftime show (+7 minutes) vs. time spent watching the Lingerie Bowl during halftime. Amazingly, I'll take Madonna. Much as people love the Lingerie Bowl, the chance to see Madonna either light up the place or make a spectacular fool of herself is too good to pass up.
Odds of a kicker missing a field goal inside 40 yards (2/1): Pats' kicker Stephen Gostkowski missed a 27-yarder against the Giants in the teams' Week 9 meeting this year. And Lawrence Tynes, NFC championship-closer extraordinaire that he is, nonetheless had a 40-yarder blocked in the wild card round.
Over/under 10 yards from scrimmage for D.J. Ware: Don't be surprised if the Giants' third-string back breaks an inside handoff or short pass out of the backfield for a healthy gain in this one.
Cris Collinsworth gushing over the Pats' tight ends (-8) vs. Collinsworth gushing over the Giants' wide receivers: I wouldn't be surprised if Cris sounds like a doe-eyed teenage girl for at least 10 percent of the telecast.
As for the game, well... Giants 27, Pats 23. Party like it's 2008.
–Jake