Why the Academy Awards Need a 'Best Soundtrack' Category
In the age of the playlist, we should recognize the people assembling previously published and original music for films.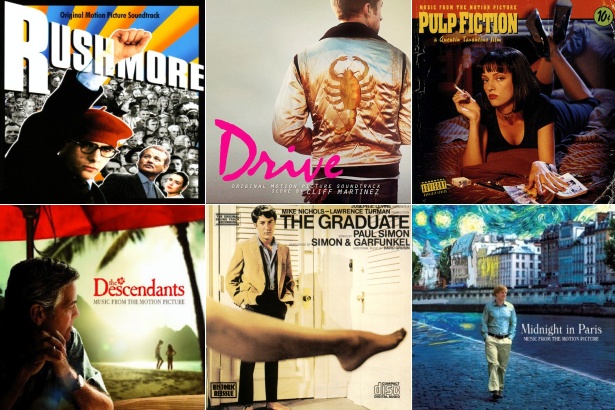 Various
Hollywood's film-music scene received a blow this year when, for the first time, the Academy nominated only two tracks for Best Original Song: one from The Muppets, and one from the animated Rio. It's a subject that's already generated complaints--about the quality of songs, the Academy's arcane nomination rules, and the decoupling of Hollywood with the recording industry. What's inarguable, however, is that film music has changed. It's the rare modern song written for a film that becomes an enduring hit like Jerome Kern's "The Way You Look Tonight," and it's the even rarer film score that stands alone in the manner of, say, Bernard Hermann's "Psycho." Today's composers are often required to write music that fits a contemporary, often more interstitial, film's tone and form; the proclivities of the director; and in a larger sense, the broad aesthetics of an increasingly less patient, Internet-raised pop culture.
How should the Academy respond?
Why not by adding a new category that the Grammys have included since 2000: Best Musical Soundtrack? To be fair, a "soundtrack" might be considered property of the music industry only: many soundtrack albums cannot, due to clearance rights and budget issues, include every sound and song you hear in a movie. The Grammys awards "soundtrack" albums, specifically: products. But the Oscars should consider "Musical Soundtrack" a category of creative work, like Art Direction. Musical Soundtrack could distinguish itself by referring to pre-written songs, original songs, an original or pre-written score, and any other notes and chords heard in the course of a film.
iPods have been available for over a decade, Spotify is the rage, and it's high time for the change: Every year, music supervisors and the directors, editors, and producers they collaborate with, go unheralded as they assemble increasingly artful collections of songs and other kinds of music tracks to complement films. These tracks and lists often function to tell a movie's story, act as characters or arcs in their own rights, and mix well with a film composer's original music, whether or not it's a symphonic score or deconstructed sound-collage made of incidental chord progressions, loops, and electronic beats. Of course, we also have historic original soundtracks made of songs from the same artist—for instance, The Graduate, which could not have happened without Simon & Garfunkel, as well as recent movies with complete soundtracks of music by Daft Punk and Phoenix, among others.
MORE ON THE OSCARS
Who's responsible for soundtracks? A lot of people, sometimes. But insightful music supervisors often shoulder most of the work and lead distinctive careers. Take, for example, Randall Poster (Velvet Goldmine, The Aviator, I'm Not There, Boardwalk Empire), who gave us Rushmore's wonderfully quirky compilation soundtrack, as well as all the Wes Anderson playlists, made of unique songs including artists like the Kinks, Yves Montand, and Cat Stevens. T-Bone Burnett, acting as "music archivist"—he reportedly did not like the word "supervisor"—gave us The Big Lebowski's beloved soundtrack, including Nina Simone, Bob Dylan, and the Gipsy Kings singing "Hotel California": a mélange that yelped "The Dude." And leading music supervisor Karyn Rachtman worked with Quentin Tarentino on Pulp Fiction to produce a weirdly epic surf-music adventure perfect for that groundbreaking romp of a '90s So-Cal indie film.
This year's notable "soundtracks"—that is, the musical sounds we hear in a film, not just the songs cleared to be included as part of an album for sale—vary widely. For one, there's The Descendants (music supervisor, Dondi Bastone), the soundtrack of which blends various "slack-key" artists from Hawaii. Also notable is Midnight in Paris, which seems, unsurprisingly, to have been musically supervised by Woody Allen himself, who matched Josephine Baker and Sidney Bechet with the recurring original guitar track "Bistro Fada" that liltingly sends us along back in time with his protagonist to the 1920s Ile St Louis.
The art is in the curated mix, something which has to date been ignored by Oscar, as well as in how the collection functions as independent parts in specific scenes. Whether or not a music supervisor alone picked all of the songs as well as the film's composer—he or she might have only worked on clearing the rights and steering the director's choices—these professionals are artists who deserve to be publicly celebrated as senior members of a film's creative staff. Given our social-media-playlist-driven world, whatever benefits and detriments it brings to the art of listening, adding Best Musical Soundtrack to the Oscars for next year would be a welcome change for everyone who makes and loves going to movies with open ears.