Why Don't Movies Feature Oscar-Worthy Songs Anymore?
Only two original songs are nominated for Academy Awards this year. What happened to the tradition that yielded the likes of "I Will Always Love You" and "Over the Rainbow"?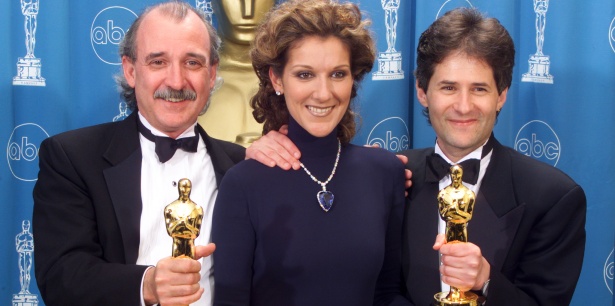 AP Images
The music industry is clearly ailing, crippled by file sharing and years spent trying to fight new technology rather than adapt to it. Nervous label execs have made some strong efforts to brand and promote artists outside of radio and late-night TV, whether in creative corporate partnerships, licensing to TV shows and ads, or online events. Yet hiding in plain sight is one proven, successful outlet that is being largely ignored by the music business: Hollywood films.
Pop music and American film have had a long and fruitful relationship. The songs known now as The Great American Songbook were often introduced in Hollywood musicals; soundtracks to film versions of Broadway shows were the best-selling albums in the U.S. for seven of the eight years between 1957 and 1964; and '80s cineplexes frequently lobbed songs into the top 40. Even in the 1990s, when the spectrum of tracks featured in films narrowed, ranging from ballads by Celine Dion to ballads by Bryan Adams, movies still at least produced huge hits—and in the case of Whitney Houston's "I Will Always Love You," one of those lung-busting records was a masterpiece.
The pipeline dried up in the early 2000s, however, when adult contemporary music was largely purged from the charts, making room for teen pop and hip-hop. Bizarrely, the film industry—at a time when comic-book adaptations seemingly outnumbered serious adult dramas—didn't follow the music industry's lead and embrace younger artists. Instead, with the exception of family films, it largely abandoned tacking an obligatory song onto its summer blockbusters.
Meanwhile, the major-label music industry—in the midst of what may be its final bubble—was enjoying unprecedented boom years in album sales. Record labels had successfully rid the marketplace of singles, forcing consumers to purchase albums at extreme mark-ups in order to possess a favorite song or two. This practice also limited the need to lend out individual tracks in any way, even to films, which had provided a decades-old revenue stream and a prominent stage. The two institutions have run a parallel course throughout most of the 21st century, rarely intersecting in any meaningful let alone profitable way.
Just exactly how scarred is this relationship? The Motion Picture Academy could only locate two 2011 nominees for Best Original Song at this Sunday's Oscar ceremony: the glorified Carnaval ad "Real in Rio" from Rio and "Man or Muppet?," another existential Muppets song to slot alongside "Bein' Green" and "Halfway Down the Stairs." A great deal of the blame there lies in the convoluted and bizarre formula used to determine those nominees, but with all due respect to composers Sergio Mendes and Brett McKenzie, neither of these songs are going to be placed into the pantheon of great Oscar-winning numbers alongside "Over the Rainbow," "White Christmas," or "The Way You Look Tonight." And, flawed methodology or not, it's damning that the Academy only deemed two of the 39 Best Song finalists worthy of a nomination. (Among the artists who failed to break into the final shortlist were the team of Lady Gaga and Elton John, Zooey Deschanel, Sinead O'Connor, and The National, and if you can hum any of those songs you were paying very close attention to cinema in 2011.)
In 2011, a number of films—Shame, Drive, 50/50, and Tinker Tailor Soldier Spy to name a few—did include distinctive musical sequences, marrying images and non-diegetic sound in interesting ways. For the most part, however, those films followed the now-common practice of using previously published songs. And except for in the case of Carey Mulligan's glacially paced take on "Theme From 'New York, New York'" (itself penned for a film), the songs were unfamiliar to audiences but still left an impression—proving the obvious point that yes, pop songs can enhance a movie.
The other thing those examples have in common is that they were art-house rather than popcorn films. Ironically, though, popcorn movies stand to benefit the most from the smart use of music. In today's tech-driven Hollywood environment, blunt spectacle and effects often crowd out fully dimensional characters and sharp dialogue, which don't as easily translate to homegrown teen or foreign markets. This is essentially how music was cast in numerous '80s blockbusters, with original songs soundtracking action sequences: everything from Top Gun dogfights to climactic karate bouts to preparations for a heavyweight boxing match. It's rare that a film like Drive comes along and wraps all of this into an artistically worthy package, but considering that even dreck like The Woman in Red ("I Just Called to Say I Love You") or A Night in Heaven ("Heaven") spawned No. 1 singles in the '80s, good filmmaking isn't a prerequisite for chart success.
The art of the original film score is still alive—think Trent Reznor's contribution to The Girl With the Dragon Tattoo, or Steven Spielberg's continued partnership with John Williams—but when it comes to original songs, the parings between musician and movies lately have been uninspired. It could simply be a matter of learned collective behavior; it was only a few years ago when providing a decent tune for a film risked devaluing a musician's cash cow, the album. But the album is receding as a commercial format and hit singles are selling in volume, online, more than ever before. There's simply little reason these days to hoard material for your own LP—on which these songs can appear eventually—and leave table scraps for outside endeavors. When U2 partners with Martin Scorsese, or Paul McCartney does the same with Cameron Crowe, the end result should at least be memorable.
MORE ON THE OSCARS
In the few instances when a film song has stood out or become a hit this past decade, it's tended to be integral to the film itself, whether Eminem's "Lose Yourself" in 8 Mile, Jay-Z's total commitment to American Gangster, Glen Hansard & Marketa Irglova's work on Once, or the interwoven musical and cinematic elements of Slumdog Millionaire. This isn't a new phenomenon. Indeed, 1980s soundtrack successes such as Modern English's "I Melt With You", Lindsey Buckingham's "Holiday Road", or Yello's "Oh Yeah" are familiar to a sizable number of Gen Xers despite never being actual hit singles.
And yet even when Hollywood has cast its collective eye back to nostalgic exercises, it has done so with the least amount of original thought possible: The 2011 reboot of Footloose—a natural platform to spotlight new, high-profile material—recycled the original film's four biggest hit singles. It also featured half of the four judges from competitive singing show The Voice, Blake Shelton and Cee-Lo, neither of whom contributed an original song. Perhaps not coincidentally, neither gained much from the experience. By contrast, the other two Voice judges, Adam Levine and Christina Aguilera, enjoyed a No. 1 song from a then-dead Maroon 5 album after their hit show premiered. Once these two slightly stumbling pop stars were cast in a different light, their music again became an appealing proposition. There's no reason the same can't be done for two stumbling industries.