Who Should Be College Basketball's Player of the Year?
Nominations from Kansas, Kentucky ... and Creighton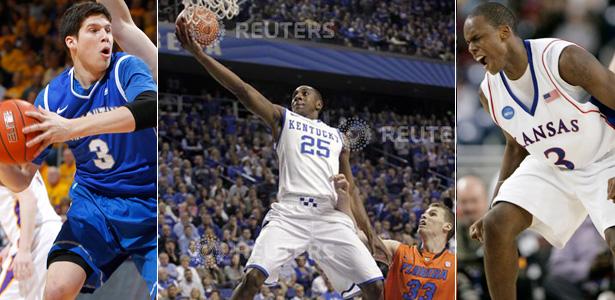 Reuters, AP Images
Every week, our panel of sports fans discusses a topic of the moment. For today's conversation, Hampton Stevens (writer, ESPN and The Atlantic), Jake Simpson (writer, The Atlantic), and Patrick Hruby (writer, ESPN and The Atlantic) talk about the highlights of the NCAA hoops season so far.
---
Hey, guys,
Football season is over. Spring training is yet to begin. The NHL playoffs are too far away to think about. What in the heck can a sports fan do? Wait weeks for the Daytona 500 on February 26? Watch the Premier League?
Child, please. It's hoops time. College hoops.
As we enter the conference season stretch run, making ready for the madness of March, it's time to start thinking about hardware for player of the year.
No shock, this Jayhawk fan likes Thomas Robinson. KU's massive post presence has a backstory as heartbreaking as his play is exciting. Averaging 18 points and 12 rebounds per game, Robinson looks like the obvious leader for the Naismith award.
Then again, I'm biased.
Okay. Fine. Make the case against him. Argue for Kentucky's young big man, Anthony Davis. He leads the top-ranked Wildcats in scoring, and plays ferocious defense. Or maybe you like super-soph Doug McDermott at Creighton, averaging 23.4 points per contest. Then again, maybe your theoretical POY vote goes to The Jared Sullinger, dropping 17.4 points and 9.1 rebounds per game for The Ohio State University. Who could blame you?
Me. Because it should be T-Rob. Jake, would you take a break from basking in your Giants' fabulous Super Bowl win for a second, and try to prove me wrong?
–Hampton
I can't argue with you, Hampton. I haven't watched a ton of college hoops this year because I've been sick with a GIANT FEVER, but I did see the Jayhawks paste a very good Baylor team, thanks in large part to a 27-14 from T-Rob. As much as I love Anthony Davis, his comically high 66 percent field goal percentage, and his unibrow (more on that from Patrick I hope), he has better teammates around him than Robinson does, which makes him the odd (big) man out.
But I propose we give the award to group of players this year (otherwise I have to rehash Hampton's fawning Jayhawk-love). Specifically, the Naismith should go to the sextet of Kentucky players averaging at least 9.7 points per game. That would be Davis, Michael-Kidd Gilchrist, Doron Lamb, Terrence Jones, Darius Miller, and Marquis Teague. On average, the group has played 168.4 out of a possible 200 minutes per game for the Wildcats this season, each averaging at least 25.5 minutes a contest. Though Davis has played the best of the group, Kidd-Gilchrist has shown an ability to completely take over a game for eight to 10 minutes at a time and dropped a season-high 24 points in UK's biggest win of the season, a 69-62 victory over then-No. 4 Louisville.
The other players have been nearly as impressive and the group has become almost unstoppable as a unit. That's all the more remarkable given that Davis, Kidd-Gilchrist and Teague are freshmen and Jones and Lamb are sophomores. Any UK doubters were silenced on Tuesday, when the 'Cats annihilated No. 7 Florida, 78-58, behind a 13-13 from Kidd-Gilchrist and a game-high 18 points from Lamb. Kentucky players other than the Super Six played a grand total of 15 minutes in the game.
Gonna take me to task for flagrantly overlooking the meaning of "Player of the Year", Patrick? Or do you think I'm on to something?
–Jake
Jake,
I'll get to your point about Kentucky. But first, a moment of silence.
Shhhh.
Okay. Better now. That was for the Pac-12, home of my beloved Arizona Wildcats, a downtrodden, MINO (major-in-name-only) conference that definitely won't be discussed in any player of the year debates. Sadly for me—and fortunately for Duke—Derrick Williams isn't walking through that door.
That said, the relative ineptitude of the Pac-12 touches on the essential nature of college basketball in 2012, which in turn leads to my preferred Wooden Award candidate. (I'll leave the Naismith to the East Coast snobs that once selected Danny Ferry over Sean Elliott). Follow along: Unlike college football and the rest of American society, college hoops is moving away from stratification and toward greater equality. The gap between the blueblood and big-conference haves—such as, ahem, Kansas and Kentucky—and the traditional have-nots seemingly shrinks every year.
Remember how shocking it was when George Mason made the Final Four? Or how unusual it seemed when Gonzaga's Adam Morrison battled Duke's J.J. Redick for player of the year honors? To borrow a writerly tic from George Will: well. Last season, BYU's Jimmer Fredette became the campus answer to the Beatles. VCU recently made the Final Four. Steph Curry nearly carried Davidson there. Butler has played in back-to-back title games. Heck, Harvard is a top 25 team this year—and also the alma mater of New York Knicks guard Jeremy Lin, who only happens to be breakout Internet folk hero of the truncated NBA season.
(Fun fact: Butler had as many former players on 2011-2012 NBA opening day rosters as Illinois).
In college hoops, there never has been a better time to be a member of the 99 percent. Which is why I'm going with Doug McDermott, Creighton's sharp-shooting sophomore small forward.
Granted, Kansas' Robinson has a backstory that's even better than his all-around production; yes, Kentucky's Super Six are probably the most talented collective of surefire future pros since Rick Pitino's mid-1990s Wildcats squads. (That said, Jake, I don't think they qualify as a Serpentor-esque player of the year amalgam any more than Kemba Walker should be listed at the 2011 national champion in the NCAA record book). McDermott has the requisite numbers: 23.3 points per game, 8.4 rebounds and a 50 percent three-point percentage—which, by the way, is better than Dwight Howard's free throw percentage. More than that, McDermott epitomizes the game's zeitgeist. He played next to coveted recruit and current North Carolina star Harrison Barnes in high school, yet didn't receive a single major scholarship offer. His own father, then-Iowa State coach Greg McDermott, offered him a walk-on spot.
And now? McDermott is flourishing, playing for his dad—who took the Creighton job in 2010—and putting up better numbers than Barnes. McDermott in 2012! Power to the people! #OccupyMarch.
–Patrick