Understanding Linsanity: 'He Makes Us All a Little More Free to Dream'
Why are fans so taken with the Knicks' new superstar point guard?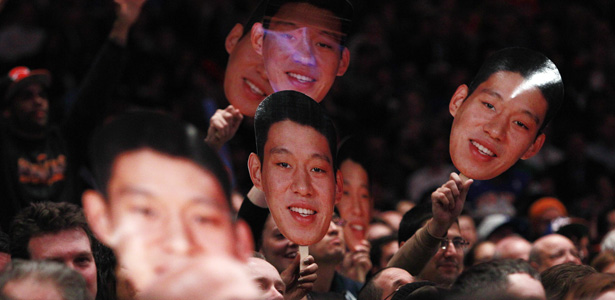 AP Images
Every week, our panel of sports fans discusses a topic of the moment. For today's conversation, Jake Simpson (writer, The Atlantic), Patrick Hruby (writer, ESPN and The Atlantic), and Hampton Stevens (writer, ESPN and The Atlantic) talk about the forces behind Jeremy Lin mania.
---
Hey, guys,
What do you get when you cross New York basketball, Harvard, Asian-American culture, the Internet, and a point guard who's overcome more obstacles than Rudy and made a more improbable run than Tim Tebow? You get a little LIN-sane in the membrane.
I'm speaking, of course, of Jeremy Lin, the Knicks' guard who has become national news after a six-game stretch that defies rational thought. Six games of 35-plus minutes, six wins, five starts, a 38-point masterpiece against the Lakers, a game-winning free throw against the Timberwolves, and a game-winning three-pointer with half a second left on Tuesday against the Raptors. Not to mention a cultural tidal wave that has gripped New York—to the point where the guy at my local deli can talk about nothing else.
What fascinates me most about Lin is that there are so many explanations for the Linsanity sweeping the nation. First Harvard grad to play in the NBA since 1954. Only Asian-American currently in the league. Point guard for a Knicks franchise that hasn't won it all since 1973 and a fan base desperate for something to get excited about. But to me, it seems like the real impetus for Linsanity is that the kid is the American Dream personified. Undrafted and cut by two different teams in the last two months, Lin has persevered, and when he was finally a shot he made the most of it and then some. That, not his race or alma mater, is what fans are relating to.
You agree, Patrick/Hampton? Or do you spy another cause of Linsanity?
–Jake
I think you're on to something. Lin personifies the American Dream, at least the part of the dream that doesn't involve winning the lottery and/or being cast in a reality TV series: namely, that with hard work, pluck, faith (in God, humanity's fundamental decency, Ronald Reagan's metaphoric morning, the liberating power of the latest Lady Gaga track, whatever), and a relentlessly optimistic never-say-die attitude lifted from our overstuffed shelves of self-help manuals, anyone in America can become a self-made success story.
Thing is, I think Lin's tale also personifies the negative image of said dream, not to mention its attendant anxieties. Call it the American Toss n' Turn, the sinking feeling that keeps us up at night: a nagging, collective fear that toil, talent and chutzpah aren't enough, that we'll never get the proverbial big break, the Disney-esque one moment to shine and show the world exactly what we can do. Because deep down, everyone knows that you can't get there from here, not by your lonesome. Somebody somewhere has to give you a shot. And not just any shot. The right shot.
Consider: In high school, Lin was the California state player of the year—and didn't receive a single Division-I scholarship offer. At Harvard, Lin was a star, both within the Ivy League and against big boy out-of-conference competitors like Connecticut. Pro scouts failed to bite. I personally saw Lin play No. 1 overall draft pick John Wall to a mano-y-mano draw in a summer league game—granted, summer in Las Vegas isn't January in Madison Square Garden—and yet Lin was cut by two NBA teams and came thisclose to getting dumped by the New York Knicks.
Of course, I don't judge talent evaluators too harshly for missing on Lin; given major minutes, he might have been a mediocre washout with teams like Houston and Golden State. Coach Mike D'Antoni's Knicks, on the other hand, seem like a perfect fit, running a point-guard friendly system that also enabled career-best seasons from Raymond Felton and Chris Duhon. Indeed, the dirty little secret of Linsanity is that it almost didn't happen, that it took the Knicks being desperate and Lin being available and a huge helping of sheer dumb luck. Right place, right time, right player, right opportunity. Which is how the world works. By and large, though, Americans hate acknowledging that—it cuts against our frontier mentality, our national song of self-determination, our inflated sense of efficacy.
Of course, denial doesn't make the luck factor any less real. Opportunity doesn't always knock. How many other Lins are out there, dreaming a little less vividly, still crashing on someone's couch?
Hampton, what do you think? Does Linsanity say something about our national psyche? Our love of easy puns? And are you as worried about Lin's penchant for turnovers as I am?
–Patrick
Leave it to Patrick, our resident naysayer, to search this silver lining for a touch of gray. It's no "dirty little secret" that Lin's success almost didn't happen. That's the whole point. Being dissed by D-I schools, going undrafted, getting cut—that's all part of why he's fun to watch.
But it wasn't "dumb luck" that's gotten him to the Garden. There's no such thing. All luck is smart, because luck, as they say in coach-speak, is when preparation meets opportunity.
Okay, suppose the Knicks had cut Lin after all? Do you think he would have have quit basketball? Would he have taken that Ivy League degree to Wall Street? Fat chance. Maybe it's just my confounded American optimism talking, but I'd guess he would have played in Europe, or the D-League, or anywhere else he could to try and make his dream come true.
I do blame talent scouts for missing his potential. Lots. And it doesn't take a faux-Malcolm Gladwell management consultant to understand why they did. They missed Lin's ability for the same reason that Steve Nash wasn't touted out of high school—or why Jason Seahorn's NFL career was a surprise. That would be racism. Duh.
From prep scouts to the pros, the people who gauge hoops talent are racist. Maybe not overtly. But they are. Just like the rest of our society, these otherwise intelligent people truly believe in the dumb, degrading myth of the superior black athlete. That is, they truly believe that "White Men Can't Jump." Or, for that matter, Asians can't either—a notion that might come as a shock, for instance, to Zhu Jianhua, a former world record holder in the High Jump.
Which leads to Jake, wondering whether fans relate to Lin more for his perseverance than his race. Of course not. If Lin were a black man from Harvard playing the NBA, he would only be a great basketball story. As the child of Taiwanese immigrants, Lin is a powerful political and cultural symbol. Overseas, he's a thorn in China's side. But here at home he's a one-man Mythbusters—a dribbling, dunking stereotype debunker. Lin's every bucket repudiates the still widely-held, but flat-out Nazi-esque notion that there's even the slightest bit of a connection between skin tone and athletic ability. In so doing, in shattering another stereotype, he makes us all a little more free to dream.
So when Patrick wonders how many more like Lin are out there—people of whatever ethnic background who are dreaming big while crashing on someone's couch, I get chills thinking of it. My answer is: there's a few more now than last week because of #17, and we can all hope that his success Linspires them to dream on.
–Hampton