Two Fearless New Jazz Records Declare War on Urban Radio
Esperanza Spalding and Robert Glasper release albums incorporating pop and R&B with lyrics about taking over the airwaves.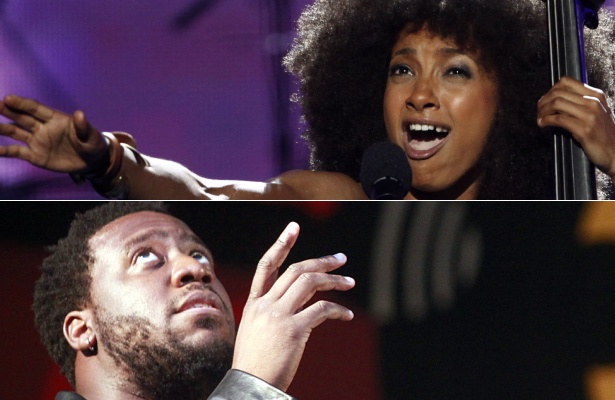 AP Images

Esperanza Spalding, "Radio Song"



Robert Glasper, "Ah Yeah"
Black radio sucks.
That's a sentiment you often hear in conversations about the quality of contemporary black American radio, particularly with regards to its music programming. Many argue that the medium—officially called urban radio—has significantly fallen short since its '70s FM heyday, when DJs expressed their personalities not only in their on-air banter but also in their song selections. The rise of syndication has led to a countrywide sameness, making many stations sound interchangeable. Syndication has also silenced many local DJ voices, who in the past have boosted local artists and spoken to issues unique to their individual communities.
"Black music has suffered a systematic demise and Black radio is a major compliance," wrote Paul Porter of Industry Ears in an October 2011 essay, "Why is Black Radio So Damn Bad?" "The youth in America, get a steady diet of bitch, hoe and bling. The once undisputed music leader now follows the lead of the powerful recording industry." In a similar 2011 article, "Farewell Black Radio" for the Washington Post, Natalie Hopkinson wrote that she had banned her kids from listening to two popular Washington, D.C.-based hip-hop radio stations because she was "tired of explaining the latest raunchy hip-hop and R&B lyrics."
Two liked-minded new jazz discs artfully use some of the negative criticism of black radio as creative fuel. Pianist and composer Robert Glasper's Black Radio (out today) and bassist, singer, and composer Esperanza Spalding's Radio Music Society (out March 20) both pitch themselves as sonic elixirs to remedy the situation, or at the very least, to provide examples of what contemporary black radio could sound like. The discs overlap not only in themes both also in character as they show Glasper and Spalding infusing their individual jazz sensibilities with an amalgam of hip-hop, R&B, and pop. Both come heavy with rotating cast of guest performers, and the songs play out as if the two artists were radio DJs just sharing some of their favorite songs.
Spalding states her agenda from the get-go on Radio Music Society with the capricious opener, "Radio Song." "Right now you need it / driving yourself through the hard times / traffic won't speed up / so you turn the radio on / But it's just the same on songs that makes you yawn," Spalding chirps with equal parts sugar and salt, almost reveling in knowing that Radio Music Society is musically on another plane than anything produced by hit makers like Stargate or The-Dream.
Radio Music Society comes as a logical follow-up to Spalding's 2010 Chamber Music Society, which helped her nab the "Best New Artist" award unexpectedly at the 2011 Grammys and launched her into a position to be the sole musical performer at last weekend's Oscars. Whereas Chamber Music Society saw her embellishing her material with erudite shades of classical music, she goes downtown with Radio Music Society using the help of top-drawer talents such as hip-hop legend Q-Tip, jazz drummer Jack DeJohnette, and singers Lalah Hathaway and Gretchen Parlato. Oftentimes when jazz artists make such moves towards pop and R&B, the results can be desultory, coming off as a desperate bid to win over a new fanbase. But on Radio Music Society, Spalding wisely sidesteps trying to mimic mainstream superstars like Rihanna or Beyoncé for street credibility. Instead, the disc unfolds with the sweeping, upward-mobility aspirations of classic '70s soul radio with nods to Minnie Riperton, Denise Williams, and Teena Marie.
Perhaps to give the disc's socio-political undertow more gravitas, a video for its lead single, "Black Gold" premiered at the beginning of this year's Black History Month and, surprisingly, on BET's 106 & Parks­—a flagship show for a network often criticized for the same reasons as black radio. In a climate of many forward-thinking black artists being edged to the margins, delusional post-racial propaganda, and selective cultural amnesia, the timing of the video release is no coincidence. Instead of handling lead vocals like she often does, Spalding concentrates on bass and gives the lead-singer role to R&B songstress Algebra Blessett. Set to a breezy mid-tempo groove that subtly alternates between Latin rhythms and reggae, Blessett sings uplifting lyrics targeted black youth struggling with self-esteem issues regarding race. The video dramatizes the lyrics as a father encourages his sons to dig deeper into African history, after his elementary schoolteacher seemingly just skimmed the surface in the classroom:
With earnest yet anodyne message, "Black Gold" is almost too precious for its own good—a well-meaning song and video that's bound to be lampooned. But if by chance the song were to reach black radio, it'd alleviate some of concerns that Hopkinson wrote about in the Washington Post.
Elsewhere on Radio Music Society, Spalding deftly balances familiar themes of romance and unrequited love ("Smile Like That" and "Let Her") with poignant commentary. The haunting "Land of the Free" tells the story of an innocent man spending 30 years in prison for a crime that he didn't commit, and on the spectral "Vague Suspicions" Spalding sings of the dangers of contemporary culture's obsession with celebrity gossip and horrific media stories. Other tunes such as the sensual "Crowned & Kissed," the reggae-laced "City of Roses" and her snappy arrangement of Stevie Wonder's "I Can't Help It" (made famous by Michael Jackson) have stronger potential for reaching today's mainstream black radio airplay, even in spite their unapologetic sophistication.
Glasper's Black Radio, meanwhile, exhibits more hip-hop ruggedness. With a supreme-team lineup of special guests that include Erykah Badu, Mos Def, Ledisi, and Musiq Soulchild, it has the potential to resonate louder in today's black American pop landscape than Radio Music Society.
Whereas Spalding kicks things off on "Radio Song" with tart sexiness as she blasts mainstream radio for being boring, Glasper's opener "Lift Off/Mic Check" sounds more fantastical, even recalling the start of Parliament's 1975 landmark LP Mothership Connection in its intent to subvert conventional notions of black music by taking over the airwaves. Future-funk producer Shafiq Husayn (of the SA-RA Creative Partners) lends his booming baritone on a spoken-word prologue, sounding like some astral radio jock rapping over Glasper's dreamy piano ruminations, Chris Dave's crisp drum beats, and Casey Benjamin's spacey vocoder textures.
MORE ON MUSIC
With rapper Mos Def taking center stage, Glasper reprises that theme on the title track. Against an arresting beat and an impressionistic piano melody, Mos Def uses an airplane crash as an analogy for contemporary black music's fall. He imagines an aircraft's black-box recordings containing all the artistic wealth of 21st-century underground black music being the only thing salvageable in a swamp of willful ignorance and misappropriation. "Big bird flying down on a mountain pass / Only thing to survive the crash / Black radio," Mos Def croaks, and Glasper hammers a dramatic single-note riff.
While an agenda underscores Black Radio, Glasper doesn't forgo pleasure. He continues his mission to upgrade the fusion between modern jazz and hip-hop that was previously illustrated on his 2009 disc, Doubled Booked, on which he divided the program between regular jazz piano trio and the comparatively more electric Robert Glasper Experiment. If Double Booked—with its sly nods to Herbie Hancock, J Dilla, Zapp, Stevie Wonder, and Nirvana—implied the potency of the Experiment, Black Radio releases that energy full-throttle. The gorgeous "Move Love," with its late-night groove and King's lovely vocal harmonies atop of Glasper's elegant piano accompaniment, is prime material for the black radio's "Quiet Storm" format and an after-hours DJ set. The same goes for the sexy "Gonna Be Alright," featuring Ledisi's stunning lead vocals, and the amorous duet between vocal Musiq Soulchild and Chrisette Michele on "Ah Yeah."
Even what could have been ho-hum covers shine with imaginative arrangements. Such is the case on the slinky rendition of Sade's "Cherish the Day," which showcases Hathaway's honeyed alto amid a celestial soundscape. Glasper spotlights Benjamin's intriguing vocoder work on his enthralling makeover of Nirvana's "Smells Like Teen Spirit," transforming the grunge-rock anthem into a Jheri-curl jam without nipping the song's lyrical angst.
Much of the success of the Experiment derives from Glasper's expansive musical vocabulary and gift for self-editing. While he certainly has the technical guile to pound out prolix solos, he understands the art of economical improvisation and of incorporating varied pop-cultural influences without sacrificing artistic integrity. That same can be said about Spalding. She knows how to curb her improvisational enthusiasm and channel her musical acumen in service of a catchy tune. If black-radio programmers are looking for something adventurous and accessible to recharge its airwaves, they should put Spalding's Radio Music Society and Glasper's Black Radio on heavy rotation.