The Specter of Putin's Re-Election Haunts Three Recent Russian Films
'Putin's Kiss,' 'Khodorkovsky,' and 'Target' question tyranny, capitalism, and their country's future.
Putin's Kiss, Khodorkovsky, and Target question tyranny, capitalism, and their country's future.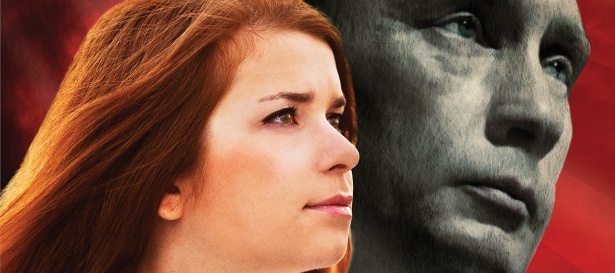 Kino Lorber
As Russians head toward their presidential elections on March 4th, a trio of new films sheds light on a contemporary Russia veering between hope and cynicism, democracy and authoritarianism. The documentary Putin's Kiss depicts a young Russian woman who becomes disillusioned with her role as a leader in Vladimir Putin's nationalistic youth group Nashi in the wake of a brutal beating of a journalist. The chilling documentary Khodorkovsky examines the fate of the jailed Russian billionaire turned democracy activist Mikhail Khodorkovsky. And the science-fiction epic Target depicts the moral collapse of a wealthy elite in an authoritarian, near-future Russia.
On the brink of what may be another six years under Putin's rule, these three films reveal a deep anxiety about Russia's future—and a faint glimmer of hope for more genuine democratic freedom.
Masha Drokova is the young heroine of Danish director Lise Birk Pedersen's documentary Putin's Kiss (2012), a selection of the 2012 Sundance and Berlin Film Festivals and currently playing in limited release. Born in 1989, Masha is part of the first generation to grow up in the wake of the collapse of the Soviet Union. At the age of 16, Masha joins Putin's nationalistic youth group Nashi; by age 19, she is already a spokesperson and leading commissar of the youth group, and Putin himself awards her a medal of honor. By age 21, the bright, ambitious Masha has everything thanks to Nashi: a prestigious spot in a top Moscow university, a new car, an apartment, her own TV talk show, and access to the highest echelons of Russia's power elite.
As briefly mentioned in the film, Nashi itself was founded in 2005 by Putin supporters to counter the rise of pro-democracy youth groups in the wake of the Ukrainian Orange revolution. Although purportedly "democratic and anti-fascist," Nashi bears a striking resemblance to the Soviet youth group Komsomol. Like Komsomol, the well-funded Nashi provides a route for many young people into official advancement.
In Putin's Kiss, Nashi founder Vasily Yakemenko is shown exercising a Svengali-like control over his young charges, exhorting them to discipline and promising them a new life if they will dedicate themselves to Putin and the Russian motherland. As Yakemenko says to the Nashi faithful: "I want everybody to understand: There is no authority for the movement except for the policy of Putin and Medvedev ... Being part of the movement means going out into the streets. It means to tell a villain he's a villain." As depicted in the film, a major part of Nashi's efforts are directed toward vilifying Putin's opponents as "enemies of Russia." By way of example, the film shows some particularly crude attacks directed at opposition figures Boris Nemtsov, Ilya Yashin, and Garry Kasparov.
Masha is initially drawn to Nashi out of patriotism and ambition. She sees Nashi as a way for young people to get involved in helping advance Russia, and she considers Putin a force for strength and stability. Masha is such a fan of Putin that she becomes known as "the girl who kissed Putin" for impetuously pecking him on the cheek when he presented her with a medal.
Yet Masha's curiosity about the larger world leads her to make friends with a group of opposition journalists. Masha's chief friend in the group is the gregarious Oleg Kashin, a liberal journalist who writes for the Kommersant newspaper.
Things take a dark turn one night in 2010 when assailants brutally beat Oleg Kashin. Footage captured on a security camera shows the attackers repeatedly hitting Kashin with iron bars. Kashin suffers two broken jaws, broken legs, a fractured skull, the loss of a finger, and other injuries—all of which place him in a coma. In the outcry that follows, Masha bravely pickets on Oleg's behalf, holding up a sign demanding that Kashin's attackers be brought to justice—even though these attackers may well be part of Nashi. Indeed, Nashi founder Vasily Yakemenko makes a particularly ugly statement on his website making fun of Kashin's beating, calling Kashin "an amphibian and a zombie," and depicting a digitally altered photo of Lenin's mausoleum with Kashin's name on it. Yakemenko is later rewarded with a personal meeting with Putin.
A disillusioned Masha decides to leave Nashi—a courageous choice for the young woman, entailing the loss of her privileged position. Masha explains, "I became aware that for some time I hadn't been able to vouch for all Nashi's actions."
Indeed, one sees this in Putin's Kiss when Masha refuses to speak at a Nashi rally on the 2010 Russian National Unity Day. In one of the most disturbing spectacles of the film, 30,000 Nashi youth march in formation through the streets of Moscow holding up pictures of Russia's "enemies." The pictures include those of opposition politicians, journalists, and human rights activists. As a Nashi commissar screams on a loudspeaker "Shame! Shame! Shame!" the protesters throw the signs on the ground and stomp on the "enemies'" faces. As Masha puts it, "The concept of 'Enemies of Russia' is here associated with Stalin's days and death lists. ... [Nashi's] tendency to point out enemies and use their pictures is not a very pretty thing." Yet such mass spectacles are apparently the chief way that Nashi enforces group conformity among the young.
As opposition leader Ilya Yashin comments: "It's a pity that cynicism has come to characterize part of my generation. Conformism and cynicism. I'm sure our children will criticize us for this, for putting on t-shirts with leaders' photos, for marching in formation ... when young people march in formation ... it means that this generation is rotten."
***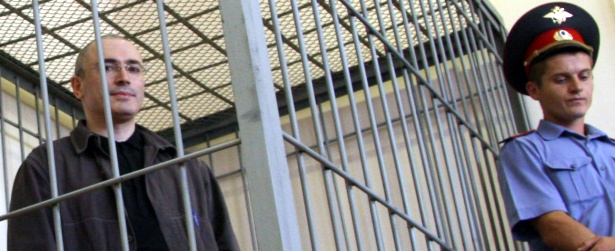 Kino Lorber
GERMAN FILMMAKER CYRIL TUSCHI'S fascinating documentary Khodorkovsky (2011), a 2011 Berlin Film Festival selection currently showing in select U.S. cities, extends this examination of corruption in the highest circles of Russian power.
Mikhail Khodorkovsky was one of the most powerful oligarchs of post-Soviet Russia, a multibillionaire by the age of 40 and head of the oil conglomerate Yukos, the most successful company in Russia. However, the handsome, charismatic Khodorkovsky made the mistake in the early 2000s of funding the political opposition and calling on Putin to end corruption in the Russian government, causing Putin to worry about Khodorkovsky as a potential political rival.
Even more dangerous were Khodorkovsky's efforts to promote education. In 2000 he founded the organization Open Russia and donated $100 million to universities, boarding schools, and education programs for journalists. As former Economic Minister Evgeny Saburov describes in the film, "A friend once asked one of the super-rich at a trade association, 'Can you make a donation to education?' He replied 'No way, only for sick children.'" As Saburov puts it, "Education is already an ideology."
In the film, Khodorkovsky's mother says of her son, "His central idea was that democracy doesn't trickle top down. It has to become a necessity from the bottom up. When people broaden their horizons, they start to think and develop other interests." Such interests—central to fostering a democratic culture—put Khodorkovsky in the crosshairs.
As depicted in the film, in 2003 Putin had Khodorkovsky arrested on what appeared to be politically motivated charges. Specifically, Khodorkovsky was sentenced to eight years in a Siberian penal colony for alleged tax evasion—a dubious charge, considering that Yukos was one of the most transparent companies in Russia, and was regularly audited by Price Waterhouse Coopers. (Khodorkovsky believes that the Russian government placed unprecedented pressure on Price Waterhouse Coopers to later retract its audits of Yukos.)
More than 100 Yukos managers were arrested or forced to flee the country, and Yukos's approximately $100 billion in assets suddenly appeared in the hands of the state-controlled oil company Rosneft. And the state's persecution continued even after Dmitry Medvedev became president in 2008, despite Medvedev's claims that he would stop the "legal nihilism that obstructs modern development" in Russia.
As Khodorkovsky's release date from prison approached in 2011, the Medvedev/Putin government found fresh charges against him. As shown in the film, Khodorkovsky is found guilty a second time and sentenced to another six years in jail—a move denounced by everyone from Secretary of State Hillary Clinton to Senator John McCain, to little avail. As Khodorkovsky's former business associate Leonid Nevzlin says, "Khodorkovsky will never be allowed out of prison as long as Putin is in charge of the country."
Khodorkovsky effectively tells this dramatic story, setting the billionaire's rise and fall against the background of a merciless moral and political landscape inside today's Russia. One sees this in the mysterious, monk-like demeanor of Khodorkovsky himself. In his transformation from billionaire to political martyr, Khodorkovsky seemingly represents the two historic extremes of the Russian character: extreme materialism to extreme asceticism, czarist excess to spiritual severity.
Khodorkovsky's demeanor sheds light on the central mystery of the film: Why, despite being warned in advance of his arrest while on a business trip in America, did he still choose to return to Russia? Indeed, even after his Yukos second-in-command, Platon Lebedev, was arrested while in the hospital, Khodorkovsky continued campaigning for democratic reforms in Russia.
As shown in the film, the very day before his arrest, Khodorkovsky conducted a TV interview in which he was asked whether he was afraid that people with handcuffs were coming for him. "As long as our country isn't fully a civil society, nobody is safe from the people with handcuffs," he answered.
In the film, Khodorkovsky's former business adviser Christian Michel theorizes, "I wonder if he didn't want to go through the experience of being a political prisoner to redeem the fact that he was the wealthiest man in Russia—and maybe on his way to become the wealthiest man in the world. If you have political ambitions—and he did—in Russia being wealthy is a sin." Michel adds, "Whether he thought he would be a political prisoner for so long and in so harsh conditions, I don't know. But I think it would be in his character to play this sort of gambit ... sacrifice his queen in order to win the end game."
***
Target, Alexandre Ilkhovski / RENFILM
JUST AS FILMMAKERS LIVING IN AUTHORITARIAN REGIMES often turn to the past for subject matter, they also turn to the future. Though Alexander Zeldovich's recent science-fiction epic Target (2011) is not overtly about Putin's Russia, the corrupt futuristic society it depicts seems to communicate much about Russia today. Target screened at the 2011 Berlin Film Festival and is currently awaiting release in the U.S.
MORE ON CULTURE ABROAD
Though Target doesn't reach the level of works by Russian sci-fi visionaries like Andrei Tarkovsky or Yevgeny Zamyatin, it's an ambitious attempt to deal with the moral malaise afflicting contemporary Russia. Set in Russia in the year 2020, the film depicts a group of bored, wealthy, and spiritually moribund Muscovites who live off of Russia's mineral wealth. They decide to seek the fountain of youth in a mysterious, Soviet-era science installation in the Russian steppes known as the "Target." Designed to capture cosmic particles, the giant circular formation is said to gather together the Earth's energies—like "prana" or "chi"—and transform any individual who spends the night there, making them not only perpetually youthful but also bringing about their psychological and spiritual rebirth.
Viktor, the wealthy minister of Russia's natural resources, his vapid wife Zoya, and several others make the trek out to the Target to experience its miraculous qualities. After spending the night there, they experience an initial renewal of youth and optimism, but with time it becomes apparent that the Target exacerbates their other natural qualities as well—including their capacity for corruption, violence, and cynicism.
Target implies, somewhat unconvincingly, that capitalism is the source of the malaise afflicting this future society. The film is replete with a nostalgia for "simpler," pre-capitalist times, a more romantic era less dependent on technological innovations or the responsibilities associated with financial wealth.
Indeed, the characters' desires to absolve themselves of adult responsibility and return to the innocence of youth can potentially be read as a larger metaphor for Russia's evasion of modern democracy in favor of the paternalistic certainties of the Soviet or Putinist-authoritarian system. It certainly seems telling that the characters' "rebirth" in the film should be effected through a Soviet-era space installation—though to the film's credit this "rebirth" is also shown to have highly problematic consequences.
***
EARLY IN TARGET, Viktor re-writes the famous quote from Tolstoy's Anna Karenina, saying that "every family is unhappy in the same way." As depicted in the three recent films above, one could also argue that "every state is tyrannical in the same way": by corroding democratic and humanistic values, by indoctrinating children into mass movements, by attacking journalists and opposition figures as "enemies of the state," by undermining the rule of law and private property rights, and by deflecting blame for internal problems onto Western democracies like America.
As depicted in Putin's Kiss, Khodorkovsky, and even in the more equivocal Target, the most damaging way that a state can be tyrannical is by breeding an attitude of cynicism and apathy toward democratic freedom—in essence, censoring the desire for freedom in the mind before it can emerge in the real world. Surely this is the real tragedy of authoritarianism, and it remains to be seen whether the Russian people will be able to overcome it as they choose their new leader in Russia's upcoming elections.
Examples like those provided by Mikhail Khodorkovsky and the young Masha Drokova, however, prove beyond a doubt that they can.