The Patriots Are My Evil Binky
A New England fan on why the team has to win this weekend: He's not ready to live in the past.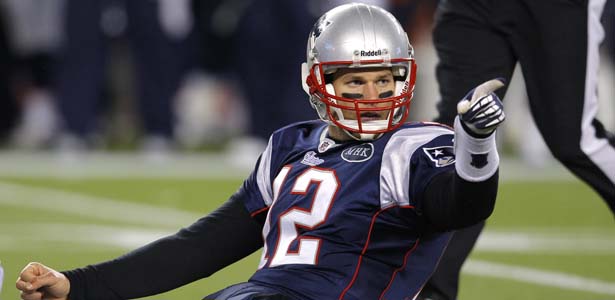 Reuters
There is no team in the United States today that engenders more united, eloquent, and well-reasoned hate than the New England Patriots. In the past month alone, their coach has been called " the NFL's last real antichrist ," their quarterback an "arrogant [bleep]," and their whole operation football's "most miserable and fascinating dominance-machine."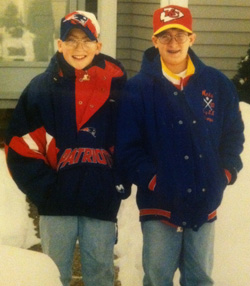 I agree that Bill Belichick's crew seems to, as David Roth, the talented acquaintance of mine who came up with the last of those three digs, put it, "embody all the joyless, thwarted smallness of our culture—snarling from victory to victory, accumulating and accumulating and somehow getting both smaller and heavier in the process." Not that I'm burdened by any of that weight. The Patriots are, and have been for a while now, my evil binky. While I've loved them since I pulled on my first oversized red and blue Starter jacket (Mitchell & Ness, which specializes in vintage sports apparel, now sells a version of my old coat. It makes me feel old.) in the 1990s.
Things were different back then. Drew Bledsoe, who had a cannon arm and cement feet, was the quarterback. Tight end Ben Coates, my favorite player back then, was that era's version of Rob Gronkowski. I even had a "Big Ben" poster hanging above my bed. Bledsoe, Coates, and company made the Super Bowl once, but lost to the Packers. Those teams were good, but never inspired the kind of confidence like the current Patriots. Their merciless success over past decade has transformed me into an addict.
Regardless of their transgressions, great franchises have a special hold on their fans. Once you have one in your grasp, you hold on tight. When the Patriots won their first Super Bowl, I was an 18-year-old college freshman. That night, I sweated through my shirt. I could barely choke down a single beer. When Adam Vinatieri's game-winning field goal sailed through the uprights, I nearly cried. It was the first championship I was old enough to appreciate. I'm 28 now. As a fan, I'd like to enjoy this incarnation of the Patriots before they become nostalgic artifacts. Beating the Giants on Sunday would prolong both their run and mine.
MORE ON FOOTBALL
When it comes to great teams, nobody is ever ready to let go. In Philadelphia, for example, the 1970s Flyers are still the benchmark for hockey success. "It is not always sunny in Philadelphia," Sports Illustrated's Michael Farber wrote last year, "but it is always 1974 and 1975 at the rink. Those Stanley Cups have insinuated themselves into the civic DNA, trapping the past like a bug in amber, a shade very close to Flyers orange." When Philly hosted the NHL Winter Classic earlier this winter, the star of the weekend wasn't Brad Richards, who scored the winning goal for the New York Rangers. Naturally, it was Bernie Parent, the white-haired former Flyers goalie who played in the alumni game. "It's one thing to say a 66-year-old legend is going to man the nets again," gushed Sam Donnellon of the Philadelphia Daily News. "It's another to see it. Tell me his smiles, his joy, his oft-stated appreciation of us didn't choke you up? He kept calling it magical, but didn't he make it feel that way to you, too?"
The Broad Street Bullies are far from the first great team to be romanticized. But in reality, vague things like magic, or spirit, or character, or moral fiber, aren't prerequisites for sustained greatness. Those Flyers teams had an abundance of personality, but if they didn't win two championships, they wouldn't remain so beloved.
Collectively, the Patriots aren't as sexy as dominant teams past, but they're just as idealized. The nebulous term typically associated with their run is the "Patriot Way." Loosely defined, it's a philosophy that values a special kind of player, one who values the team more than himself. It's a seemingly high-minded approach to a brutal game. It's also bunk. "The only reason the Patriot Way works in New England," the great Drew Magary wrote in a Deadspin post a few weeks back, "is because [Belichick] is arguably the greatest football coach of all time." And Brady is one of the greatest quarterbacks of all time. If they retired today, both would be first-ballot Hall of Famers. Belichick is 59; Brady is 34. There won't be much more time for those two, which means there won't be much more time for me. Sure, the Patriots have a gaggle of talented young players. But their two-headed linchpin is getting old. That's why I'm dreading a Super Bowl loss; it would be another step toward the end.
On Nov. 4, 2001, the Yankees played the Diamondbacks in Game 7 of the World Series. New York had a chance to win its fifth championship in six years, but lost, in the bottom of the ninth inning. At the time, I was a freshman in college. Two of my roommates, including one from Manhattan, were inconsolable. In hindsight, I realize what that the defeat meant. An era—to me, a native New Englander, blissfully—was likely coming to a close. (Hell, ESPN's Buster Olney even wrote a book about that night.)
Three months later, the Patriots won their first Super Bowl. That, amazingly, was 10 years ago. Since then, New England has added two more titles. In February 2008, the Giants robbed the Patriots of their chance at a fourth ring. Technically, Sunday is a revenge game. But I could care less about juicy narratives. I was actually hoping for a matchup with the slightly less scary 49ers. Like many other neurotic, self-hating Patriots fans, I wouldn't have minded the path of least resistance. At least it would've kept my blood pressure down.
Alas, things didn't go down that way. But I still need my fix. So, I'm hoping that Gronkowski's ankle heals fast, and that the Patriots offensive line holds up, and that Eli Manning actually falters in the fourth quarter. I don't think it's time for the Brady/Belichick Patriots to be discussed nostalgically. Not yet, at least. As a fan, I'm not ready to start living in the past.