The Mesmerizing Dance-Gymnastics-Music-Art of Quixotic Fusion
The Kansas City-based performing arts group is about to break out on an international stage.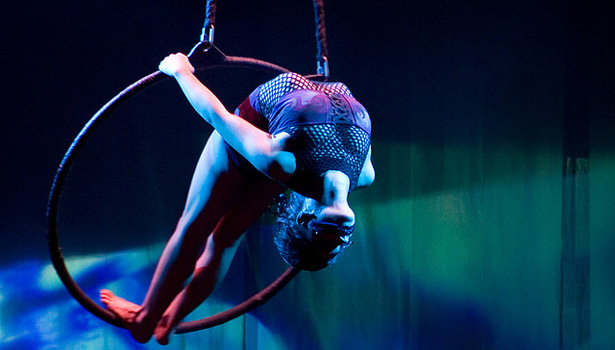 Quixotic Fusion
On a midsummer night in the Ozark mountains, at last year's Wakarusa Music and Arts festival, something strange emerged from the darkness. Around midnight, just after My Morning Jacket played the main stage and right before a set by techno-king Bassnectar, fans saw a burst of pure, white light. A stage appeared. The crowd was blasted by music. Cavernous drums, bass, and eerie fiddle echoed to the stars like some primitive call to prayer.
Two women in scant, white, gauzy costumes appeared, as though conjured by the sound. Bathed in light turning from pink to purple, to baby blue, surrounded by green lasers splintered into endless shards by mirror tiles, the dancers climbed onto a silver contraption nicknamed "the blender," that's somewhere between a cage and metal pretzel. The structure was lifted by wires, and the women started climbing and posing on it, dangerously high above the musicians.
Just then, a festival fan wandered up, newly bought beer in his hand. In his early 20s, with stringy blonde hair and mouth agape, he walked to the soundboard. For a moment, he stared at the wild scene on stage where the dancers were twirling faster. Roiling, writhing, they built momentum as the band thundered towards crescendo. The fan turned to the mixing board crew and asked loudly of no one in particular, "What is this?"
That's odd. Normally at music festivals people will walk up and ask, "Who is this?" As in "Who is this band or musician playing?" For Quixotic Fusion, though, the question was different. This fan not only didn't know who he was watching. He didn't even know what it was.
MORE ON THE ARTS
That's because Quixotic Fusion isn't a band, though they usually perform with live musicians. They aren't a dance troupe either, despite having a fully trained company on hand. Quixotic certainly is no circus, though any given performance might include circus arts, from fire jugglers to contortionists. Quixotic Fusion, aptly named, is just that. They are a curious mix—an odd concoction of music, dance, aerial acrobatics, costuming, lighting effects, and street performance. Based in Kansas City, Missouri, Quixotic Fusion has also gone from being a mere lark for art's sake to becoming a well-respected regional arts organization in less than ten years.
Now the group is about to go global. Virtually, anyway. Last month, Quixotic was given Silicon Valley's unofficial stamp of genius. They were invited to perform at TED, the elaborate annual speakers' conference held in Long Beach, California, and broadcast on Feb. 29 via web stream to TEDx events around the world.
In 2004, Quixotic's founder, Anthony Magliano, was a rising star in the art department at Bernstein-Rein, a Kansas City advertising agency. Magliano and Noel Selders, a composer and multi-instrumentalist, had been making music together since their school days. With KC's art scene booming, they wanted to jump in.
At first, said Magliano, they were simply in it for the self-expression.
"It began as more of an experimental collaboration, just between me and my friends in dance, in music and in fashion. The idea was to make the arts a little more accessible. So we put all these different art forms in settings where people that maybe don't go to the theater could see them."
Some of those settings, for the first few years, were barely off the street. Some of the group's earliest shows were staged in a then-vacant office building downtown, where they had to spend more time cleaning out junk left behind than rehearsing. But the product soon grew more polished. The venues grew nicer, the audiences bigger.
In 2006, Mica Thomas came on as artistic director. The next year he was joined by Daniel Parks, in charge of lighting and projection effects. In 2009, the group staged "Surface," a one-night only, site-specific installation that used the facade of the Nelson-Atkins Museum of Art for a canvas and human beings for the paint.
The piece, which remains the group's boldest and most cohesive creative statement, was Quixotic at their finest. This was a grand, sweeping, all-out sensory assault, unabashedly florid, but haunted by a tinge of Fellini; ephemeral, but as fully engaged with its environment as Christo's best work.
Something had clicked.
In 2010, Quixotic Fusion performed with the Michael Stern's Kansas City Symphony. Last fall, the group helped open the city's new Kauffman Center for the Performing Arts. They staged a fusillade of projected imagery, live aerobatics and fireworks that particularly impressed the Kauffman Center's architect, Moshe Safdie. That led to Quixotic getting a gig for the opening of another Safdie-designed project, the Crystal Bridges Museum of American Art in Bentonville, Arkansas.
TED, though, means global exposure. Mike Lundgren, curator of TED x KC explained how Quixotic fits the theme for TED2012, "Full Spectrum."
"We want to make it more immersive," Lundgren said. "To really blow up the whole paradigm of the business lecture."
Kelly Stoetzel is one of the TED directors who slated this year's program. She says says that Quixotic's mix of live performance with technology is what made the group so appealing.
"We've had some amazing dance troupes—Pilobolus, Capacitor." But, Stoetzel said, "We've never had anyone who used technology in quite the same way Quixotic does."
Soon, 3,000 people at the Long Beach Performing Arts Center will see just that. As will thousands of others around the world online. Many, as Lundregn says, will no doubt log on expecting to see "just another business speaker." Confronted by a strange concoction of movement, light and sound flowing from the screen, they not only won't know who they're watching. They might not even know what to call it.