The Imperial Whitney Houston
At her height, her power and reach was the stuff of royalty.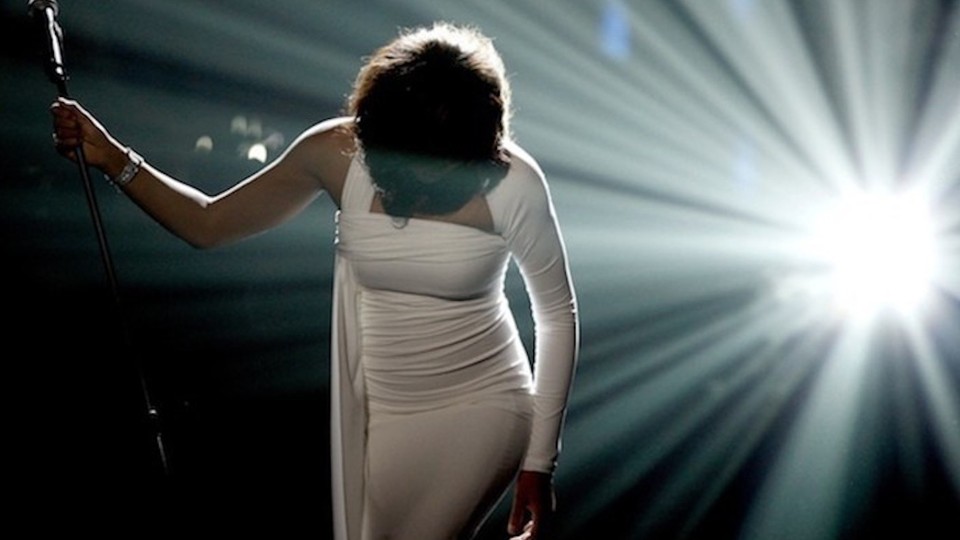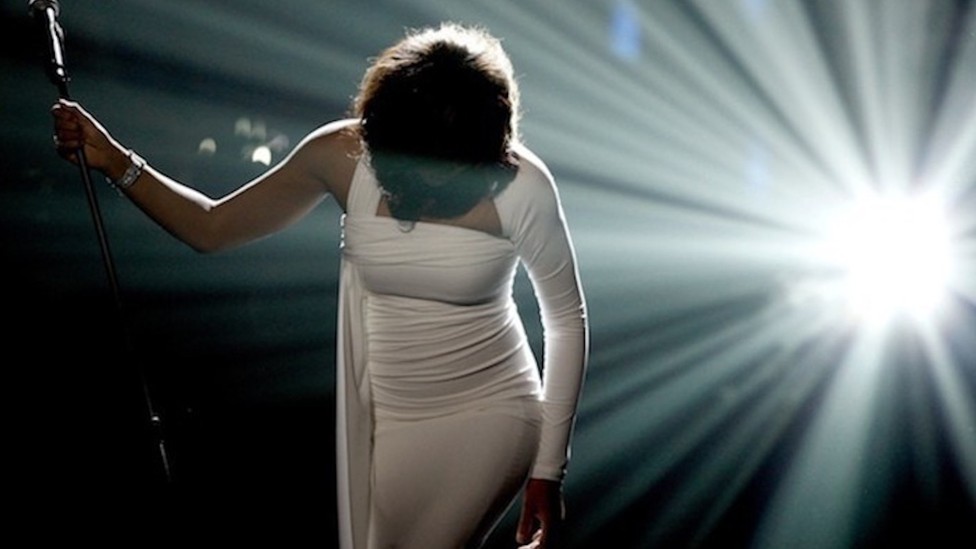 The Queen is dead. Long live the Queen.
Whitney Houston was arguably the most important woman in pop music for 10 years, and for the next 15 years watched the world she had made over in her image slowly unravel in beauty, heartbreak, and eventual squalor.
Between 1985, when "How Will I Know" and "Greatest Love of All" announced a powerful new voice in both dance-pop and balladry, and 1995, when her imperium began to fade into the complacency of soundtracks, the compromise of collaboration, and the indignity of having every new record called a comeback, her only peers were called the King and Queen of Pop—which would have made her also a Queen (or, perhaps, an Empress) if such jockeying for titles weren't beneath her dignity.
And dignified she was—she even explicitly said so in "Greatest Love of All"—as was fitting of the daughter of gospel, soul, and disco royalty, whose cousin was the eternally poised Dionne Warwick and whose godmother was the ferociously righteous Aretha Franklin. But it was a dignity without hauteur: That smile, both intimately warm and supremely confident, shone out from hundreds of millions of record covers around the globe and mitigated the marble perfection of her voice. She became, if not the girl next door, then the trusted avatar of our best selves, who embodied her songs of heartbreak, fear, and solitude in widescale productions that erupted into extravagant pirouettes of melody and sleek coruscations of rhythm.
Or so the royalist history goes. There are always revolutionaries in the realm, people who don't believe in the benevolence or utility of the monarchy. The cruelly ironized use of her image and music in Bret Easton Ellis's spiteful satire American Psycho came to stand in for an entire subcultural critique of the hyperpolished, precision-engineered music of the '80s mainstream, against which white men who considered themselves disaffected intellectuals raged. In their reading, the bounding, whirling joy of "I Wanna Dance With Somebody (Who Loves Me)" or "So Emotional" falsely papered over the injustice, violence, and destructiveness of American society, and she was a convenient figurehead propping up a corrupt system—a reading borrowed from British punk's attitude towards an actual Queen.
Whitney was not a literal queen, but the theory of monarchy—that while most people are contingent upon the world, there are some people on whom the world is contingent, who define the world, and on whose sufferance the rest of us exist—isn't a bad metaphor for the feelings that Whitney Houston inspired in many of my generation. Whether we were adoring pop-dance royalists (which as often as not meant that we could see ourselves in her; we were women, or black, or queer), or raging indie-punk roundheads (which as often as not meant that our own structures of power were threatened by her metaphorical realm), we understood her as a constant, to be done homage or to be fought against, but always, eternally, there.
Her voice allowed no other understanding. It not only "filled the room" in the ordinary sense of being easily heard—especially when she pushed into her belting range, hard-edged and indomitable—but in the sense that there was no space for anything else; you felt crushed against the walls by the dominating, obliterating power of her voice. This could be ecstasy, or it could be intolerable; not unusually, as in the operatic grandeur of The Bodyguard soundtrack, it was both.
She had multiple voices, of course—she was a performer, not a monolith—and it was the elasticity of her voice, which allowed her to make the jump from the just-above-a-whisper longing of the opening a capella verse of "I Will Always Love You" to its cliff-drop, pummeling final chorus, that made her so overwhelming during her decade of dominance. None of her peers or competitors, from Madonna and Janet Jackson to Mariah Carey and Mary J. Blige, had her almost inhuman control, her eerie command of technique and precision. They might outthink, outdance, outcharm, or outemote her, but they could never be as totalitarian as Whitney at her best: Her technique was ruthless and impregnable, cutting off all avenues of escape, bending the listener to her will.
And then, as all monarchs do eventually, she declined. She had achieved the height; she could afford to be retiring for a season. The world shifted under her; and the multiplicity of voices encouraged by hip-hop assimilated only uneasily into her totalitarian ethos. Her post-Bodyguard soundtracks tended to retreat into older soul or gospel forms, and starting with 1998's My Love Is Your Love, she sounded less and less indomitable and more and more complaisant, singing duets and riding beats and being remixed, increasingly another functioning part of her productions rather than the still jewel in their active setting. By 2009's I Look to You, even the smooth marble voice had grown audibly fissured with age and use; while her technique was still profound, her songs were not, cheerfully going through retro paces rather than setting new benchmarks.
When the news of her death broke Saturday night, in the slow-motion, cascading way news breaks these days—in tweets, emails, wall posts, text messages, unannotated video posts, and hasty, confirming Google searches—the dominant emotion among the music-loving writerly types and pop-besotted humanists who make up my internet social circle seemed to be a horrified disbelief. Not that it was unexpected, exactly, as anyone who'd kept an ear cocked to the gossip industry over the past decade could tell you. But that That Voice could be extinguished seemed an impossibility, a sudden and irretrievable reduction in the scope of the world.
Listening back to her music today, I hear the sadness and pain, loneliness and fear in the lyrics to nearly every song. I hear the heightened-to-tragedy language of romantic convention; like Céline Dion, another overwhelming belter with pain in her past, she did her best work with the tools of melodrama. But I also hear the force with with she beat back the darkness, the shining ebullience that refused to let her, or us, wallow. The world remains unjust, violent, and destructive, but at least there's song.