The Fearlessness of Jeremy Lin
The Knicks' point guard had a fantastic weekend against the Lakers and the Timberwolves, proving that his recent success is not a mere fluke.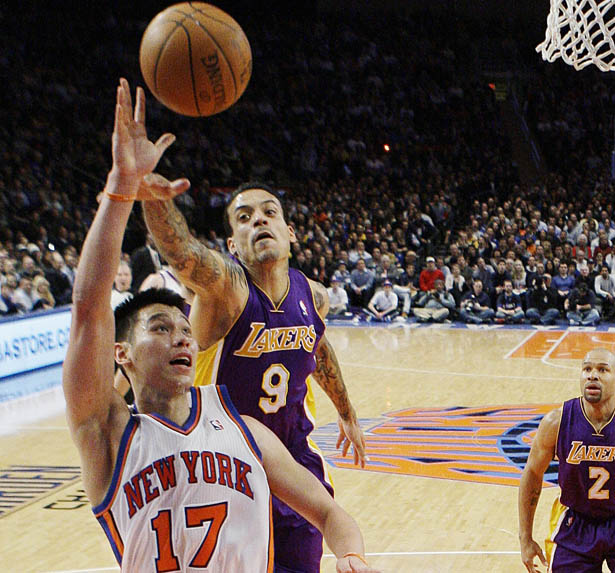 AP Images
Let me first say: I was wrong.
Last week I said that while New York Knicks point guard Jeremy Lin's start had been a superlative thrill ride, the best he could become as an NBA player was "a serviceable point guard/poor man's J.J. Barea." As enamored as I was by the Harvard grad's amazing story and sensational, Internet-exploding week, I simply didn't think he had the chops to light up the NBA's better defenses. His great games had come against three teams with a combined record of 28-55 who were all in the bottom 10 in team defense.
So I watched the Knicks host the Lakers on Friday night and head on the road to face the Minnesota Timberwolves on Saturday—two of the NBA's top 10 defenses. What's more, Lin would be facing the Timberwolves' Ricky Rubio, a rookie point guard from Spain known for his defense and ball-handling skills. Two wins, one epic 38-point, seven-assist, outdueling-Kobe-Bryant performance and a last-second, game-winning free throw later, I am ready and willing to eat crow. Lin sent the Lakers packing with his 38-point barrage, then hit the go-ahead foul shot with 4.9 seconds left in a 100-98 win over the Timberwolves and rookie point guard phenom Ricky Rubio. Lin may not be the second coming of Derrick Rose, but his play bears a striking resemblance to another MVP-winning point guard (more on that later).
For those of you who've missed Lin's Tim Tebow-like emergence onto the sports scene, check out his backstory here. For those who missed this weekend's action or haven't seen him play yet, here are a few thoughts on Jeremy Lin's game.
MORE ON THE NBA
The kid can shoot. Lin's stats during his remarkable run are eye-popping: 27 points and eight assists per game, a 57.7 percent true shooting average and a Player Efficiency Rating of 25.91, good for fourth overall in the NBA. That's ahead of Derrick Rose, Kobe Bryant, Dwyane Wade, and Dwight Howard, to name a few superstars. But on shots outside the paint, Lin was below average in his first three games, and the Lakers' defensive strategy against him was simple: Make him shoot jumpers. But Lin displayed the outside touch he was known for at Harvard, knocking down several long jump shots when the Lakers cheated under Tyson Chandler on pick and rolls to prevent Lin from driving to the basket. Late in the fourth quarter, Lin found himself guarded by seven-foot power forward Pau Gasol. Unable to match Lin's foot speed, the Spaniard wisely played several feet off Lin, daring him to shoot from long range. Lin obliged, nailing a 22-footer that sent the Madison Square Garden crowd into hysterics. Though Lin struggled with his shot the following night against Minnesota, he will create matchup nightmares for the NBA's slower point guards if he can establish a mid-range jump shot in the long term.
He's not afraid to get hit at the rim. Again and again Friday, Lin ventured into the reach of the Lakers' two seven-foot behemoths, Gasol and center Andrew Bynum. Rather than shy away from contact, he attacked the hoop with a fervor reminiscent of Phoenix's Steve Nash, a two-time MVP winner and future Hall of Fame point guard who is among Lin's many admirers. Like Nash, Lin does not pick up his dribble unless he has to and can finish through contact, converting several "and one" opportunities over the weekend. He also shares Nash's preternatural body control. When Bynum, Gasol or Minnesota's Kevin Love stepped up to block Lin's shot, he was able to jump and twist away from them, square his upper body to the basket while in the air and make the contested 5-10 foot shot. The paint area may not be so accessible once Amare Stoudemire returns to action, but Lin has shown he can create his own space around some of the NBA's biggest big men.
Lin's also shown he's physically and mentally tough. Despite getting his chin split open on Wednesday by Washington Wizards' guard John Wall, Lin continued to invite contact with his aggressive play. With 41 seconds left against the Lakers, he drew a charge on Matt Barnes to all but ice the win and unleahsed a guttural yell that resonated with every diehard Knicks fan in the sold-out MSG crowd.
He can (and usually will) aggressively attack double teams. The Lakers were the first team to consistently throw double teams at Lin, and Minnesota doubled him on virtually every pick and roll play because of the poor outside shooting of Chandler. Whenever he could, Lin would look to split the double team or attack the slower defender of the two. The Timberwolves were able to force a few turnovers off double teams, and Lin's willingness to try and dribble through the doubles will likely result in a couple turnovers every game. But more often than not, the 23-year-old was actually able to split the double team, dribbling between the two defenders to set up a 5-on-4 or 5-on-3 offensive situation. Lin did show a tendency to dribble sideways on the perimeter when faced with pressure, slowing down the offense when a quick pass to an open wing player might have been the more efficient decision. But the return of Stoudemire and Anthony should spur him to move the ball more quickly in the face of two perimeter defenders. And his success at splitting double teams may cause opponents to re-think their strategy in future matchups.
He will try and make the tough pass. Lin takes a high risk/high reward approach to interior passing that is at once his biggest weakness and one of his greatest strengths. While a bulk of assists in his first two starts came on alley-oop passes to Chandler and others, the Lakers and Timberwolves guarded against the lob and choked off passing lanes wherever they could. Undaunted, Lin continued to attempt interior bounce passes—and committed six turnovers in each game. Rubio was particularly good at getting his hands in the passing lane and forcing Lin into mistakes. But the Harvard alum was nonetheless able to complete his share of entry passes despite the stifling defense, racking up 15 assists in the two wins.
Lin's assist-turnover ratio should improve as he gets more comfortable with his Knicks teammates. On several occasions, Lin, rookie guard Iman Shumpert and second-year guard Landry Fields were just not on the same page on cuts to the basket, and Lin's pass found only defenders or open air. If the Knicks can gain some continuity with the roster once Anthony and Stoudemire return, Lin will get some much-needed reps as part of the first-team offense in practice and get more in sync with his teammates.
He makes his teammates better. There is no stat to account for the effect Lin's rapid rise has had on the rest of the Knicks. But the team just looks different. Adding a really good point guard is perhaps the quickest way to turn around an offense because a point guard possesses the ball more than any other player. And Lin has all the makings of a really good point guard. He's galvanized Chandler, who has started to run the floor on secondary fast breaks more often because Lin is so good at getting him the ball under the basket. His passes have often found Steve Novak, a three-point shooting specialist who until last week was not a part of D'Antoni's regular rotation. But in Lin's four starts, Novak is averaging 15.5 points a game and is 16-for-31 from beyond the arc. In the final minute against Minnesota, Lin hit Novak with a perfect pass on the wing, and Novak buried a three to tie the game at 98 and set up Lin's last-second heroics.
Lin's effect on his teammates is likely not limited to role players. Stoudemire in particular should benefit from the 23-year-old's play because of his prowess at pick and rolls. If Lin can continue to bring out the best in the Knicks once the euphoria of his initial success wears off, he will be the team's starting point guard for the forseeable future. And come playoff time, he'll have a chance to cement himself at the Knicks' long-term option at point guard.