How an early-20th-century French banker shaped your Instagram photos
In 1909, millionaire French banker and philanthropist Albert Kahn decided to enlist the era's burgeoning photographic technology in a mission far greater than aesthetic fetishism, and set out to use the new autochrome—the world's first true color photographic process, invented by the Lumière brothers in 1903 and marketed in 1907—to produce a color photographic record of human life on Earth as a way of promoting peace and fostering cross-cultural understanding. For Kahn, photography was a way of cataloging the human "tribes" of the world and constructing a vibrant, colorful quilt of our shared humanity.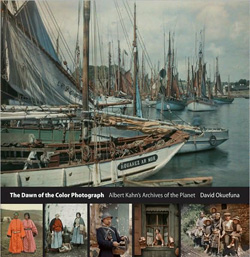 Over the next two decades, until he was ruined by The Great Depression, Kahn dispatched a crew of photographers to more than 50 countries around the world, shooting more than 100 hours of film footage and 72,000 images in what became the most important and influential collection of early color photographs of all time. Yet, for decades, the collection—which spanned everything from religious rituals to cultural customs to watershed political events—remained virtually unknown, until it was rediscovered in the 1980s.
In The Dawn of the Color Photograph: Albert Kahn's Archives of the Planet, BBC tells the story of Kahn's ambitious project and its monumental legacy, exploring how his collection and vision came to shape everything from the visual vocabulary of photojournalism to your favorite Instagram filters.
This excerpt from the BBC program on Kahn, on which The Dawn of the Color Photograph is based, takes a fascinating look at how Kahn's photographs helped frame the Balkans—my homeland—as the layered, multifaceted set of cultures they were, rather than the lump-sum caricature the world had seen them as after the fall of the Ottoman Empire:
This post appears courtesy of Brain Pickings, an Atlantic partner site.
Image credits: Princeton University Press
We want to hear what you think about this article. Submit a letter to the editor or write to letters@theatlantic.com.