Sex, Lies, and Memoirs: What's the Cost of Writing a Tell-All Book?
The lives of two young women were forever altered by sexual affairs. Now they're cashing in.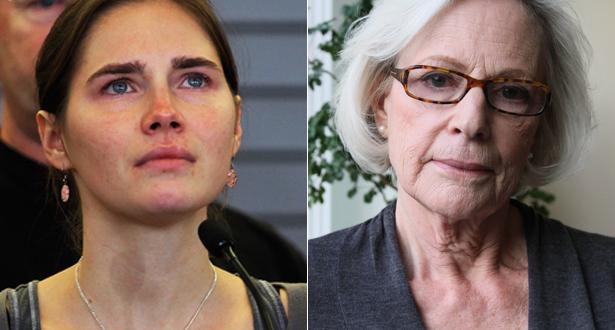 Composite Image: Reuters, AP Images
I've been fascinated lately by the contrasting sagas of two young women, both products of their times, and how the way they chose to tell their stories reflect the media culture of our age.
Amanda Knox, now 24 years old, spent four years in Italian jails accused of collaborating in the murder of her roommate in a case replete with sex and drugs. Last fall, an appeals court in Perugia reversed the conviction of Knox and her former boyfriend, Raffaele Sollecito, on grounds that the guilty verdicts were not supported by evidence presented at their trial. Aside from releasing a brief statement of gratitude, Knox said nothing and flew home to Seattle. Soon she began making arrangements to sell her story to publishers. She retained the extraordinary services of Robert Barnett, the Washington lawyer whose roster of clients includes Barack Obama, both Bill and Hillary Clinton, George W. Bush, and Sarah Palin, among other luminaries. According to the Associated Press, which provided what seems to be the fullest account of the auction, "some 20 publishers were interested and Knox met with seven, all of whom submitted bids." The winner was HarperCollins.
MORE ON BOOKS
"Financial terms were not disclosed," the Associated Press reported, "but an official with knowledge of the negotiations said the deal was worth $4 million for world rights. The official was not authorized to discuss the negotiations and spoke to the Associated Press on condition of anonymity." HarperCollins issued a lengthy statement about the book, but did not dispute the size of the advance. "No one has yet heard Amanda Knox's own account of what happened," HarperCollins' publisher Jonathan Burnham said. "This book will give Knox an opportunity to tell the story in full detail. It will be the story of a crime and a trial, but also a moving account of a young woman's struggle to cope with a nightmarish ordeal that placed her at the center of a media storm and led to her imprisonment."
In the same week as the Knox auction, the number-one bestselling combined print and e-book on the authoritative New York Times list was Once Upon a Secret: My Affair with President John F. Kennedy and Its Aftermath. There is no bloodshed in this saga, but it is nonetheless an astounding and disturbing story. Mimi Alford (who was known then as Marion Beardsley) was 19 years old and was seduced by the president four days after coming to work as a White House intern in 1962. The affair continued for the next 18 months, until Kennedy was assassinated. While Knox retained a top-tier lawyer-agent for a book tentatively scheduled for release in early 2013 and--from undisputed accounts--became an overnight multi-millionaire, Alford waited 50 years before releasing her tale. Presumably, Alford was well compensated by Random House, her publisher, but there is no public accounting of her payday. In its way, Alford's decades of discretion compared to Knox's decision to go public now shows how our society has come to favor living out loud over privacy.
Kennedy's treatment of Alford would be explosive were it to occur in today's political climate, and worth a fortune were she to auction it off. The closest comparison we have was Bill Clinton's White House trysts with Monica Lewinsky in the 1990s, which led to his impeachment and a Senate trial. But the facts of that case were cumulatively less sordid than the Alford experience, based on her book. Lewinsky did cash out with a memoir and a stint on a television reality show, but she has since largely disappeared from view. As for Alford, for all she reveals, there is still a finishing school and white glove aura to Once Upon a Secret. In Newsweek's piece about the book, Leslie Bennetts wrote, "today's young women may wonder why it took Alford so long to assert herself. And yet anyone who remembers the world before the women's movement will recognize the toxic cultural assumptions that shaped the expectations of both men and women in such scenarios." In fact, the Alford book is full of explicit details including what the New York Times's Janet Maslin describes as "truly vile episodes in which the president humiliated Mimi by telling her to service other men sexually."
Alford's account of herself is as a presidential plaything willing to be degraded. Despite the attention to her book, Kennedy's place in history will not be significantly affected by the revelations. "There is much to tsk-tsk about in Ms. Alford's account of her wide-eyed innocence and the president's particular brand of cruelty toward her," Maslin writes. "But there's not a lot of news, so the fuss should soon die down." And so it has. There is no glamorous president in Knox's book, but her "tell-all" is bound to create a considerable hubbub even if it is a completely exculpatory account of any role she might have played in the death of her roommate, Meredith Kercher, a 21-year-old British student.
Photographs of Amanda Knox and Mimi Alford at the same age show two very pretty young women whose lives were forever marked by their experiences in sexually charged situations. For Alford, now a grandmother, telling her story must be something of a relief. Knox, on the other hand, is on the cusp of the consequences of making a media splash. Assuming that she really is being paid $4 million, the years in jail and the notoriety that has accompanied the case may well seem worth the price.