RIP Gary Carter: Saying Goodbye to the Kid
The Hall-of-Fame catcher, who played for the Expos and the Mets, died this week of brain cancer.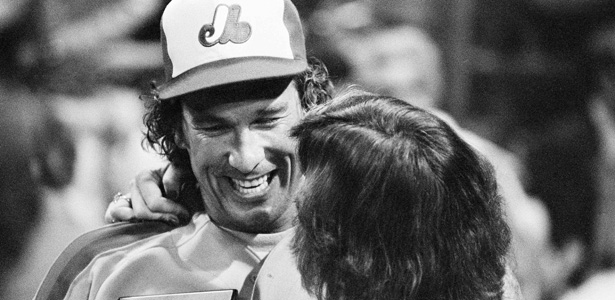 AP Images
"I've always been named The Kid, and then when I went to my first big-league spring training in '73 I was a vivacious and enthusiastic young kid that had great strives of wanting to get to the major leagues. And so they nicknamed me the young, 18-year-old kid. And the tag has just stayed on ever since. And until the day I die I'll be nicknamed The Kid."
-Gary Carter, 1982, from Dan Turner's The Expos Inside Out
"At his first spring training in 1973 a bunch of us older guys were sitting around drinking beer in a bar one night and he came in and asked us what we were having. So we told him and he kept ordering rounds, only each time he'd order a zombie for himself. After a while he got sick and then he passed out with his head on the table. We left him there and they sent him back down."
-Ron Hunt, from The Expos Inside Out
Baseball fans all over the world, and especially in New York and California, will be saddened to hear of the death of Gary Carter, the Hall of Fame catcher who died of brain cancer Thursday at the age 57. He was a world-famous baseball player, with outsized enthusiasm and ego, who stomped on the terra of his sport for nearly two decades. But a generation of Canadians, millions of fans, will mourn Carter's passing as something more; the end of a distinct and happy era in the relatively short history of baseball north of the border.
From 1974, when he began his career with the Montreal Expos, to 1984, the year he was traded to the New York Mets, Carter was largely the face of Canadian baseball. He was the first homegrown star of the Expos when they were the only Canadian team in the major leagues. He was good looking, a beach boy from California, and he played with all of the hustle of Pete Rose and the vibrancy of Ozzie Smith. He just tried so hard, which is all reasonable fans have a right to ask of their sports heroes.
And, even after the Toronto Blue Jays arrived on the scene in 1976, and Montreal was no longer the only Major League baseball venue in Canada, Carter held his place. In October 1981, when the Expos came within one Rick Monday home-run of the World Series, Carter hit .421 in the first round of the playoffs that year (it was a strike year, they played an extra round). He hit .438 in the National League Championship Series before the Los Angeles Dodgers broke his heart (and mine) that awful Monday afternoon.
None of this was preordained. When Gary Carter first came to the major leagues, nearly forty years ago now, Expos officials were so upbeat about a young catcher named Barry Foote that they asked Carter, another catcher, to play the outfield. Carter played with such zeal and recklessness—like a pinball against the walls—that it almost ended his career (and perhaps his life). Decades later, Carter told Phil Pepe in their book collaboration, Still a Kid At Heart:
Playing left field, I ran into a brick wall trying to catch a line drive off the bat of Boston's Dwight Evans and opened a gash in my forehead. Later, also playing the outfield, I cracked two ribs robbing Dave Cash of a home run and broke my thumb running into teammate Pepe Mangual.
(It's worth noting here that this summary, from the 1975 season, came long before inter-league play, which means that Carter was crashing into brick walls during a preseason game against the Red Sox. It's no wonder he played the outfield with a batting helmet on).
To keep the talented "Kid" alive, the Expos brass realized they would have to set him behind the plate. So they did. From 1974 to 1992, for the better part of 19 seasons, from Montreal to the Mets to the San Francisco Giants to the Los Angeles Dodgers and back again to the Expos, Carter played 2,296 games in the National League, 2,056 as catcher. That's roughly 300 more than Carter's hero, and fellow Hall of Famer, Johnny Bench.
Just so you have a sense, here is what Carter meant to Montreal in the 1970s and 1980s:
I'll now skip the part of Carter's epic career during which he helped his New York Mets beat the Red Sox in the immortal 1986 World Series. I am confident that this part of Carter's story, of the drift and mastery of his personal life, the tragedies and professional squabbles, will be told and re-told over the next few days on the sidewalks of New York. Suffice it to say, with the ebb and flow of the two franchises, that Gary Carter meant something altogether different to Mets fans than he did to Expos' fans.
Eventually, though, one way or another, all heroes return home. And, in 1992, running on fumes, Gary Carter came back to play with the Expos. And then he came back again, one more time, for the retirement of his jersey—number 8—a few years later, shortly before Major League Baseball stole the Expos away from Montreal. Here is what Carter meant to Montreal in the 1990s. And I submit it's what Gary Carter means to Montreal, and to Canada, today:
The Kid was elected to Baseball's Hall of Fame in 2003, the first member of the Expos to be so honored. He deserved that. But I'm not going to remember Carter the "veteran" today. And I'm not going to remember him as a television analyst or pitchman. Instead, mourning his death, I'm going to remember him as "the kid" I watched in person and on television in the mid-to-late 1970s, the one who wanted to win so badly that he was willing to run through brick walls to catch fly balls.