Nostalgia Swamped the Oscars, but Don't Blame 'The Artist'
In a year where small, arty films were being recognized, the ceremony pined for a return to the days of big, iconic blockbusters.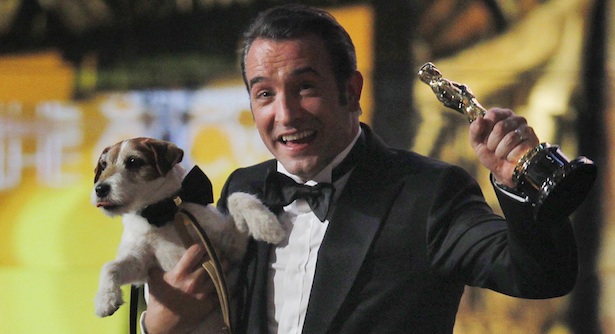 Reuters
They don't make films like they used to, do they?
That was the question the 84th Academy Awards asked again and again Sunday. Throwback montages about "movie magic," venerated stars giving their venerated stump speeches, reminiscences about the various good 'ole days: We've seen all these things at past Oscars, but this time it was practically all we got. While this was the safest, slightest ceremony in a while, there was something almost political in its fixation on cinema pre-2011. The here and now, the Oscars implied, is defective.
The message was clearest during one of the night's highlights, a mock archival segment from Best In Show/This Is Spinal Tap mastermind Christopher Guest. The set-up: What would have happened if The Wizard of Oz had been focus-grouped for audiences during the FDR administration the way films nowadays are? Some schmuck would want to nix "Over the Rainbow," obviously. Another would colorize the black-and-white stuff. It was a fairly hilarious bit, but also a jab at the way things are done today versus the way things were done back in the day.
Host Billy Crystal, himself a relic, leaned heavily on jokes about how modern society degrades the film-viewing experience, snarking about texting during screenings and watching movies on iPads. Pan-Am-ish hostesses walked down the Kodak Theatre's aisles, offering popcorn the way that movie houses once did. Morgan Freeman was the first of the night to speak, giving a tried/true/tired preface about the magic of movies. Cirque du Soleil, which like Crystal and Freeman was at the peak of its relevance a decade ago, pulled off a spectacular routine paying tribute to not-so-of-the-moment titles like North by Northwest and Gone With the Wind. Peppered throughout the night were self-serious testimonials from well-known actors described their first filmgoing experiences.
MORE ON THE OSCARS
This, of course, was all to be expected. An affable but reactionary ceremony was nearly guaranteed after two recent attempts at edginess: the widely panned performances of fresh-faced hosts James Franco and Anne Hathaway in 2011, and the implosion of a plan for action-film director Brett Ratner to produce and Eddie Murphy to host this year's Oscars. The common advice to the Academy—including from The Atlantic—following Murphy's exodus was to stop trying to be hip, to abandon plans to court young viewers. It's advice that apparently went heeded. And that's fine; Sunday's show was boring but not a train wreck. There's nothing wrong with acknowledging film history. But shouldn't a celebration of the past year's movies feel tied to, well, the past year?
A lot of people are going to point to the Best Picture win for The Artist—a silent, black-and-white film set in Hollywood's 1920s/30s golden age—as yet another sign that retromania has strangled our culture (you can read that very take on this website). The truth is, though, that The Artist is smarter than that. Yes, it's a nostalgia trip, laden with homages to great, old films. But it's also pro-future, pro-innovation, and anti-memory-wallowing. The Artist charms and grins and winks for most of its runtime, but its middle third turns sour as its protagonist—played by Best Actor winner Jean Dujardin—faces greater and greater levels of debasement for clinging to silent acting. He obsessively watches reels of films he shot in his glory days; his stubborn refusal to change brings very ugly consequences.
The genius of The Artist and, to varying extents, its nominated peers Midnight in Paris, Hugo, and Moneyball, is the acknowledgement of how alluring it can be to mythologize the past. These films even harness that allure to tell their stories. But they all ultimately reject the idea that the past is necessarily better because it is the past.
That's why it was so strange Sunday night to see an early montage so generic that it could have been pulled straight from a TCM promo. The films spotlighted—stuff like Jaws, Star Wars, and Avatar—were big, culture-uniting blockbusters. But there were no big, culture-uniting blockbusters in 2011's class of Best Picture nominees. In fact, on a whole, this year's nominated films made shockingly little money. For whatever reason—new nominating rules, changes in culture and tech, quirks of history—we had an eclectic mix of adventuresome, forward-looking contenders. You wouldn't have really known that by watching the Oscars, though.
The full list of winners:
Best Picture: The Artist
Best Actor: Jean Dujardin, The Artist
Best Actress: Meryl Streep, The Iron Lady
Best Supporting Actor: Christopher Plummer, Beginners
Best Supporting Actress: Octavia Spencer, The Help
Best Director: Michel Hazanavicius, The Artist
Best Animated Short: The Fantastic Flying Books of Mr. Morris Lessmore
Best Short Documentary: Saving Face
Best Live Action Short: The Shore
Best Original Screenplay: Midnight In Paris
Best Adapted Screenplay: The Descendants
Best Original Song: "Man Or Muppet," The Muppets
Best Original Score: The Artist
Best Visual Effects: Hugo
Best Animated Feature: Rango
Best Documentary Feature: Undefeated
Best Sound Mixing: Hugo
Best Sound Editing: Hugo
Best Film Editing: The Girl with the Dragon Tattoo
Best Makeup: The Iron Lady
Best Costume Design: The Artist
Best Art Direction: Hugo
Best Cinematography: Hugo
Best Foreign Language Film: A Separation